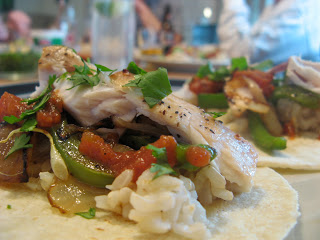 After discussing malting, barley and beer for the last six (6!) posts, today's Friday Foto is a nice change of pace. For the last week, we've been on vacation in North Carolina at Cape Hatteras National Seashore, and for me, that means one thing: a seafood binge.  (Actually, it means several things, including a healthy dose of surfing, but for the purposes of today's post, it's all about the food…)
Here in the Buxton and Avon area of the Outer Banks, there are a handful of great local seafood markets that sell fresh, local catch – Diamond Shoals, Risky Business, and Surf's Up, to name three.  (Check out
this website
to find these and other markets in the surrounding communities.)  Each day this week, we've "indulged" in a different option… grilled fillet of red snapper, bay scallops over GF pasta in a marinara sauce, vegetable kabobs with grilled tuna steak and sea scallops, steamed blue crabs.  Each meal has had its own wonderful appeal, but perhaps my favorite has been the mahi-mahi fish tacos.
After rinsing and patting dry the fish, I lined a baking tray with tin foil.  Each mahi-mahi piece went on the tin foil, then I rubbed down each with a little oil.  A sprinkling of salt and pepper, some minced fresh garlic, and a squeeze of lime juice, and they were ready to go in the oven under the broiler.  About halfway through broiling, the garlic began to brown heavily. At that point, I scraped the garlic off the top of the fish so it wouldn't burn and get too bitter. Then I returned the fish to the broiler to finish cooking. The fish were done when they flaked easily with a fork.
We served the fish with corn tortillas, sauteed peppers and onions, brown rice, salsa, and fresh chopped cilantro.  Divine!  The clean flavor the mahi-mahi, with a little brightness from the lime, really made the dish.
– Pete