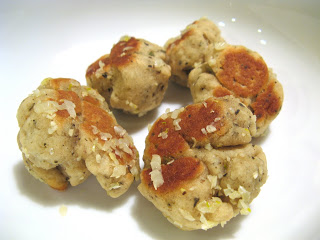 Before you call me out on it I'll come right out and acknowledge it… yes, I know the title of this recipe is mis-spelled as "Garlic Nots" instead of "Garlic Knots." There's a reason for that (and always a method behind my madness…).
Garlic knots are an appetizer or side snack served by almost every New York pizzeria worthy of being called a New York pizzeria. Maybe they're served on a paper plate, or in a paper bag, or in a foil bag. Regardless of the method of delivery, the end product is the same: delicious doughy balls of garlic goodness.
As for my bastardization of their name: For one, "traditional" garlic knots contain gluten, while these do not. For another, in making traditional garlic knots, the dough is literally tied into a knot, but these are not. And lastly, I almost always make it a habit to publish the final, tried-and-tested version of a recipe. This, again, is not. Hence, I thought it only appropriate to call these Garlic Nots.
Earlier this week I found myself with a spontaneous craving for garlic knots, which I have not eaten since going gluten-free more than three years ago. Never one to be denied a food craving, I immediately went into the kitchen to make some. This recipe and Friday Foto is the result, but remember, it's a work in progress (and I'll post an updated and finalized version at some point in the future once my Garlic Nots become perfected as Garlic Knots).
If you want to follow my lead and experiment on your own, here's how I tackled making GF Garlic Nots:
I began by making a single batch of thin crust pizza dough from our cookbook, but I used an adjusted quantity of flour: 1 3/4 cups. I wanted a moist dough that would rise well, but one that was still firm and dry enough to work with by hand (a delicate balance to strike). Once I formed the dough ball, I gave it a quick toss in olive oil to coat, and then set it aside in a covered bowl to rise for 20 minutes or so.
After twenty minutes, I rolled out the dough until it was about 1/8-inch thick, and then cut it into long strips about 1-inch wide. I then cut those long strips into shorter segments each about 4 inches long. Then, working with two dough segments at a time, I laid them perpendicular to one another and overlapping in order to make an "x" or a plus sign. Next, I loosely rolled the dough between the palms of my hands – like I was making a meatball – in order to form a garlic knot shape. (However, I left the resulting dough balls "loose" enough for them to retain their folds and creases.)
The garlic knots – about 20 of them – went onto a greased cookie sheet, and then I brushed each with a little olive oil. Lastly, I sprinkled each with a bit of sea salt before popping them into a preheated 400-degree oven for about 13 minutes (until they were browned, but also still soft).
Meanwhile, I minced about 5 large cloves of garlic, and sauteed it in a tablespoon or two of olive oil just until the garlic was soft and aromatic. Lastly, the baked garlic knots came out of the oven, and they all went into a large bowl, along with the garlic olive oil. I tossed everything to evenly coat, and served them warm.
The result was good. I'd call it a craving partially satisfied. But I definitely see a little room for improvement. For the next iteration, I'll make the following changes:
1. Omit the dried basil and dried oregano from the pizza dough in order for the dough to have a more plain base flavor.
2. Incorporate the use of melted butter for an added flavor component (probably to saute the garlic and toss with the garlic knots).
3. Use a little more sea salt.
4. Sprinkle fine Parmesan cheese and parsley over the knots (traditional flavors used on many garlic knots).
5. Consider brushing the knots with an egg wash prior to baking to improve browning.
We'll see what a future version of garlic knots brings! In the meantime, I'll be more than satisfied to munch on these…
– Pete