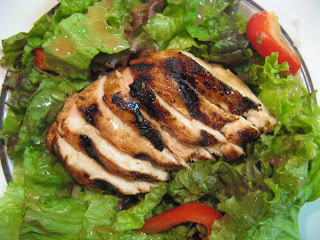 This past Saturday, Kelli, Marin and I drove up to Breckenridge in Colorado's Summit County to attend Oktoberfest. The main drag was closed off to traffic, and large crowds of people seemed to be having a pretty fun time. We unfortunately left disappointed. It wasn't particularly surprising to find that they didn't have a gluten-free beer option. What was surprising, though, was how difficult it was to find an alternate beverage to drink. It took us more than an hour of walking to stumble upon a stand that sold root beer and lemonade. Forget the whole gluten-free thing… what if you were a designated driver, or don't or didn't feel like drinking beer/alcohol? But I digress…
We ate lunck at the 'Fest, and it too left us desiring something more. Kelli had an undercooked, greasy bratwurst, while I had an overly dry, smoked turkey leg. (Breckenridge is normally a home run for us, and in the end we agreed we should have walked from the Oktoberfest to a nearby Mexican restaurant with a great GF menu…) We arrived back home in Boulder late that afternoon craving something fresh and tasty to cleanse our palettes… Which inspired Kelli to concoct this Southwestern Vinaigrette, which doubled as both a salad dressing and as a marinade for grilled chicken that we topped the salad off with.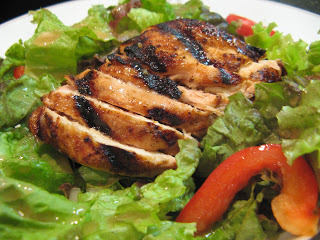 Here's how to make it:
1/3 cup olive oil
1/3 cup red wine vinegar
1 tablespoon honey
2 teaspoons Dijon mustard
1/4 teaspoon garlic powder
1/4 teaspoon ground cumin
1/4 teaspoon coriander
a pinch of ground red pepper
Whisk it all together, and voila! An easy, tasty Southwestern vinaigrette. If you use some for grilled chicken, as we did, first set aside enough to use as dressing for the salad. Then marinate the chicken in the remainder, basting/brushing/drizzling with the marinade while grilling. For the salad, we went with red leaf lettuce, as well as sliced red peppers and sweet onions. (Kelli also topped hers off with some cheese and candied walnuts.) To give it more of a Southwest feel, try sliced avocado and quesadilla cheese.
– Pete