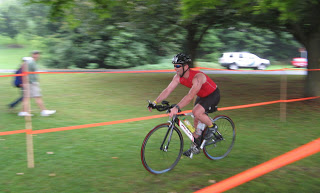 Coming into transition at the end of the 40k bike at the 2009 Cayuga Lake Triathlon
The rumble of thunder woke me from my sleep around 5:30am on Sunday morning, August 2. My alarm was set to go off in a few minutes anyway, but all I could think was, Great, there goes the swim leg. Later that morning, I was racing in the Olympic distance Cayuga Lake Triathlon, outside of Ithaca, New York in the picturesque Finger Lakes region of the state. Kelli, Marin and I were in town for her dad's 70th birthday, which we celebrated the previous afternoon. With the race the same weekend, I couldn't resist giving it a go – after all, it was in Kelli's hometown, and our shared stomping grounds from our college days. I was also looking for redemption – after a somewhat disappointing race the Xterra Mountain Cup in Beaver Creek, Colorado, I was looking to get my summer racing back on track.
Unlike the Xterra race series, which is off-road, the Cayuga Lake Tri is a traditional on-road triathlon, with a 1.5k swim, 40k bike, and 10k run. Thankfully, the early clap of thunder never repeated itself, and at 8:00am, the race began as scheduled. (If lightning and thunder continued, race organizers would have been forced to cancel the swim and shift to a biathlon format, with only a bike and run.) I was in the first wave of swimmers – Men 30 to 49 – who set off into the water on an out-and-back swim.
Though the lightning and thunder stayed away, stormy weather clamped down over the race, and we swam into a headwind and rough, choppy waves. The strongest swimmers seemed unfazed by this fact, but most of us – including me – had a hard time finding our rhythm…at least for the first 750 meters until we could make a 180-degree turn around a giant yellow buoy and head for shore with the wind and waves at our back. I had hoped to do the swim in sub-28 minutes, improving upon my personal best time from the Beaver Creek race. Instead, I came out of the water in 34 minutes, a minute or two slower than my time at Buffalo Creek earlier this season. It wasn't what I hoped for, but it was a relatively small time deficit I knew I could make up for on the bike.
Biking is typically my strongest leg of the triathlon. I'm competent in three disciplines, but if you forced me to choose a forte, this is it. However, the overwhelming majority of my biking is on a mountain bike, even more so this year when I've been focusing almost exclusively on the Xterra races. What this meant was that I didn't have a good sense for how fast I could crank out the 40k on the hilly bike course that went up Cayuga Lake to Sheldrake Point and back down to Taughannock State Park.
I did know, on the other hand, that I had a great machine underneath me. Leading up to the race, I contacted Glenn Swan, an accomplished cyclist (read: multiple national and masters championships), uber-friendly guy, and super knowledgeable founder/owner of Swan Cycles (607.277.0495) in Ithaca. Glenn set me up with a Fuji Aloha TT/tri bike for the race, which was a joy to ride. This bike is FAST.
Coming out of the water a little later than I had wanted meant that I had a fair number of racers ahead of me when I began the bike. This, in many ways, is how I like to race – I can set my sights on someone ahead of me, reel them in, and pass them. Then, I set my sights on the next target. One by one, I ticked off riders and improved my position. By now, a cold, steady rain was falling. Other than the slick road conditions, which made us all wary on the course's few tight turns, these were good race conditions for me. I much prefer cold and wet to hot and sunny. In the intense heat, my body tends to shut down, as was painfully obvious at Beaver Creek.
Without a good gauge for just how fast I thought I'd ride, I conservatively estimated sub 1:30, and hoped for sub 1:15. Instead, I cranked out the bike leg of the race in 1:11, turning in the 5th fastest bike split for my age group, and the 32nd fastest bike split out of 191 racers overall. Sweet.
The 10k run was a gorgeous 2-lap route up to the base of Taughannock Falls – at 215 feet it's the tallest in New York State – and back to the finish area along the shores of Cayuga Lake. As I set out on the run, I suddenly heard a large crowd of people cheering my name. Much of the family in town for my father in law's birthday – brothers and sisters in law, nieces, nephews – came out to watch me race. It was just the motivational boost I needed. My legs were feeling heavy, probably because I had given so much on the bike.
When I came around for my second lap, they were all lined up alongside the corral, and I ran down the line giving high fives to everyone. Another lap later, and I was crossing the finish line. My total time was 2:41:38 – good enough for 6th in my age group, and 56/191 overall, just outside the top 25%. Amazingly in my age group, places 1 through 6 were separated by just 13.5 minutes, and places 4-6 by less than 6 minutes. If I could have given just a little more on the run – just 30 seconds or so per mile – or completely the swim just a smidgen faster, I could have been in contention for a podium finish in my age group.
All in all, it was a race defined by one word: redemption. My spirits are lifted, I'm feeling motivated, and I'm eagerly anticipating the next race, which is unbelievably less than two weeks away: the Xterra BOLT in Nebraska. The race season continues…
For a few extra pictures from the Cayuga Lake Triathlon, check out my peterbronski.com website here.
– Pete