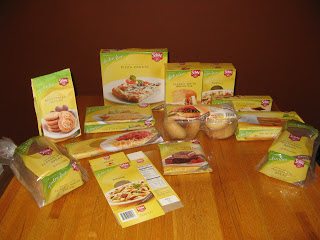 Several weeks ago, Kelli and I received a package of gluten-free products from Schar USA. Since then, we've slowly been making our way through the comprehensive sampling, and at last, we're prepared to offer you our assessment. But first, a little background on Schar:
The Italian company gots it start in 1922 making infant food. Then, in 1982, it expanded into gluten-free foods. Schar's popularity grew, and so did its range of distribution throughout Europe. Today, it is the #1 selling GF brand in Europe, as measured by market share. According to Donna George, vice president for Schar USA, the company pulls in 50% of the gluten-free market share averaged across the 35 countries where Schar is sold. Impressive.
Over in Europe, Schar actually sells under four different brand names, and "Schar" is the name they've chosen to bring here to the United States. As far as Schar USA is concerned, the company's distribution is primarily on the East Coast. They'll be slowly expanding into the Midwest in the near future. Those of us further west, however, will have to wait. Schar USA has no immediate plans to be in stores on the West Coast…at least not yet. However, you can also order Schar products direct through the company website, via the Gluten-Free Mall, and via Amazon.
It's interesting to note that Schar USA recruited Anne Lee into the company ranks as the staff nutritionist. Lee was formerly a nutritionist with the Celiac Disease Center at Columbia University, and is a respected authority on CD and gluten intolerance.
Now, as for the review, a disclaimer (if you've read our review of Shabtai Gourmet this will sound familiar): In general, Kelli and I are predisposed against pre-made, store-bought products. Read our food philosophy, and you'll know that we think that the food we make from scratch at home with simpler ingredients (and ingredient lists that don't read like a chemistry kit) is healthier, tastier, and higher quality. But there are times when the ease and convenience of pre-made, store-bought products will have appeal, and Schar delivers.
In particular, it's amazing to see such diversity from one company. Schar sent us its full line of 13 GF products currently available in the U.S. (the company plans to unveil five more, for a total of 18, in the near future). Usually, a GF company will specialize in either breads or pastas or pastries. Schar serves up all three. It's one-stop shopping.
A final word on the reviews: we've tried to weigh Schar against three criteria. 1) How does it rate against what we can make ourselves? 2) How does it rate against other GF companies? And 3) How does it rate against "regular" equivalents of the same foods?
At last, the reviews:
Breads
The Classic White Bread was somewhat flavorless (but isn't all WonderBread-style white bread?). It fell victim to our standard complaints regarding pre-made, store-bought GF breads…it tasted stale, dry, and crumbled too easily. If using this bread, our recommendation is to turn it into French toast, where the milk, eggs, vanilla and cinammon will add needed flavor and moisture. The Multigrain Bread, while still poor on texture, had great flavor. It makes excellent garlic toast, which happily complemented a meal of spaghetti with meatballs and marinara sauce for dinner one night. The Classic White Rolls were very similar to the Classic White Bread. I pulsed them in the food processor to make GF bread crumbs and used those for other recipes, like meatloaf and chicken parmigiana. One last word about breads in Schar's defense. Presently, all the company's GF breads are baked in Europe and then shipped to the U.S. This introduces a freshness issue for the company (not to mention the environmental impact of that long-distance transport). Schar has plans to open a bakery in the United States, which should help circumvent the freshness issue in the breads, and will reduce the eco-impact. Both good things!
Pastas
Schar makes its pastas using a blend of corn and rice flours. Kelli and I were both very impressed with both the texture and the flavor of the pasta. The Spaghetti and the Fusilli were delicious, and we used them to make spaghetti with meatballs and marinara sauce, and fusilli with a white wine clam sauce. Schar also makes a Penne pasta, but we only had a label from the box, and not the actual pasta to try. Based on the others, I'd expect it to be very good as well.
Pastries
In a word, Schar's pastries were yummy. The Chocolate Hazelnut Bars had a light hazelnut flavor, with so-so milk chocolate, and wafers that were light and crispy. On the whole they're a tasty treat. The Shortbread Cookies were very good, with nice texture, and a flavor that was almost spot-on. The Chocolate-Dipped Cookies were delicious. I ate my way through too many of these in way too short a time period.
Other Products
Schar makes a pre-baked Pizza Crust that's ready for toppings and a quick bake in the oven. I'll admit, neither Kelli nor I had high expectations for the pizza crust. I'm happy to report that we were pleasantly surprised. The pizza crust had nice texture, with good flavor. Our only complaint was the crust's small size – one crust was too small for us to share, but too big for one person to eat alone. Lastly, we tried Schar's Italian Breadsticks. These were very good – great flavor, with a nice, crisp texture. Alas, the breadsticks had an ingredient list that read the most like a chemistry kit – Hydroxypropyl Methylcellulose, anyone? Or how about some Diacetyltataric Acid Esters of Mono- and Di-glycerides of Edible Fats?
Final Analysis
Firstly, if you're counting, we mentioned 13 Schar products, but there aren't 13 reviews. I didn't list our assessment of every last product here – we've provided an overview with enough detailed reviews for you to get a good sense of the Schar USA brand. Our sense is that, on the whole, Schar is a winning company, and I'd expect the brand to grow in popularity here in the United States as word gets out. We'd like to see some of the ingredient lists migrate more toward the legible, natural and simple. Some of the foods could be more healthful (the chocolate hazelnut bars have 200 calories each, 110 from fat). But looking across the full spectrum of products, Schar serves up a high quality and diverse offering that misses the mark in some places, but hits it superbly in others. I suppose that makes Schar a jack of all trades, master of some.
– Pete