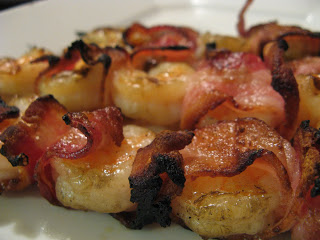 Every now and then it's fun to turn dinner on its head. Like when you make "breakfast for dinner" – you know, pancakes or waffles or scrambled eggs for dinner. Earlier this week, Kelli and I were watching football and suddenly got a craving to make appetizers for dinner. In particular, we had a hankering for grilled bacon-wrapped shrimp and pigs in a blanket.
We had the shrimp and bacon on-hand, but the pigs required a trip to the grocery store. Our local supermarket is still undergoing renovation, so the meat department has been a little off-kilter lately. This time around, there were no Applegate Farms hot dogs to be found. Instead, we went with Coleman Natural beef hot dogs. They're gluten-free, of course, and lots of other good things, similar to Applegate. Happy, we checked out and went home to cook our feast.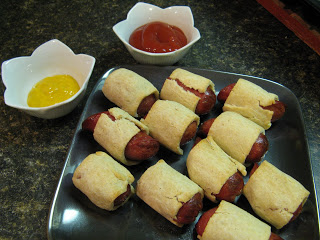 For the bacon-wrapped shrimp, I first partially cooked the bacon, so that the grilling wouldn't overcook the shrimp, which wouldn't take nearly as long. Then, I wrapped the shrimp in bacon and put them on wooden skewers. After a few minutes on the grill to cook and crisp up the bacon, they were ready!
For the pigs in a blanket, we cut the hot dogs into two-inch long segments, and wrapped them in our pastry dough, rolled out very thin. Then, we popped them in the oven on a cookie sheet until they were lightly brown and the hot dogs were cooked through.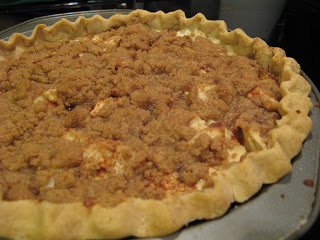 Our appetizers-for-dinner dinner wouldn't have been complete without a tasty dessert to top it off. We opted for a Dutch apple pie – pie crust on the bottom, crumble topping, with McIntosh apples (this time around). It was delicious!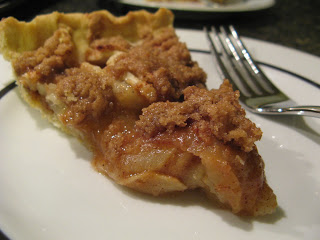 The pie didn't last long. After munching on it throughout the remainder of the football game, not much was left. The rest was gobbled up for breakfast the next morning (does that make it "dinner for breakfast?" Or just leftovers? Or neither?). At any rate, cooking and eating should be fun, and I hope our appetizers-for-dinner has inspired you to play around and get creative in the kitchen!
– Pete