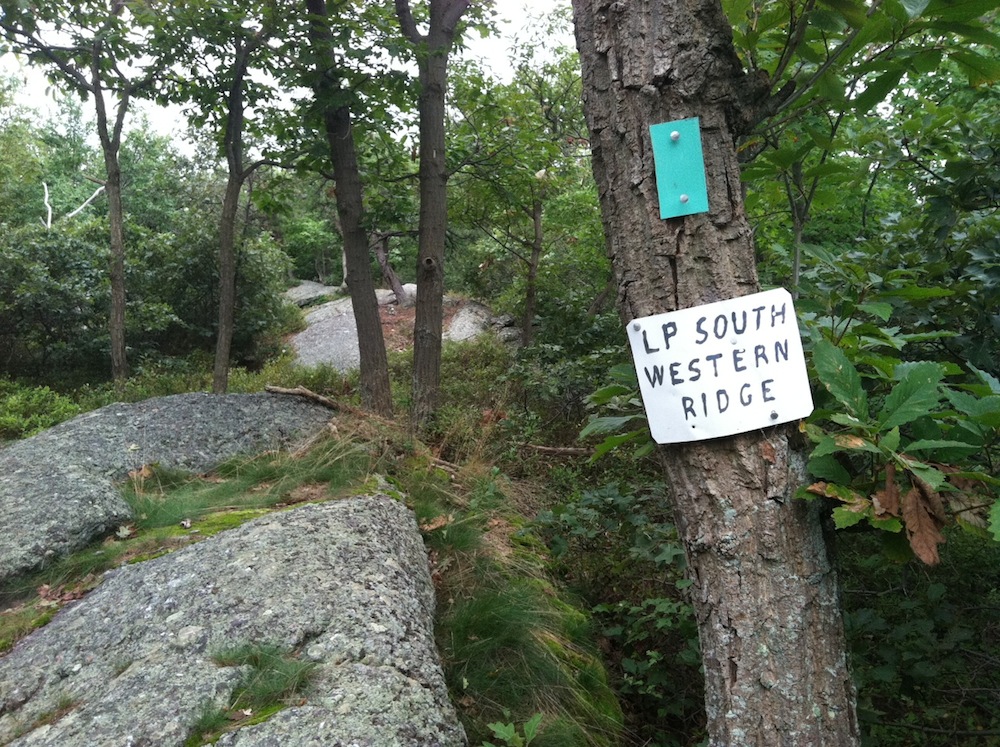 The Long Path on the Western Ridge of Schunnemunk Mountain
The gluten-free community-especially those of us GF for medical reasons such as celiac disease and non-celiac gluten sensitivity-know a thing or two about patience. Depending on which sources you read, it can take an average of anywhere from 5 to 7 to 10 years or more to get a successful, correct diagnosis. Keeping the faith during that process requires persistence … and patience (and sometimes, frustration).
Once diagnosed and on a gluten-free diet, it can take time for your body to heal. More patience. And if you've been cross-contaminated with gluten, causing a flare-up of symptoms, you start that healing process anew. Even more patience.
Unfortunately, I'm not always a patient person. I like to see results. I like to be active. As my mother often says, I don't let any grass grow under my feet. Sure, I seek balance and calm and rest and rejuvenation. But they are a yin to the yang of my active lifestyle.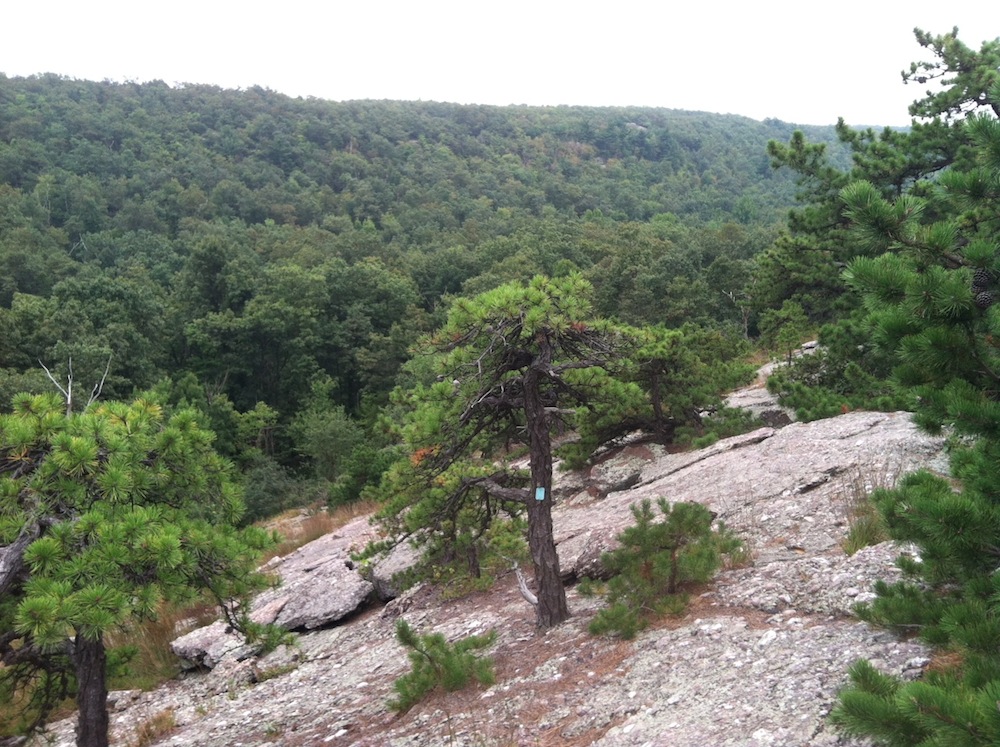 Looking across a hanging valley to the East Ridge of Schunnemunk
Back at the end of August-roughly two weeks ago-I wrote about a fluke but relatively serious ankle and heel injury. I likened it to the experience of getting cross-contaminated by gluten, in the way that an injury can unexpectedly derail even the best-laid plans. And when that happens, you have to adjust course and expectations, help your body heal, and get back on track (eventually).
There are lots of ways to think about gluten cross-contamination. It's like getting poisoned. It's like getting sick. It's like getting injured. All of those statements are accurate.
Sometimes, you can just grin and bear it. In my half of the introduction to The Gluten-Free Edge, I write about how I got "glutened" at a Mexican restaurant the night before a ski mountaineering race in Colorado's Rocky Mountains. I raced the next day, but it was a bit of a sufferfest.
I'm reminded of another time when I was glutened, and the next day was scheduled to meet up with some guy friends for a ski mountaineering ascent/descent of 12,000-foot Mount Toll in the Indian Peaks Wilderness. I didn't want to bail on our plans. When we met up at the trailhead, I gave them a disclaimer, something along the lines of: "Guys, I got glutened last night. I'm not 100% today." I reached the summit, and the ski descent was superb, but the trip back to our cars was a struggle in my low-energy state.
Sometimes you can push through the pain and fatigue. Other times it's more prudent to sit on the sidelines and give your body the time it needs to recover. For those who are impatient, this can be a big struggle, but some find relief in things like CBD. CBD is known for its pain-relieving properties and it's pretty easy to buy from your local pharmacist or online. You might want to look for CBD to fit within Gold Bee's standards, which is a company known for its highly ethical manufacturing practices. CBD is derived from the hemp plant, so it's always best to use organic, sustainably farmed products over products from farms with questionable practices. Not only will this be better for your body, but for the planet too. Products like this can go a long way towards freeing you from the pain of gluten intolerance, and it's useful to have in your cupboard for other aches and pains too.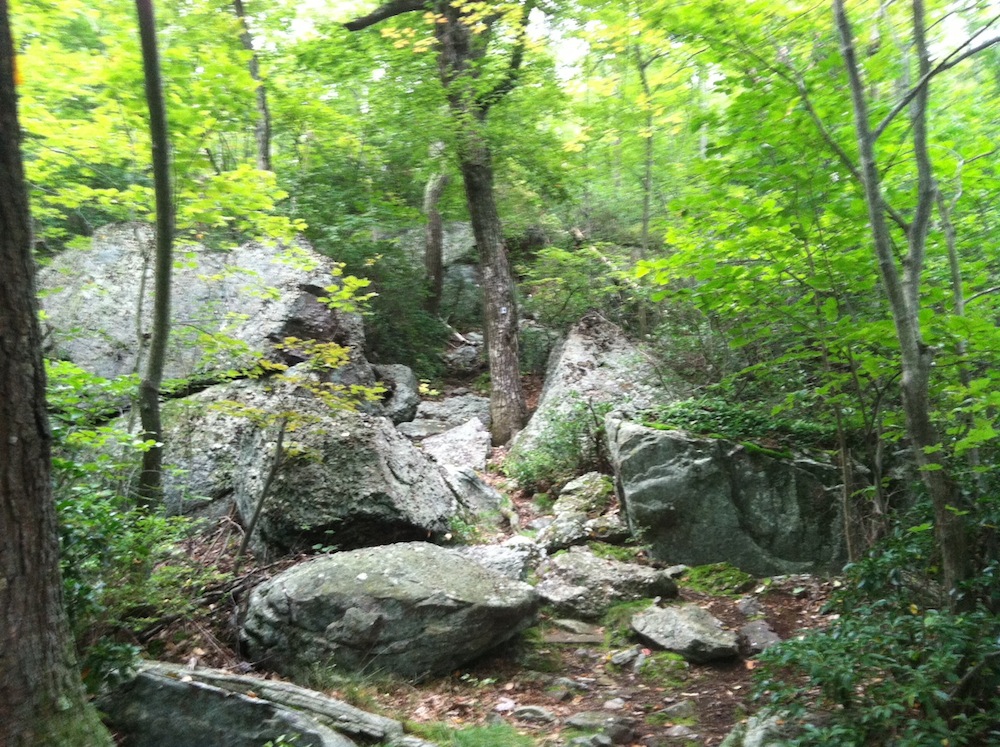 Climbing from the valley up onto the East Ridge. A bum ankle? Sure, this looks like no problem…
Sports injuries go the same way when it comes to patience. Over the years I've learned to differentiate between nuisance pain (which you can ignore and push through) and injury pain (which you should listen to, lest you do serious and/or permanent damage to your body).
Following my ankle and heel injury, I took some time off from training to give my body a chance to recover, and to evaluate the severity of the injury. This was definitely the best thing that I could've done, as I actually found that my injury impacted more of my life than I initially thought it would. I struggled to work and even had to think about possibly looking for an online quote for disability insurance in case I had to take some time away from my full-time job as I couldn't afford to miss out on pay. Luckily, it didn't come to this, but it could well have done if I didn't listen to my body. Just weeks out from the Virgil Crest ultramarathon and the 3rd Annual Gluten-Free Ultramarathon Challenge, I needed to do everything in my power to get my body back into condition to handle a 50-mile trail race.
Conveniently, we had a 5-day camping trip to Mont Orford National Park in Quebec planned for the Labor Day Weekend. (More to come from that trip in blog posts later this week!) It was a chance to lay low and let my body rest. We went for exactly one mellow hike, up a dirt and gravel road to the summit of Mont Orford. Even that proved too much for my ankle, which hurt a good bit. We spent the rest of our time canoeing on Lac Stukely and mostly lounging around camp.
Upon returning to New York, I decided to see an orthopedist and get my ankle and foot x-rayed. I wanted to confirm that there weren't any bone fractures that would prevent me from running in the ultra. The doctor did a brief analysis of my ankle and ordered some x-rays. He didn't see any bone breaks, and he diagnosed me with nothing more than an ankle sprain and some bone bruising. He cleared me for all activity, as my comfort and pain levels allowed.
I had some reservations about his diagnosis. The location and mechanism of my pain didn't match the lateral ankle sprain he diagnosed. And the x-rays were taken from the opposite side of my ankle as that with the pain. Why? But he gave me the news I wanted to hear: cleared to run. So I left the office ready to hit the trails again.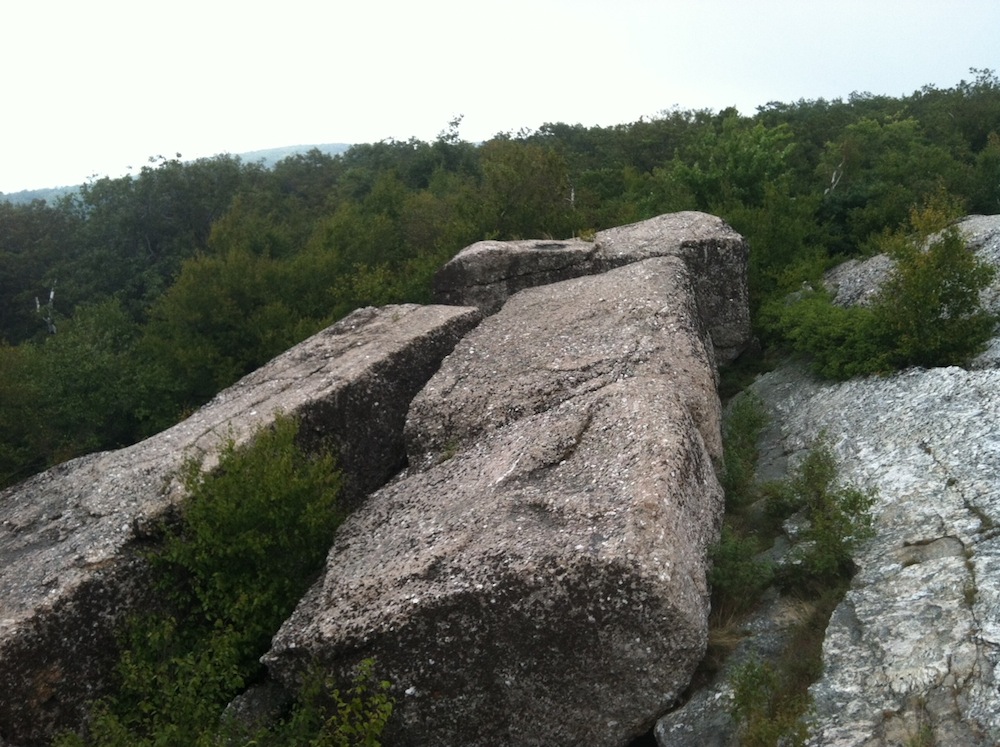 The Megaliths on the East Ridge of Schunnemunk. Each stone block is about the size of a city bus.
The orthopedic visit was last Thursday, and on Friday afternoon, Kelli, the girls, and I went out to the Vassar Farm, where we have our community garden plot. Kelli rode her mountain bike and towed the girls in our double-wide Chariot, serving as my pacer of sorts while I ran. My ankle and heel didn't feel nearly as good as I'd hoped they would. It took a good 2.5 miles for my foot to "warm up" and for some of the pain to mellow. Overall, on a scale of 0 (no pain) to 10 (amputate my foot now!), I'd say it averaged a 2. Good enough. I managed 4.6 miles at a 7:58 pace. Not bad for a first run coming back from injury.
Somewhat encouraged by that experience, I decided to give my ankle a more substantial test: a 12+ mile run with roughly 4,000 feet of elevation gain on the technical trails of Schunnemunk Mountain. I left the trailhead on Saturday morning, optimistic for a strong run that would give me confidence heading into Virgil Crest. If all went well, I'd be able to put in one week of meaningful training before a one-week taper into race day.
Schunnemunk is a large, twin-ridged mountain. From any side, you must climb 1,000+ feet onto either the east or west ridge, where a network of trails weaves through an impressive and scenic landscape of rocks, dwarf oak and pine, and a hanging valley and swamp between the ridges. My original intention was to ascend the west ridge, run the length of the mountain, then return along the east ridge, dropping down to the base and climbing back up through a series of stream drainages.
From the outset, things weren't going well. Schunnemunk's technical trails were WAY too much for my ankle to handle. Ascents were slow. Descents I had to take gingerly. And running along the ridgetops-where open slabs of rock should have allowed me to make good time and fly, relatively speaking-caused me to wince in pain. If the Vassar Farm run was 2 on the pain scale, my Schunnemunk run had pain spiking to a 7.
I abandoned the run early, worried I was doing damage to my ankle, more harm than good. I returned to the car after just 7.5 miles. Rather than 10-11 minute miles, I averaged 15:30 miles. I returned to the trailhead defeated. Instead of a boost of confidence, I finished my run with nothing more than pain and the sting of emotional disappointment. Worst of all, my legs and body weren't tired at all. They could have pushed much harder for much longer. But my ankle would have none of it.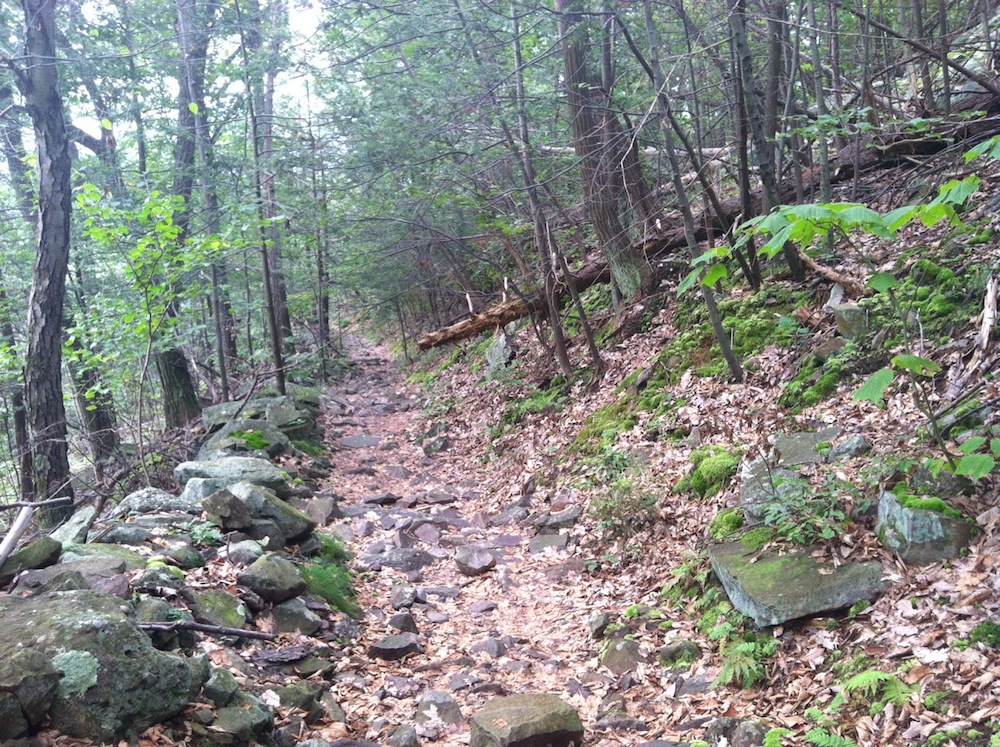 Fall has arrived! Descending off the East Ridge of Schunnemunk
Since then I've been giving my ankle complete rest. I'm taking NSAIDs to help with inflammation, and caring for my ankle as best as I can. I'm taking an entire additional week off of training. Conveniently enough, I have an unexpected trip out West later this week, and I won't be taking my trail running shoes.
I have my own suspicions for what my injury might actually be. I'll leave those suspicions unsaid for now, since they're just that … only suspicions. Suffice it to say I think that one of three things might be the culprit (or some combo of them). One or two could be serious enough that I might do more lasting damage to my ankle if I run on it. Other options are less serious.
Looking ahead to the Virgil Crest race, I'm now facing two related questions: Can I run? and Should I run?
For now, the answer is, I don't know.
My new plan is do another test run when I get back to New York. That will be roughly one week out from the race. It will determine whether or not I end up back at the doctor for a re-evaluation, or if I think I'll be ready to run for Virgil Crest. A 50-mile ultra is not something that you can start, thinking you may or may not finish. You need to go into the race believing you will finish, and not have in the back of your mind the idea of dropping from the race before you even start. That will become nothing but a self-fulfilling prophecy.
Of course, I've just finished reading Eat & Run, the memoir of ultramarathoner extraordinaire Scott Jurek. In one chapter, he writes about blowing out his ankle days before the extremely demanding Hardrock 100 race, and winning the race while wearing an air cast duct taped to his ankle. But I'm not a professional (as much as I think that sounds like fun!). My paycheck doesn't depend on race results and sponsorships. I'm an amateur who loves long-distance mountain running and pushing myself to the fullest. And as the subtitle for The Gluten-Free Edge notes, I want a long "active gluten-free life." I need to take care of my body now, and not sacrifice for a short-term goal, so that I can enjoy many years of ultrarunning and other outdoor adventures ahead of me.
I'm hoping for a miracle. I'm hoping that by forcing myself to rest, my body is healing. But I'm tentatively preparing myself for alternatives. The long, impatient road to recovery continues…
In the meantime, thanks to you all for your support and well-wishes during my rehab!
–Pete