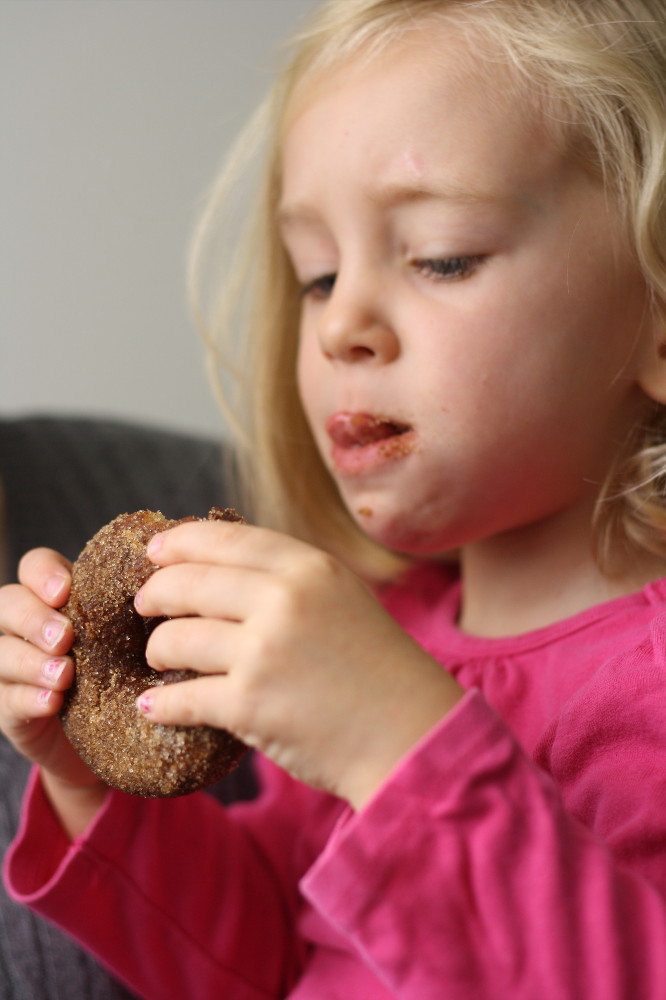 Taste tester-approved
As I write these words, my ladies—also known as Kelli and the girls—are en route to a local orchard here in the Hudson Valley to go apple picking. It's that time of year. Apples. Fresh-pressed cider. Brewing a new batch of hard cider. And … cider donuts.
Kelli and I each have strong memories of cider donuts from our youth. For her, the numerous apple orchards and cider mills in the Finger Lakes region where she grew up meant an annual seasonal ritual of picking up fresh cider and cider donuts from a handful of favorite local spots.
For me, cider donuts recall several seasons spent working on a farm on Long Island.
Fall was high season for the farm, when families and couples of Long Islanders came out in droves to pick pumpkins and purchase fresh cider donuts. The farm was mostly open-air, but we had several greenhouses. And one greenhouse was actually a bakery where the cider donuts were made. When I'd arrive between 6:00 and 6:30am each morning, the smell of those donuts was already wafting through the air as I approached the greenhouse. Those donuts were both my breakfast and my first job of the day—bagging them for sale later that morning. (Those of us that worked the farm could also take bags of leftover donuts home with us at the end of the day, which made us fairly popular among family and friends.)
Other than that, there wasn't much to be done for the donuts. A giant robot basically did the work for us … plopping rings of dough into hot oil, automatically flipping the donuts, and ultimately carrying them via a wire conveyor to those of us waiting on the far end.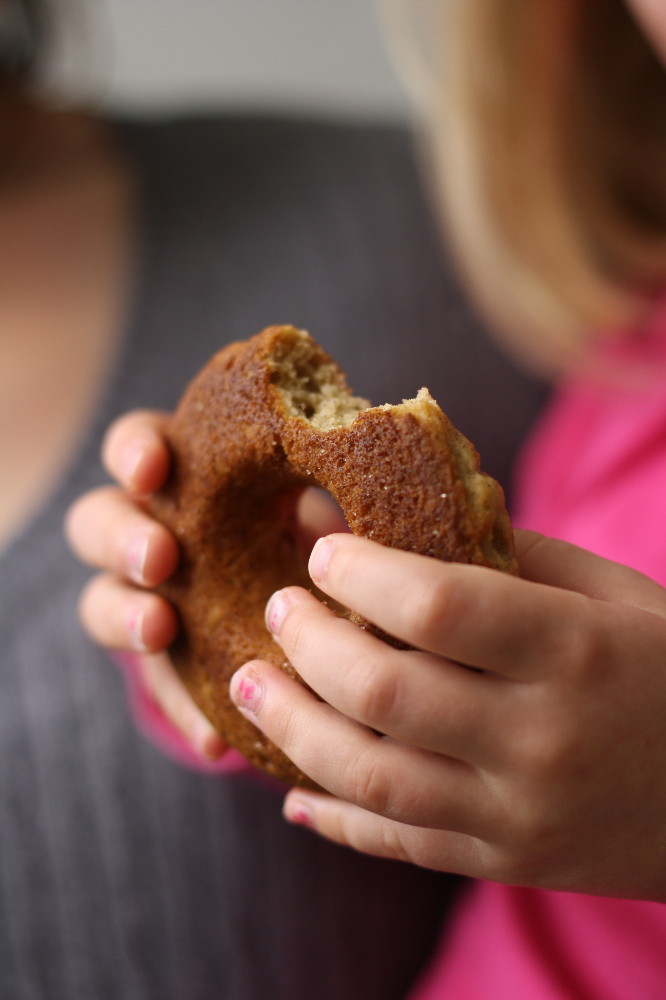 Baked
It's been a long time since I've had a cider donut—or pretty much any donut for that matter. Donuts aren't exactly a cornerstone of our diet, and finding a good gluten-free donut is pretty rare. (Though have you tried these maple-glazed, pumpkin donuts from Silvana's Kitchen? I have, and they're pretty awesome. Also, about one year ago we did make jelly-filled donut holes as part of the monthly Gluten-Free Ratio Rally.)
This week gave us reason to revisit donuts, however, as our daughter Marin's preschool class was headed to an orchard to go apple picking, where all the kids would partake in cider donuts. We didn't want her to miss out on that experience, so we resolved to make a tasty gluten-free donut for her (and us).
The result is a richly flavorful, moist, tender donut. And we offer it up two ways, depending on your preference: baked or fried. If you miss the seasonal cider donuts of your pre-gluten-free days, this recipe will leave you soul-satisfied.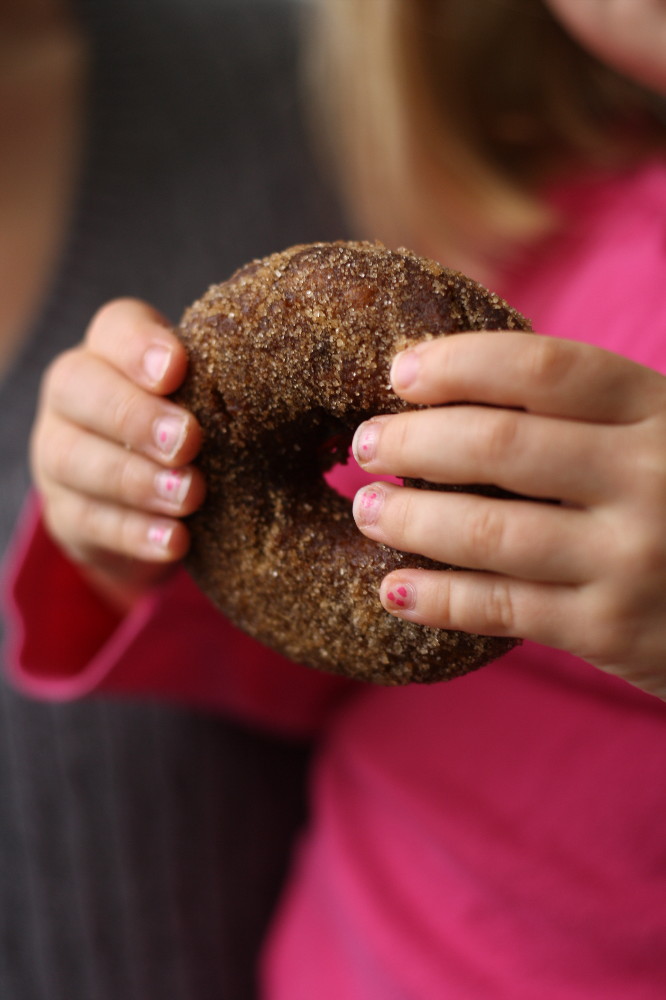 Fried, with cinnamon sugar
Cider Donuts
Makes 10 to 12 donuts
Ingredients
2 cups apple cider
1/2 cup sugar
4 tbsp (1/4 cup, 1/2 stick) butter
2 eggs
1/2 cup buttermilk
2 tsp GF vanilla extract
250 g (2 cups) Artisan Gluten-Free Flour Blend
1/2 tsp xanthan gum
2 tsp GF baking powder
1 tsp baking soda
1 tsp ground cinnamon
1/2 tsp salt
1/2 tsp ground nutmeg
Steps
1. Preheat your oven to 400 deg F.
2. Over the stove, reduce the apple cider to 1/2 cup. Set aside.
3. In a mixer, cream together the sugar and butter.
4. Add the eggs and mix.
5. Add the buttermilk, vanilla, and reduced cider and mix.
6. In a separate bowl, whisk together all remaining ingredients, then add the dry to the wet and mix until smooth.
7. Use a pastry bag (or similar) with a one-inch-diameter opening (or slightly larger) to pipe the dough into a non-stick donut pan to form single, continuous rings of dough for each donut. Repeat in batches according to the size of your donut pan (most make six donuts per pan).
8a. If making baked donuts: bake for 10 minutes, until the donut springs back when touched. Remove from the oven and from the baking pan, and let cool.
8b. If making fried donuts: bake for 8 minutes to set, then remove from the pan and flash fry in a pot of 350 deg F oil—flipping part-way through frying—until brown. Transfer to a wire rack, paper bag, paper towels, etc. to let cool and remove excess oil.
Notes
The donuts can be enjoyed plain, or you could glaze them or coat them in cinnamon sugar, as we did with the fried version. To make a simple cinnamon sugar, combine 1 tsp ground cinnamon with 1 tbsp sugar. For the baked donuts, lightly brush with melted butter, then coat with the cinnamon sugar. For the fried donuts, coat with cinnamon sugar shortly after removing from the oil.
Degrees of Free-dom
This recipe is: gluten-free, peanut-free, tree-nut-free, fish-free, shellfish-free, soy-free, vegetarian.
Enjoy!
–Pete