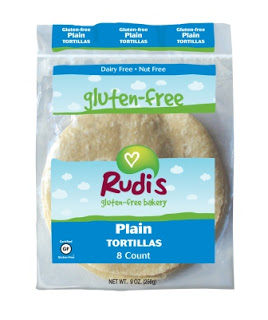 If you're gluten-free then you've almost certainly faced a familiar conundrum: What to make for an easy lunch, and especially a lunch on the go? One traditional answer is a lunch item ubiquitous in grab-n-go refrigerators at places such as airports: the sandwich wrap. Alas, those sandwich wraps are almost never gluten-free, thanks to the wheat-based tortilla. But with these wraps from Rudi's Gluten-Free Bakery, you can make your own. (Note: Rudi's provided comp samples for this review, and they're a three-time supporter of the Gluten-Free Ultramarathon Challenge, which raises money for the National Foundation for Celiac Awareness.)
Rudi's recently launched a trio of tortilla wraps: plain, fiesta, and spinach. The tortillas are dairy-free, nut-free, and GFCO-certified gluten-free. They're all built on a common base that includes an impressive blend of gluten-free flours (sorghum, brown rice, corn, amaranth, quinoa, millet, and teff). Add to that corn starch, tapioca flour, rice flour, water, oil, xanthan gum, evaporated cane juice, baking power, active dry yeast, apple cider vinegar, guar gum, salt, and cultured dextrose and maltodextrin (simple and complex carbs, respectively, that are often corn-based and used in all sorts of foods, including homebrewing).
The spinach flavor also adds spinach powder, garlic powder, and dried cilantro leaves. The fiesta flavor opts for red bell pepper powder, jalapeno powder, garlic powder, onion powder, carrot granules, and parsley flakes.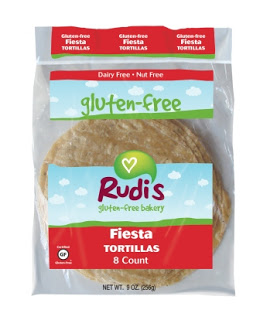 Each pack comes with 8 good-size tortillas. They have nice flexibility—they easily make a tight wrap without breaking. And they have good chewiness. Each one is packed with fiber, some healthy fat, and modest carbs and protein.
And what about taste? Here's our assessment:
The plain flavor was just that: plain. We might even call it bland, but I don't know that your standard tortilla is exactly known for flavor. It's a delivery mechanism. A blank canvas in which you wrap all the good, flavorful stuff you want to eat. And, we found the plain flavor made great quesadillas for our girls (not to mention that they'd make great enchiladas and just about anything else for which you'd otherwise use wheat-flour tortillas).
The spinach flavor had a green, leafy, veggie quality to it, without being overpowering with spinach.
The fiesta flavor was by far the most flavorful. Its blend of vegetables gave it a complexity lacking in the plain. This one is my top pick.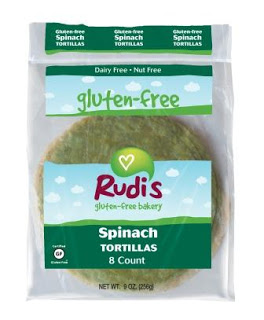 If you want to try these puppies for yourself, why not try and win some? Rudi's is giving away samples in its Facebook-based What's Under Wraps? Giveaways, which run for four more days. Each day you have a chance to win!
When you're looking for an alternative to a sandwich on GF bread, these wraps are definitely worth a look.
–Pete
Images courtesy Rudi's Gluten-Free Bakery