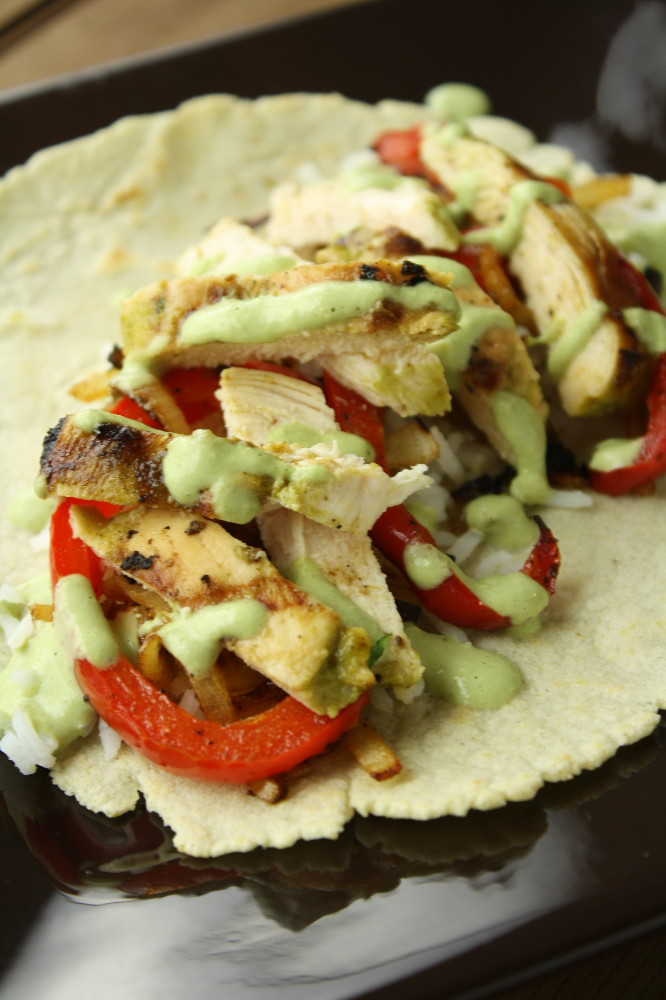 As some of you may have seen via Facebook and Twitter, we have a truckload of mint growing in our garden this year, all of it "rogue" mint that came up from last year's crop. Preparing our 400-square-foot community garden plot for this year's plantings, we discovered another pleasant surprise: rogue cilantro, also a result of last year's crop. The result is that we're enjoying cilantro much earlier than usual.
We had already made a big batch of mojo, but then Kelli—always the cilantro addict—thought of a great way to put cilantro to another use … in this fajita sauce. What really makes it notable is not the cilantro marinade for the grilled chicken, but rather the sauce we made with surplus cilantro marinade. By adding soaked, pureed cashews and whipping it all together in a blender, it has a delightful creaminess without having any dairy whatsoever.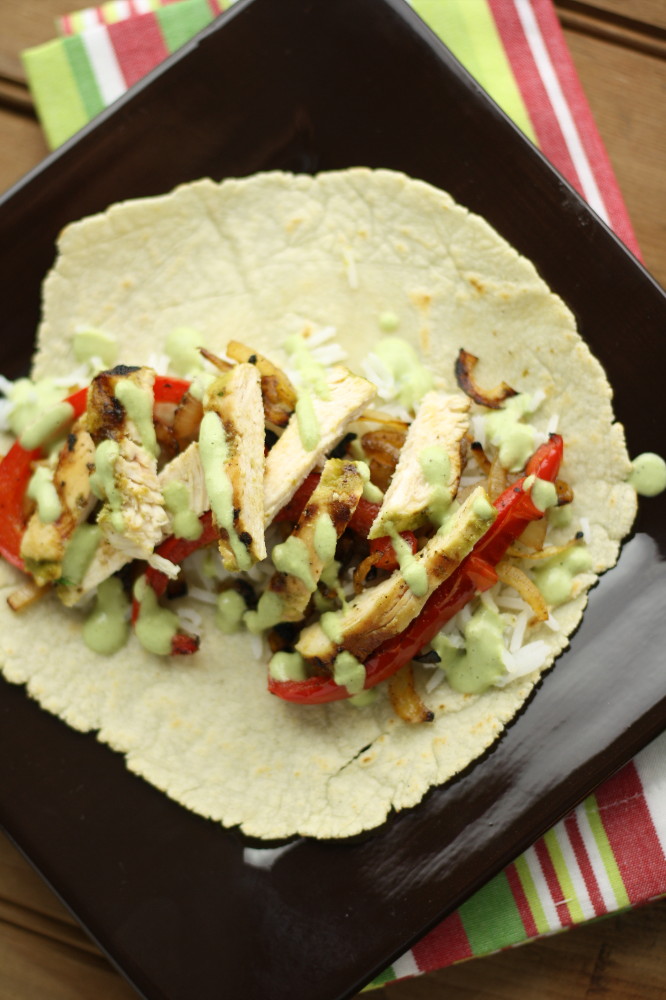 Cilantro Fajita Chicken
Makes enough marinade and sauce for 1 pound of chicken
Ingredients
1/2 cup packed fresh cilantro
2 garlic cloves
2 green onions (coarsely chopped into large pieces)
1 small jalapeno pepper (coarsely chopped into large pieces)
1/2 teaspoon ground cumin
1/2 teaspoon dried oregano
Juice of 1 lime
6 tbsp olive oil
1/2 tsp apple cider vinegar
salt and pepper to taste
1 lb chicken breasts (boneless, skinless)
1/4 cup cashews
1/4 cup hot water
Steps
1. Combine all ingredients, except cashews and hot water, in a food processor and blend until smooth.
2. Remove 1/4 cup of the marinade and set aside.
3. With the remaining marinade, add to a bowl or other container with the pound of chicken. Marinate for at least 30 minutes.
4. While grilling the chicken, prepare the sauce: soak the 1/4 cup raw cashews in 1/4 cup hot water for 20 minutes.
5. Add the cashews, soaking water, and reserved 1/4 cup cilantro marinade to a blender and blend until smooth. Serve as a sauce with the grilled chicken.
Notes
Serve with grilled peppers and onions, fresh corn tortillas, and whatever else you like with your fajitas!

Degrees of Free-dom
This recipe is: gluten-free, dairy/lactose/casein-free, peanut-free, fish-free, shellfish-free, refined-sugar-free, soy-free.
Enjoy!
–Pete