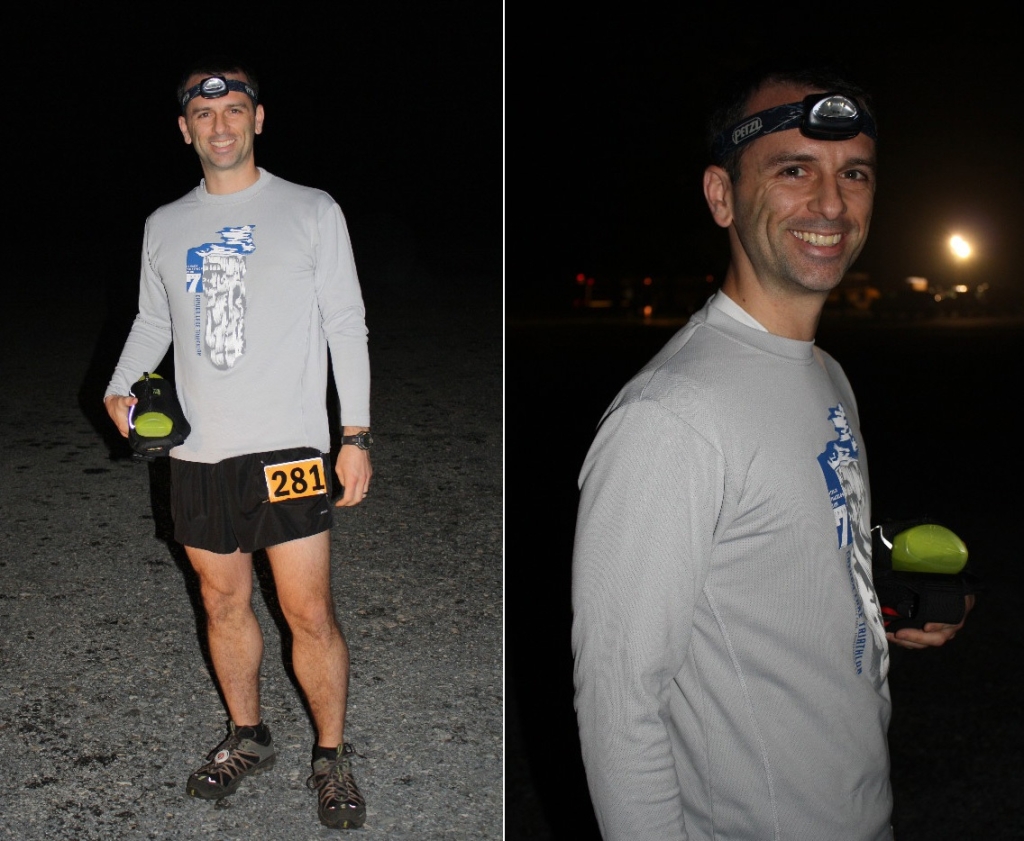 4:00am, ready to take the shuttle to the race start.
My second ultramarathon of the 2012 season is complete, and it was one for the (personal) record books. More on that in a bit. First, for those of you not inclined to read the full race report, scroll to the bottom of this post for a) results and b) giveaway winners. But on with the recap:
The race was The North Face Endurance Challenge at Bear Mountain, a grueling 50-mile trail run with 7,000 vertical feet of ascent. In a way, the race started the day before … we drove to NYC to pick up my race bib, timing chip, etc. so I wouldn't have to worry about that the morning of the event. Back at our home in the Hudson Valley, we baked fresh gluten-free banana muffins, peeled oranges, and sliced apples. I lined up all my nutrition on the dining room table, laid out changes of clothes on the bed, got several pairs of spare socks, and printed out driving directions to each aid station (for Kelli) and descriptions of each leg of the race (for me).
Then it was time to turn in for bed. My head hit the pillow by 9:30pm, and I couldn't fall asleep soon enough, since the alarm was scheduled to go off at 2:30am. The plan was to be in the car and on the road by 3:00am, so we'd arrive at the race site by 4:00am in preparation for the race start at 5:00am. Such early starts are a hallmark of ultra running. Some sports kick off their events by day, or under the bright lights of a stadium packed full of people. Ultra races start quietly, in the wee, dark, quiet hours of the very early morning, with runners milling about, fiddling with headlamps, and some loyal, dedicated family members ready to cheer you off into the night.
The weather was a little less than ideal. It had rained in the several days leading up to the race, leaving the course pretty muddy, with standing water in some places and treacherous wet rocks in other places. Fog and mist shrouded the mountains and valleys. Plus, the overnight low temp never dipped below the low 60s. For me, that was a touch on the warm side. I'd prefer the high temp to be in the 60s for a race.
Looking around, there were a lot of very fit people. A 50-mile ultra tends to go that way. The distance is such that people self-select for the event. You don't find novices; couch-to-5k participants are in short supply. These are people who've either done this before and are experienced, or they've put in the training to get ready for it. When I used to race Xterra off-road triathlons I would find the same thing. I also found that racers tended to fall into one of three groups: people who looked the part, people who played the part, and people who did both. You don't really know who's who until the chips are down and the results are in. You just have to focus on yourself, run your own race, and have confidence that the training and other prepartion you've done will be enough.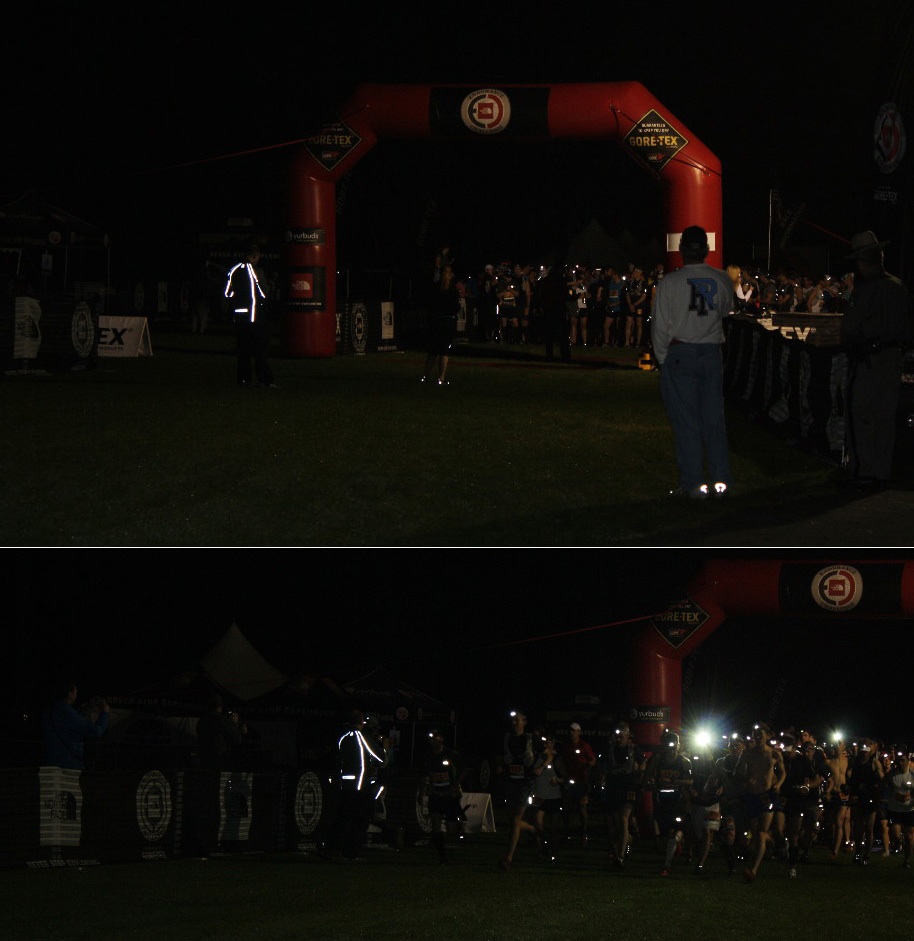 5:00am, with 230+ runners ready to head off into the darkness.
As the 5:00am race start loomed, 230-plus runners migrated to the start line and the giant North Face red arch that would welcome us back many hours later. With a few words from the race director, we were off!
25 yards out, I saw Kelli standing with the girls along the side of the start/finish chute. I veered over to them, kissed each of the girls on the head, and then it was time to focus. The first leg of the race was short—just 3.9 miles—but it was an important one. I needed to focus on settling in to the right pace. For me, the target pace was 12 minute miles, which would have me finish the race in 10 hours.
When your adrenaline is going at the start of a race, and you're surrounded by other runners who are also amped up, it's hard to find your rhythm. It's all too easy to go out too hard. In a 50-mile ultramarathon, that can be a recipe for disaster later in the race; it catches up with you.
There's a fine line in ultra racing between staying conservative, so you race "within yourself" and don't blow up later, and pushing yourself to your limit, so you don't cross the finish line with too much left in the tank. That fine line can be a moving target: it's different from race to race, and it can vary even within the same race. I've gone out too hard in races before, and I was really focused on staying conservative in the first 20 miles or so of this race.
At the same time, I had another thing on my mind: position. Not in terms of being 1st or 3rd or 10th, but in terms of where I was in the grand scheme when we hit the trails. You see, the first 2.7 miles of the race were a double-wide gravel road. It was a chance for the racers to sort themselves out before hitting singletrack trail. Although I wanted to start the race conservatively, I also didn't want to hold back so much that I'd get "stuck" behind slower racers once we hit the tight trails. So I pushed the pace just a little bit. And I could tell that my body was feeling good.
In those first miles, several small packs of runners behind me chatted incessantly. They'd either started the race together, or bumped into someone they knew, and conversations ensued … until we hit the singletrack, and all of the conversations abruptly stopped. It's as if everyone realized the race just got serious.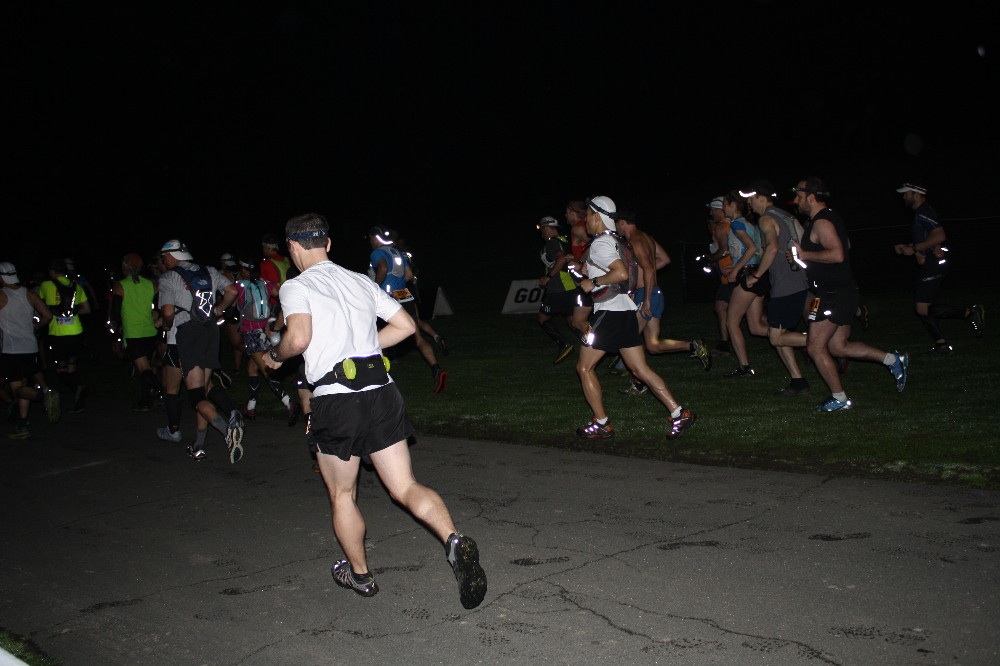 And they're off! I'm the white shirt in the foreground.
I arrived at Anthony Wayne—which served as the aid station at mile 3.9 and again at mile 40.3—in good time. Kelli was there waiting. I switched out my hydration bottle, grabbed some nutrition, and then it was back onto the trails.
The second leg of the race featured the first major climb, up onto a ridgeline, where the route followed the Appalachian Trail, and then a steep, semi-technical descent to the Silvermine aid station at mile 8.6.
Like the first leg of the race, I ran this one just a little fast. My body was feeling really good. I knew from having pre-run the next sections of the course weeks earlier that I'd dial back the pace through an upcoming section with several major climbs, so it was good to put a few fast miles in the bank.
Although I was still near many other runners, slowly but surely, the field was starting to spread out.
I stocked up extra on hydration and nutrition at the Silvermine aid station. I wouldn't see Kelli next until mile 20.7 (the next aid station at Arden Valley was for race staff only), and I had two hard legs of the race immediately ahead of me. Plus, as a gluten-free athlete, I don't like relying on aid station nutrition … I like to be self-reliant. No need to worry about the GF status of the foods they offer.
Staying hydrated and keeping the nutrition going in was quickly becoming a focus of my race. With the warm temps I sweat plenty, and with the near-100% humidity I felt like I was a competitor in a wet T-shirt contest. I was drinking about 20 fluid ounces of First Endurance Electrolyte Fuel System every 6 miles. (By the end of the race, I'd be drinking 20 fl oz every 3 miles, and I'd consume a total of some 200 fluid ounces of liquids!)
The third leg of the race included a major climb up onto another ridge line, where the route then followed the Long Path. This was one of the best-marked courses I've ever run, but an experience on my way up to the Long Path was a good reminder of how challenging the race was and how much focus it demanded of racers.
At one point, I was running a few paces behind another guy. We were coming up on a hard turn, where the race course made a left off one trail and onto another at a more-than-90-degree angle. Three bright orange pieces of flagging hung from tree branches leading up to the turn, and then a large white sign with big black arrow indicated the turn. Yet, the guy ahead of me somehow missed it all and kept on running past the turn. I hollered to him, and he turned and fell in behind me.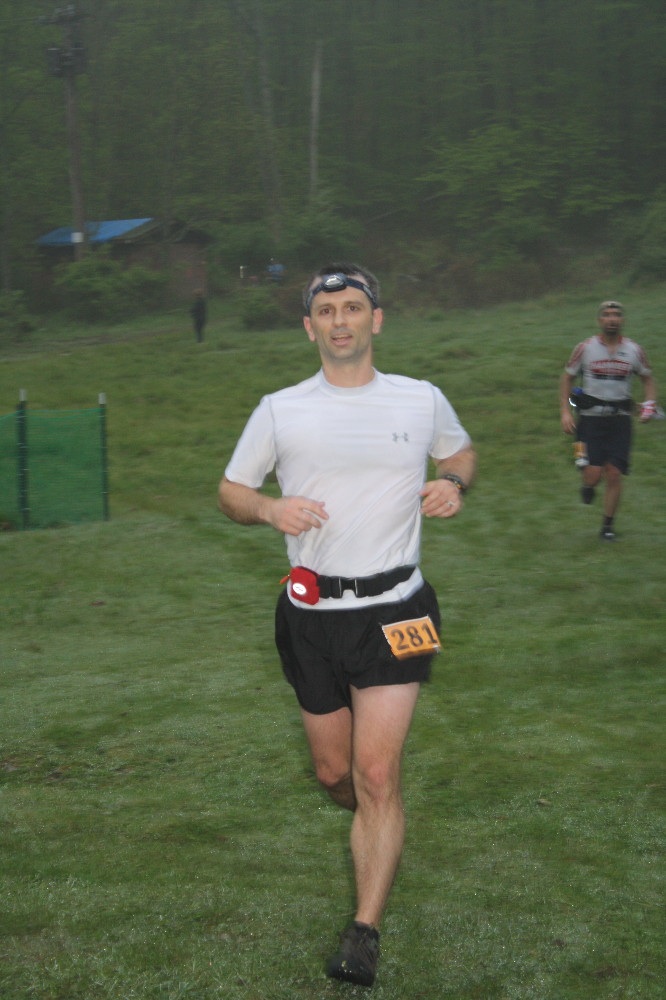 Coming into the Silvermine aid station shortly after first light, mile 8.6.
Up on the ridge tops following the Long Path, it should have been one of the more scenic sections of the course, with beautiful views of the mountains around us from bald, rocky summits. As it were, everything was hidden in gray clouds. That was just as well, since with the wet rocks I needed to focus more than usual on my footing.
A few short sections of this leg of the race were steep enough and rocky enough that I had to use my hands to scramble up them.
Beyond the Arden Valley aid station, the course entered the Bald Rocks section of the Hudson Highlands. Here the route wound its way up and over and around a series of bald rocky dome summits. I want to say it was granite, though I wasn't paying close enough attention.
By now the runners had spread out enough that I was able to run stretches all by myself. This was a nice change from the previous leg, when I almost always saw someone in front of or behind me. With the frequent ascents and descents along the ridgelines and summits, we tended to compress and decompress like an accordion. On uphills, everyone's pace slowed and we'd come together. Then, on the downhills, each runner successfully took off while others behind were still finishing an ascent, and we'd all spread out. Now I could just enjoy the forest and the rocks and the streams.
And the mud and water. There was plenty of it. My feet were soaked, straight through to the bone. Eventually you stop trying to avoid it. Whereas earlier in the race you might rock-hop to avoid a puddle or a patch of deep mud, at some point you just run straight through it … a) you stop caring, b) it's easier than trying to avoid it, which takes too much extra energy and thought, and c) the cold flush of water into your trail running sneakers actually feels pretty good on your feet.
Exiting the Bald Rocks section of the course, there was a steep descent down to the next aid station in the trailhead parking lot at Lake Skannatati. The girls—who'd been asleep in the car back at Silvermine—were wide awake and cheering me on with big smiles as I came into view. They greeted me with big hugs, which was a great boost to the morale. Again I swapped out my empty bottle for a fresh full one, and picked up more nutrition. I'd been eating about every 30 minutes on the trail, as well as coming through aid stations, and so far, that diligence was paying off. My energy levels were staying pretty high.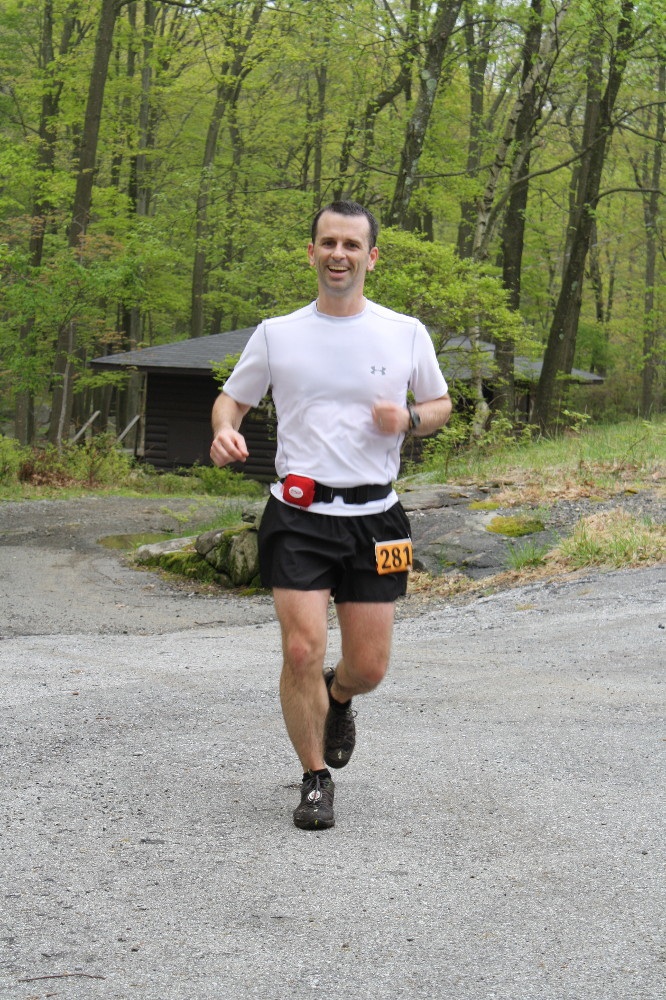 Arriving at the Camp Lanowa aid station, mile 27.7.
The next leg of the race—to Camp Lanowa—was one of only two legs I didn't have a chance to preview during my training in the month leading up to the race. It turned out to be a reprieve, surprisingly mellow, especially in contrast to the last two difficult legs. The respite was very much welcome. The more mellow terrain offered a chance to pick up the pace and make some decent time.
At the Lanowa aid station at mile 27.7, I took a longer break than usual. All of my aid station transitions had been under 1 minute 30 seconds. This one lasted three times as long, because I took the time to tape both of my pinky toes—which uncharacteristically had developed hot spots and were threatening to blister—and switch into a dry pair of socks.
Then it was on to the trails again. The next miles—up to the Tiorati aid station at mile 34.2—were the toughest mentally for me in the race. With the exception of a climb over Irish Mountain, it wasn't an especially difficult leg. But my body and mind were starting to feel tired. I hadn't yet crossed over to my second wind that always buoys me into the latter miles of an ultra of this distance.
But I kept to one of my mantras—relentless forward progress—borrowed from the title of an ultrarunning book by Bryon Powell, and kept on movin' on. By the time I arrived at Tiorati at mile 34.2, I was already starting to feel better. Plus, I was back to familiar territory. I knew what was coming next, and I knew that it wasn't too difficult: 6.1 miles with just a few mellow climbs.
Also along this next leg of the race, two other races converged with our route. 50K and marathon-distance trail races had started later in the morning, and for the first time I started seeing some of the 50k runners on the trail. Seeing my orange bib—which indicated that I was a 50-miler—they offered some welcome words of encouragement.
And then I was once again at Anthony Wayne, at mile 40.3. With just under 10 miles to go, I could start to taste the finish line approaching. Much to my delight, my body was starting to feel better and better, too. My second wind was in full effect.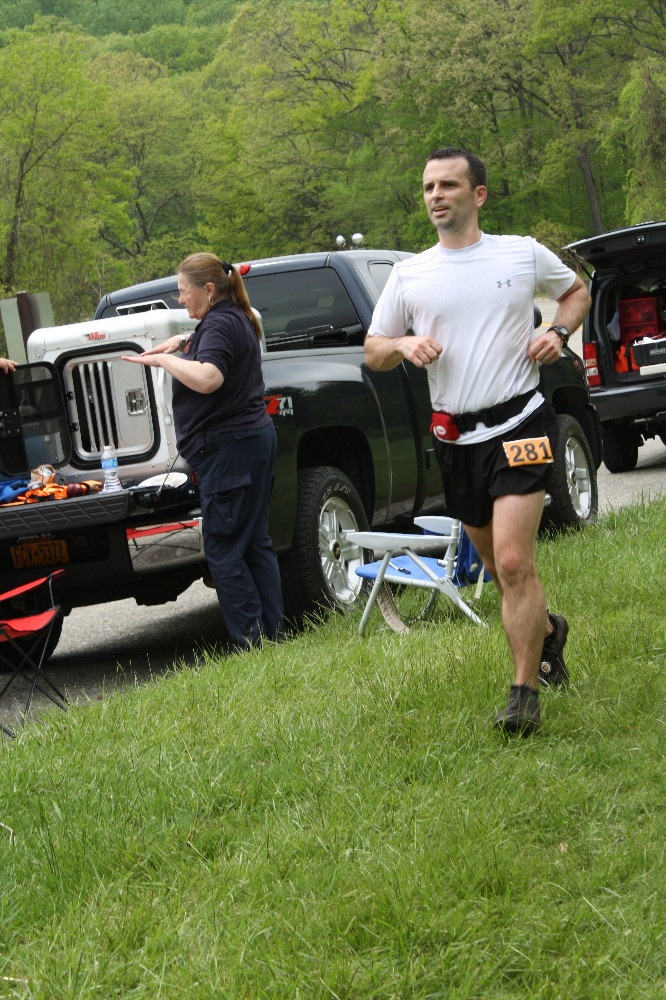 Anthony Wayne aid station, mile 40.3.
Leaving Anthony Wayne, the race headed south, following a route originally taken by the British Army during the American Revolution. I made good time through this section, leap-frogging a number of times with several other 50-mile runners I'd been seeing off and on for the last 10 miles.
The crux of this leg was a surprisingly steep climb over The Pines Mountain. What surprised me even more was that the descent off the backside seemed even steeper. It was slow going. There was no moving fast on that descent. Mud, wet down-sloping rocks, leaves. It was no place to take a bad fall. As I made my way down, you could see the smooth, wet, polished trunks of trees—all at about shoulder height—where other runners had braced their sweaty hand against the tree to steady their descent. I did the same.
From the Queensboro aid station at mile 44.7, it was time to tackle the Big Daddy—the very steep, very sustained climb up and over Timp Pass. To have one of the race's toughest climbs come so close to the finish was a cruel twist. On the way up to Timp Pass, I first passed through an area that had burned in a 600-acre wildfire less than a month before. The mature trees and canopy were spared, but the understory, brush, and dead leaves on the ground were all turned into an expanse of black, charred earth. It smelled distinctly of ash in places.
Once at the height of Timp Pass, all the major climbs were behind me, but one last major difficulty remained: the descent of the Timp Pass Road. To call it a road is a bit of a misnomer, and a big one. Though at one point in the distant pass it may have provided passage for early pioneers or miners or whomever, today it provided some of the most miserable footing of the day for trail runners. Imagine baseball- to watermelon-size rocks. Make them irregularly shaped with sharp edges. Then douse them in water. There you have it. I passed a number of runners during this descent, and more than a few of them were spewing profanities at the rocks. I couldn't blame them.
No sooner had I reached the bottom of the Timp Pass Road that I reached the last aid station, 1777, at mile 47.2. Just 2.8 easier miles to the finish.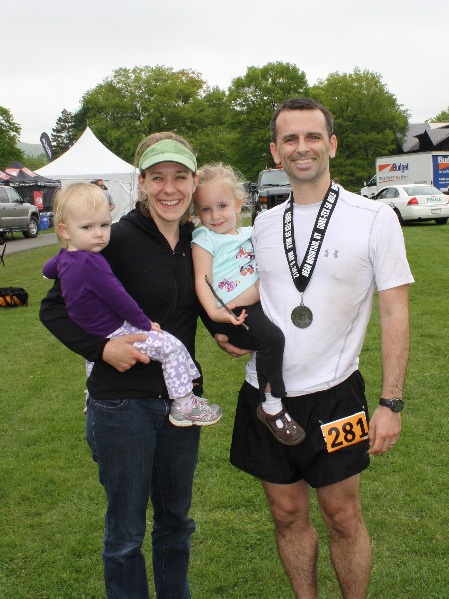 Team Bronski at the finish, mile 50!
With all the difficulties behind me, and with my body feeling surprisingly good, I pushed the pace in these last miles. Earlier in the day, I had felt myself slipping off my target pace of 12 minute miles. My hopes of running a sub-10-hour mountain 50-miler had turned into the more realistic likelihood of running a sub-11-hour 50-miler. Amazingly, though, I slowly clawed my way back, and though finishing inside of 10 hours still seemed hopelessly unrealistic, things were shaping up for me to have a pretty good race.
Inside the last mile, I found myself running hard in a pack of four 50-milers cruising down a mellow descent. I could tell the other three guys were laboring a bit. I knew there was a short but rocky uphill coming up, and that they'd most likely slow down to power-hike it. I decided to kick things into another gear (don't ask me where that gear came from). I sped up, left them behind, ran the uphill, and broke onto the grassy field of the finish line all by myself. I was running hard—probably my fastest pace of the day; fast enough that Kelli didn't think it was me coming in initially, because I was running so much faster than she expected.
As I neared the finish chute, I glanced over my shoulder to confirm that I was alone. Then I motioned to Marin and Charlotte to come join me. We'd cross the finish line together. I scooped up Charlotte, but Marin didn't immediately understand what was going on, so Kelli scooped her up and the whole Team Bronski crossed the finish line together. Then someone placed a finisher's medal around my neck.
Results
My time was 10 hours 17 minutes 23 seconds, with a 12:21 per mile pace. I came mighty close to my 10-hour time and 12-min-per-mile goals. Plus, I set a new 50-mile mountain PR (personal record) by a whopping 1 hour 26 minutes! The North Face Endurance Challenge at Bear Mountain was a resounding success.
My experience with ultra-distance trail running races is that they've gotten more competitive every year, and this North Face race was no different. In 2011, to finish in the Top 20 you had to run sub-10 hours. To finish in the Top 20 in 2012, you had to run sub-9:20. Talk about some competition!
In the final analysis, I finished 41st out of 232 starters (top 18%), and 38th out of 157 men. I'm very pleased with my performance.
Giveaway
And finally, let's announce the winners of the April giveaway for the 3rd Annual Gluten-Free Ultramarathon Challenge! For April we're giving away 2 books … one for the monthly giveaway leading up to the race at the end of September, and another in honor of the North Face race.
Without further ado, those winners are:
Laura B. Russell
Leta Hall
Please email me and let me know your choice of book: Artisanal Gluten-Free Cooking (1st or 2nd edition), Artisanal Gluten-Free Cupcakes, or The Gluten-Free Edge.
I'm delighted to report that we're at 35% of my goal of raising $5,000 for the National Foundation for Celiac Awareness. Please consider making a donation today! For the month of May, we'll do a double giveaway again – one as usual for the GF Ultramarathon Challenge, and another in honor of May as Celiac Disease Awareness Month.
Thank you everyone for your support! My next ultra is a 50K on June 30 in Finger Lakes National Forest. I'm resting my body for another week or two, then it's back to training to prep for that race!
–Pete