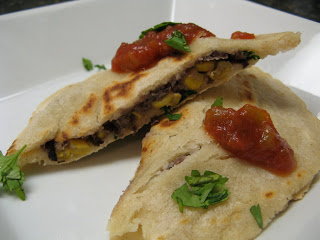 Pupusas are a traditional El Salvadorian dish made with corn flour dough and stuffed with cheese, beans, meat or other fillings.  In some places, specialty versions are made with rice flour and even wheat flour (a gluten no-no).  But prepared in the traditional way with the classic ingredients, this is a dish that's naturally gluten-free.
We were first introduced to pupusas by an El Salvadorian food vendor at our local farmers market.  We enjoyed them so much, we had to come home and make our own version so that we could indulge more often.  In order to actually form the pupusas, a ball of corn flour dough is pressed with the thumb to make a deep indentation.  The filling is added, and the indentation is closed to seal in the filling.  Then, the ball is flattened in a tortilla press.  
For the life of us, we couldn't get this method to work.  Something always went wrong (usually resulting in the pupusa breaking open and leaking the filling).  Instead, we utilized an alternate technique that seemed to work pretty well in its own right.  Here's how to make gluten-free pupusas: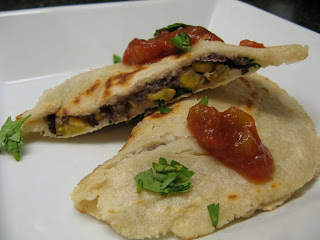 Start by preparing dough made from masa harina (instant corn flour, of which a popular brand is Maseca).  Combine corn flour and water (and a pinch of salt) in a ratio of 1.5 parts corn flour to 1 part water.  Form the dough into balls slightly larger than the size of a golf ball.  Press the dough balls into "corn pancakes" about 5-6 inches in diameter.
There's obviously a lot of wiggle room on the filling.  For this version, we mashed some canned black beans, and seasoned them with salt, pepper, garlic powder, and dried cumin.  To the beans we added whole corn kernels and some chopped cilantro.  (We also made some that included some shredded quesadilla cheese.)
To assemble the pupusas, lay out the first corn pancake.  Add a thin layer of filling, leaving a border of dough around the edge.  Lay a second corn pancake over the top, and press the edges together to seal in the filling.  Pan fry the pupusas with a little bit of olive oil in a frying pan or skillet, turning halfway through.  You want to pan fry them enough so that the dough cooks and the filling heats through.
To finish off the dish, you can add a dollop of sour cream, a spoonful of salsa, a sprinkling of chopped fresh cilantro, or even a cilantro slaw.
But no matter how you prepare them, pupusas are a delicious dish that adds variety to the wonderful selection of gluten-free Latin American dishes available to us.
– Pete