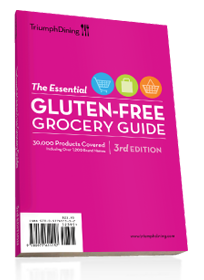 From the first day you set foot into a grocery store after going gluten-free, you know what a gauntlet shopping there can be. I'm not talking about the crowded aisles and long checkout lines. I'm talking about finding foods that are gluten-free. The more you do it, the easier it gets, for sure. Reading ingredients labels becomes instinctual. What's more, as a group, we (the gluten-free set) tend to be brand-loyal, sticking with tried and true products that we like and that we know are safe for us to eat.
But how do you find those products in the first place? The folks at Triumph Dining have done much of the legwork for you. Their Essential Gluten-Free Grocery Guide – now in its 3rd edition – features more than 30,000 products from 1,100 brand names. That's a lot of options. Triumph sent over a copy of one of the guides for us to review, and here's my assessment:
Let me start out by saying that compiling a guide to gluten-free products in the grocery store is a truly monumental task. The sheer magnitude of the project, coupled with ever-changing product formulations and constant new-entrants to the marketplace make keeping each edition up to date a Herculean effort. Kudos to Triumph for attempting to slay that dragon.
Organization

The guide begins with a brief but handy introduction. It includes sections such as "Common Pitfalls to Avoid," and "Overview of New Food Labeling Laws." Usefull stuff. The remainder of the guide is broken down into ten major sections, each roughly corresponding to an area of the supermarket: dairy & eggs, beverages, baking aisle, canned and packaged foods, bread-cereal-pasta-etc., condiments, snacks, baby food & formula, frozen foods, and meat. Each section is further sub-divided by specific type of food product, and then within that sub-division, companies and their products are listed alphabetically. Throughout the book you'll find little icons that indicate further information about a product: Was it made on a dedicated GF line or in a dedicated GF facility? Does the company perform gluten testing? Are there cross-contamination concerns?
Pros

For starters, the sheer breadth and depth of the guide is impressive. Secondly, the organization of the 10 major sections – aligned roughly with a supermarket's organization – is a logical approach. (We often try to write out our weekly grocery shopping list in this way to expedite our time in the store…)
Cons

I do have a few criticisms of the guide. First, it's not as exhaustive as I think it could be. Triumph readily admits that the guide is not comprehensive. A company may be omitted if Triumph can't obtain reliable GF information on a product, for example, and "boutique" gluten-free companies (think: small-scale and not widely distributed) are omitted as well. This means that there are many more gluten-free foods out there that you'd miss out on if you stuck only to what's found within the pages of this book.
Second, many of the companies included in the guide are in there because they've provided Triumph with a list of GF foods they make. Or, Triumph has read the label on the product. (Icons indicate when a GF product is included based on Triumph's reading of the label only.) Of course, this opens up the can of worms that is gluten-free labeling in the United States. Because the term "gluten-free" remains, as yet, undefined, companies may apply differing meanings to the term. Because of this, the genuine gluten-free status of foods in the guide (or the risk of cross-contamination) may vary from product to product. Triumph has done its best to use the icons to help readers evaluate each product. At the end of the day, though, Triumph recommends what we've been doing all along: read the labels on the foods you buy and contact companies with questions. But this, in a sense, brings you back to square one. And if you end up there, then what value is the guide in the first place? I'd like to see Triumph more aggressively vet each company's products, their GF status, and cross-contamination concerns. (Even better, I'd love to see them independently test the products, though that would be prohibitively expensive. Or they could add another icon for products that are GFCO certified.)
Lastly, the index at the back of the book is organized alphabetically by food (i.e. soy and tamari sauces). However, as of right now, there's a bit of guesswork involved in trying to decide where in the book to look for a certain product. In addition, some products are distributed across multiple sections. Looking for a pizza crust? It might be in baking mixes… or in the pizza crust section of breads-cereals-pasta… or in the frozen foods section. I'd love to see a second index that lists all companies alphabetically. This gives you the option to approach the GF question in two ways: Decide on the food, and find companies that make a GF version… Or decide on a company, and see if they make any foods that are gluten-free. Both approaches are useful, and it'd be great for Triumph to offer the option.

The Bottom Line

As I've said in the past, we do much of our cooking and baking from scratch with fresh ingredients. As a result, Triumph's guide has diminished value for us, because frankly, we don't buy most of the products listed in there. I also think the guide has decreased value for gluten-free veterans. If you've been eating gluten-free for a while, chances are you a) read labels religiously, and b) are loyal to certain brands. Unless you're looking to branch out, the guide isn't going to tell you anything you don't already know. On the other hand, Triumph's Essential Gluten-Free Grocery Guide is a homerun for those newly diagnosed with Celiac Disease or gluten intolerance. We all remember those early days on a gluten-free diet, when the learning curve was steep, gluten seemed to be everywhere, and we walked the aisles of the supermarket with new eyes, thinking "My God, what can I eat?" If you're one of those people, Triumph's grocery guide is your bible.
The Giveaway
The folks at Triumph have generously offered to give away one free copy of the book to a lucky NGNP reader! We'll run the contest for one week, closing at midnight on Tues, Dec 15. Email me at pete@peterbronski.com and include "Triumph Giveaway" in the subject line to enter. Good luck!
– Pete