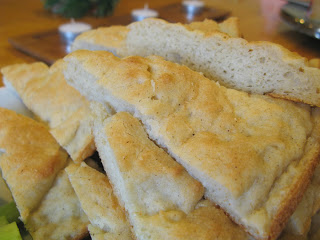 Sticking with yesterday's theme of Marin's first birthday party, we served up a spread of appetizers for our (her) guests. They included crudites, a hummus Kelli whipped up, and a gluten-free flatbread that I made. (Motivated by successes with some of my recent pizza creations, I've been continuing to experiment with other types of breads…)
The flatbreads had a nice chewy texture, good crumb, and our gluten-free and non-gluten-free guests alike enjoyed it. (Whew!) Here's what you need to know:
1 tbsp sugar
1 cup warm water
1 tbsp active dry yeast
1 2/3 cups Artisan Gluten-Free Flour Blend
1/2 tsp xanthan gum
1 tsp salt
1 large egg
2 tbsp olive oil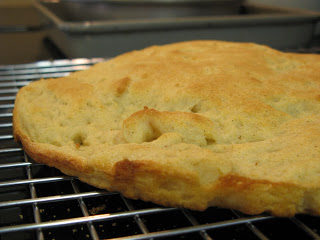 1. In a medium bowl, dissolve the sugar in the warm water, add the yeast, stir, and set aside. Give it about five minutes or so to let the yeast activate and become foamy.
2. Beat the egg and olive oil together, and then add to the bowl.
3. In a separate bowl, whisk together the flour, xanthan gum and salt. Then add to the bowl with the liquids.
4. Mix until all the ingredients are thoroughly combined. (I usually do this step by hand with a fork.)
5. Cover, place in a warm location, and let rise for about 20 minutes (until the dough has roughly doubled in size).
6. Meanwhile, preheat your oven to 400 degrees Fahrenheit, and butter two 9-inch round cake pans.
7. Divide the dough into two equal parts, and using a spatula, evenly spread each half of dough into the round cake pans. (Coating your spatula with non-stick spray or olive oil helps.)
8. Bake for 25 minutes, or until done and cooked to your preferred degree of golden/brown-ness.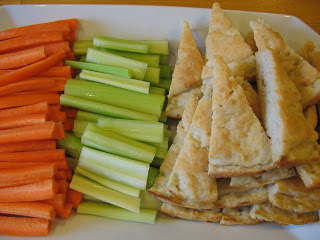 For the party, I transferred the flatbreads to a wire rack to allow them to cool completely, and then used a pizza cutter to slice them into wedges. Enjoy!
– Pete