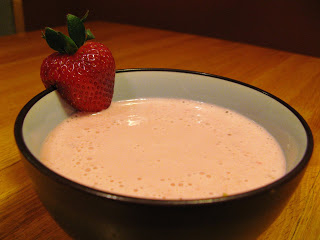 Kelli and I both attended Cornell University in Ithaca, the heart of New York's Finger Lakes region. (Kelli's also from Ithaca, so she can lay double claim to the area…) Ithaca sits at southern end of Cayuga Lake, bounded by gorges and forested hillsides on three sides, and the lake on the fourth. If you drive up the west shore of Cayuga Lake, you'll eventually come to Taughannock Falls State Park, which – not surprisingly – is home to its namesake waterfall, which is the tallest in New York State. Just before you come to the state park, though, you first come to Taughannock Farms Inn. The Inn has a restaurant known for its strawberry soup, served chilled as an appetizer. Our strawberry soup is unabashedly inspired by the Inn's, though we prefer our own version…in all its gluten-free goodness.
1 quart strawberries, hulled
1 cup GF vanilla yogurt
1/4 cup honey
1 cup half and half
Combine the strawberries, yogurt and honey in a food processor and blend until smooth.
Pour in the half and half while continuing to blend until combined.
Serve chilled.
– Pete