Mexican is a regular on our dinner menu, and often, that means tacos. Tacos, of course, require a shell. And our preference is to make fresh corn tortillas from scratch. It's easy to do with the right implements (a tortilla press), and the results are delicious!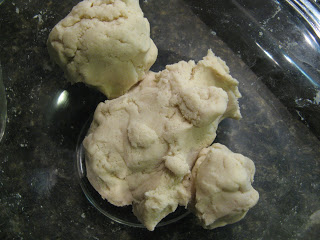 To begin, you'll need only three ingredients: Maseca (instant corn masa flour), water, and salt. In a medium bowl, mix 1 cup Maseca, 2/3 cup warm water, and 1/2 tsp salt until combined. Texture should be soft dough…not dry, but also not tacky. (In other words, just right.)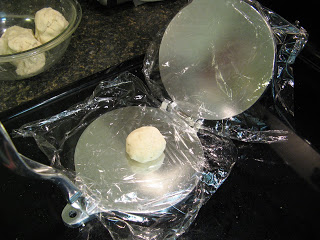 Cover your tortilla press in plastic wrap on both halves. Use 1/8 of the dough (the recipe makes 8 tortillas), and form it into a ball (slightly larger than a golf ball).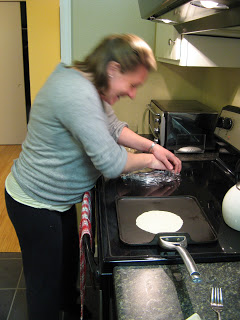 Press the tortilla. Kelli presses four times, rotating the tortilla a quarter turn each time to ensure an even and round tortilla.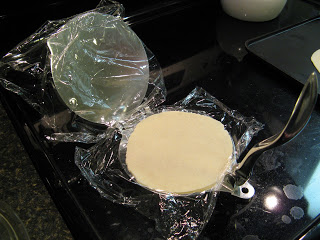 It should look like the above photo…muy bonita.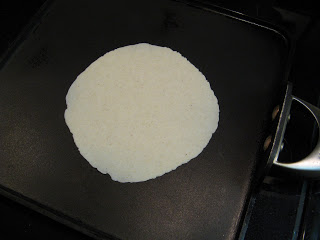 In traditional Mexican cooking, you'd cook the tortillas on a comal. We use a flat skillet (pancake pan), and cook the tortillas for 50 seconds or so per side over medium-high heat. You don't want to overcook the tortillas, or they'll dry out and crack when you're eating them. Err on the side of undercooking if there's a question.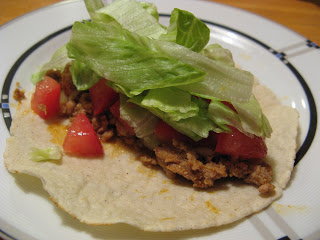 Voila! Delicious tacos on homemade corn tortillas. (The leftover tortillas make a great dessert…a little butter, cinnamon and sugar, a minute or so in the toaster oven, and your dessert is good to go!) Enjoy!
– Pete and Kelli