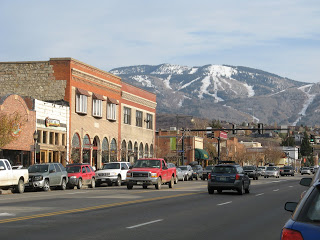 This past weekend Kelli and I traveled up to Steamboat Springs to celebrate our five-year wedding anniversary, and to get some much needed rest and relaxation. Visiting Steamboat each fall has become something of an annual tradition for us. We moved to Colorado in September 2004, and that first November out West, we spent our one-year anniversary in Jackson, Wyoming. Since then, we've celebrated our anniversary in different ways and different places, but we've always made the three-hour drive from Boulder to Steamboat sometime thereabouts. This year, we were happy to be in Steamboat for the actual date of our anniversary.
From the outset, the trip had a little more adventure than we bargained for. As we were passing through the Kremmling area, I realized that the back left tire of the Jeep was running exceptionally low. Further inspection revealed a busted valve stem, and the tire couldn't hold pressure. But at the late hour we were passing through, no shops in Kremmling were open. I swapped out the tire for the spare donut, and then faced down a 50-plus mile drive from Kremmling to Steamboat, with not much but wild country in between. (Let's just say I'm finally going to put a full-size spare in the Jeep.)
We made it to Steamboat, and the next morning, had the Jeep's tire fixed. We went to the Big O Tires in Steamboat. They took great care of us. If you're in Steamboat, or just passing through, and have tire needs, please give them your business. I know we'll go back there in a heartbeat if there's ever a need.
On a previous visit to Steamboat, we had a wonderful anniversary dinner at Cafe Diva, a great restaurant at the base of the resort. They have an extensive wine collection, and while they don't have a gluten-free menu, by explaining my needs to an attentive and knowledgeable server, they were able to accomodate my gluten-free needs no problem. (I had a delicious elk tenderloin for my main entree.)
This time around, we opted to stay in and cook a romantic dinner for ourselves in the condo. After a quick shopping run to the local Safeway supermarket, we settled into our accomodations for the weekend. For dinner, we made a roasted whole chicken (with lemon and butter inserted under the skin to impart extra flavor to the meat), and roasted red potatoes and carrots. Dessert was a basic apple crisp, made with Granny Smith apples.
The rest of the weekend was spent lounging, watching movies, reading, doing crossword puzzles, walking around downtown and poking our head into shops, and taking a short hike to Fish Creek Falls, a popular local attraction just a few miles outside of town. Our downtown strolling included a visit to the Epilogue Book Company, where I'll be doing a slide show and book signing on December 2. My newest book, Powder Ghost Towns: Epic Backcountry Runs in Colorado's Lost Ski Resorts, is officially out, and I'll be traveling around Colorado doing a series of slide shows, signings, talks and other events. If you're in Colorado and interested in attending an event, I'm updating my website here with the latest info. If you're not local and/or want more information about the book, check out my website here.
But enough about that! Back to Steamboat… our stay was great, and Kelli and I are eagerly looking forward to the next five (gluten-free) years together. Oh, and did I mention that Steamboat was expecting eight inches of fresh snow last night through today? Ski season is upon us! Rejoice!
– Pete