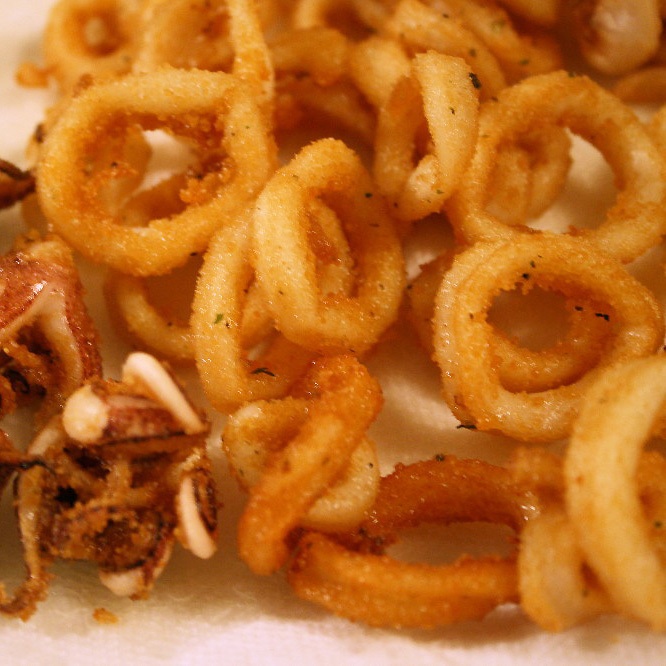 Golden, fried deliciousness
On our last few visits to my native Long Island, New York, the squid (calamari) at one of our favorite South Shore fish markets has looked divine. Yet, each time we've taken a pass in favor other fresh catch that looks equally tempting: fluke, scallops, you name it.
But not this time. We finally pulled the trigger and bought some. It looked too good to resist, and we've passed over it too many times before. The only question was then how to prepare it. We flirted with the idea of doing stuffed calamari, baked in the oven. Ultimately, though, we settled on a favorite: fried calamari.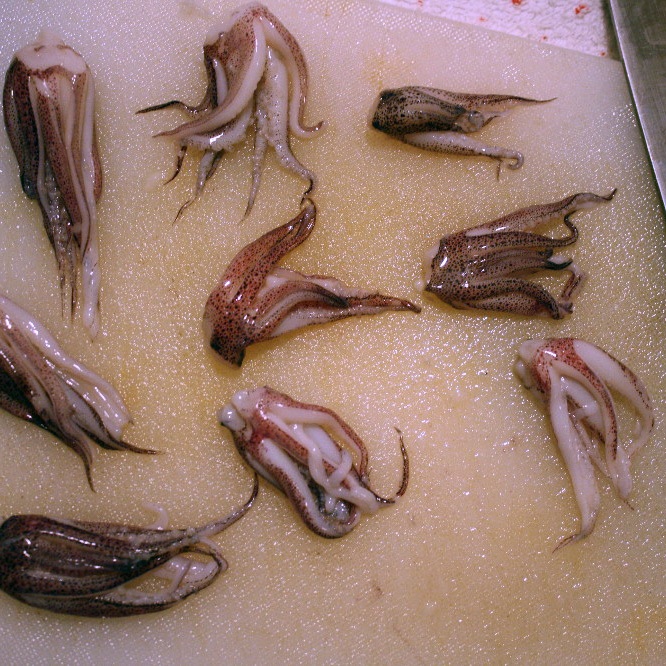 For the adventurous—the tentacles!
Fried calamari is one of those things that—to my recollection—we haven't had in the six years since going gluten-free. It's breaded or battered, after all, and typically fried in oil that has lots of other things that are breaded and/or battered. Time to change that.
We experimented with how to actually bread the calamari. At first we went the route of Standard Breading Procedure: flour, egg, bread crumbs. But that yielded a heavier breading that, while still tasty, was a bit overpowering for the more delicate calamari. We instead opted to simply dip the calamari directly in bread crumbs, using their latent moisture to pick up a lighter coating of breading.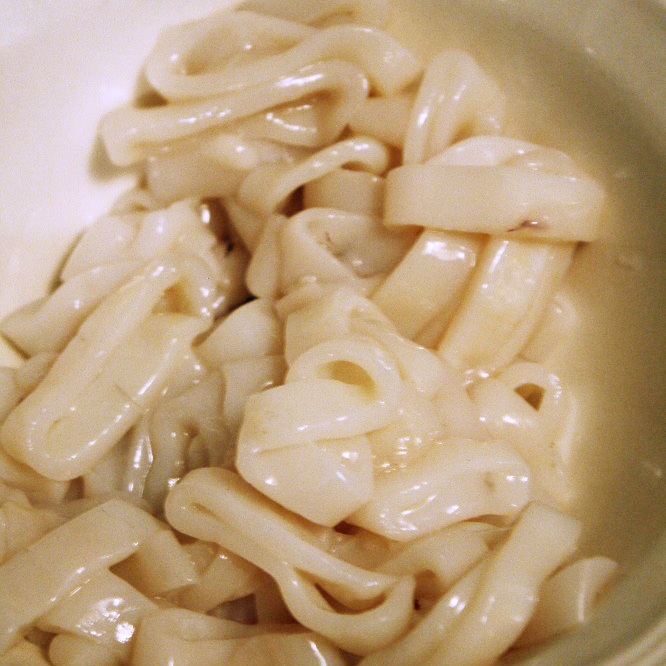 The main bodies, sliced into familiar rings
This recipe starts with cleaned squid. Almost all fishmongers sell squid pre-cleaned, but if you need to do it yourself, there are a number of excellent tutorials, including this one. Even if your squid is already cleaned, it pays to a) rinse it well, inside and out, and b) double check that it was cleaned properly; you may find an errant piece of cartilage here or beak there.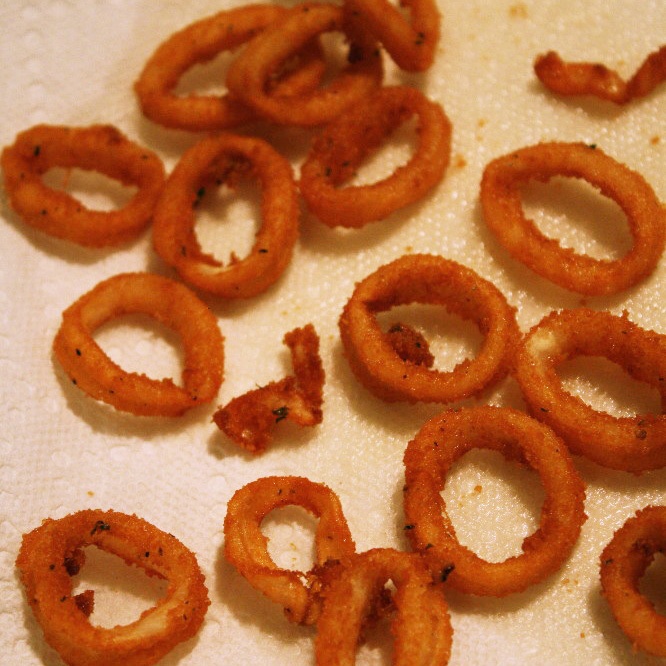 A fresh batch turned out onto paper towels
Fried Calamari
Serves 4 to 6 as an appetizer
Ingredients
1 pound squid, cleaned, rinsed, and sliced into rings, tentacles reserved
1 cup finely ground Italian-seasoned gluten-free bread crumbs
Frying oil
Steps
1. Fill a pot with frying oil and heat to 350 deg F.
2. Meanwhile, toss the calamari in batches in the bread crumbs to coat evenly.
3. Deep fry in batches (to avoid overcrowding), 2 to 4 minutes, until golden brown. (Tentacles may require slightly more time.)
4. Remove from the oil and turn out onto paper towels to absorb any excess oil.
Notes
Serve solo or with your favorite fried calamari dipping sauce, such as cocktail, tartar, or remoulade.
Degrees of Free-dom
This recipe is: gluten-free, dairy/lactose/casein-free, peanut-free, tree-nut-free, soy-free
Enjoy!
–Pete