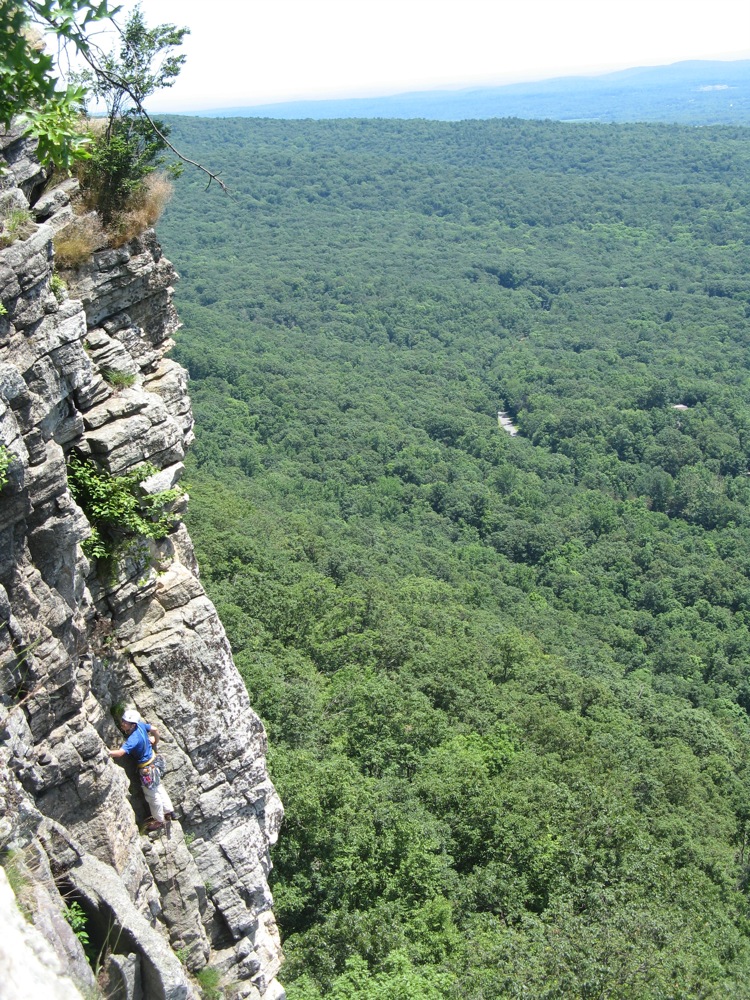 A climber ascends a route at The Trapps, at the Gunks, NY.
Some activities we participate in because we enjoy them. Other activities serve to define us; they are a fundamental part of our identity. For Kelli and me, climbing and being in the mountains belong definitively in the latter category. The climbing rope that literally ties us together is also a metaphor for the bond we share as husband and wife, and now, as parents. It is also an outward sign that our relationship—and our identity as individuals and as a couple—has, in no small part, been forged in the vertical realm.
Food abides by this dichotomy, too. There are plenty of foods that I—and we—love. They are pure enjoyment. (Dishes such as sushi, chicken tikka masala, and pad thai come immediately to mind for me personally.) But there are certain foods and certain recipes that are more fundamental; they are a part of who we are. Some are cherished family recipes and dishes that speak to our heritage. Others are regional dishes that signify where we were born and raised.
But what happens when you lose your connection—temporarily or permanently—to your roots?
The welcome committee, also known as a copperhead.
Rock climbing has been much too absent from our lives in recent years. It's a disconnect I've felt acutely … physically, emotionally, even spiritually. We went rock climbing once in 2011. Once! In what feels like another life, we were climbing at least once per week, not once per year.
The reasons why are many: We had two children relatively close together. In between, Kelli shattered her foot in a car accident. Life gets busy (especially when your time increasingly becomes allocated for blogging, recipe development, attending gluten-free events, training as an ultramarathon-distance trail runner, and competing—and recovering from—ultramarathons).
Some of these were real hurdles. Others are quasi-excuses. The important thing is that we've recommitted to connecting with our roots.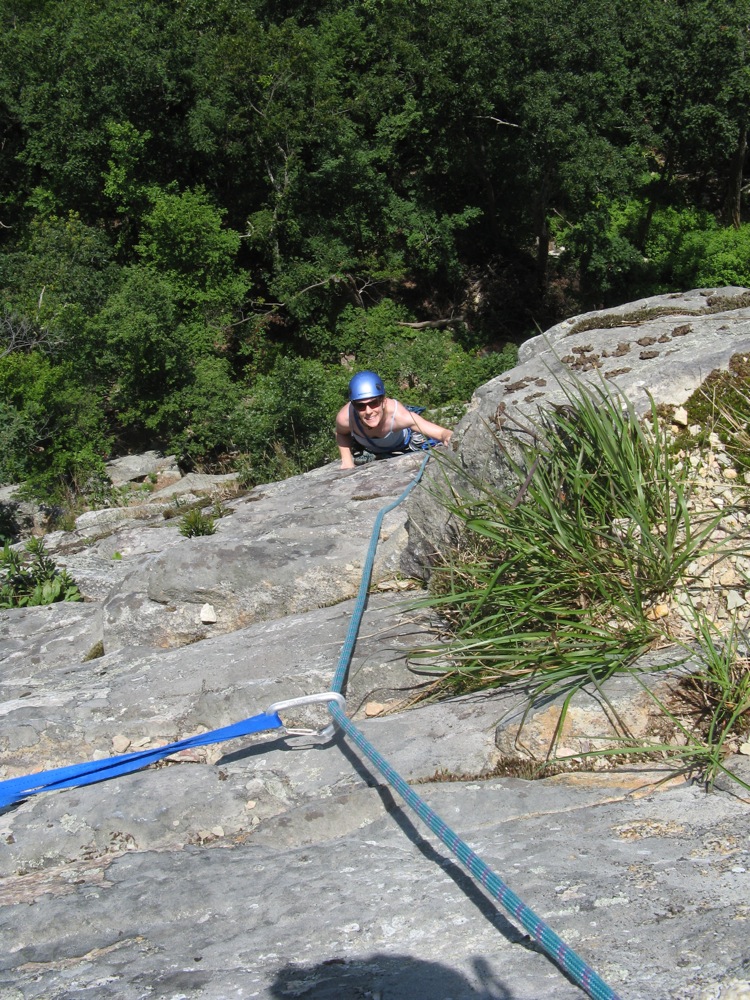 Kelli climbing up to the GT Ledge, 200 feet off the ground.
That reconnection started on Saturday, when Kelli surprised me with a day of rock climbing at the Gunks, a world-famous cliff—upwards of 300 feet tall in places—just 30 minutes from where we currently live in the Hudson Valley. It's a place with deep significance for us.
I spent years climbing there regularly, starting more than a decade ago. At one point, I knew the cliff well enough—more than a mile long, with hundreds of routes—that I didn't need to bring a guidebook. (Those days are long gone…)
The Gunks are also where I taught Kelli to rock climb, back in the early days of our relationship when we were dating. Those early climbs together were formative. For one, few things solidify a relationship like literally holding your partner's life in your hands while belaying. Several climbs stand out as particularly memorable. One of them is called Hawk.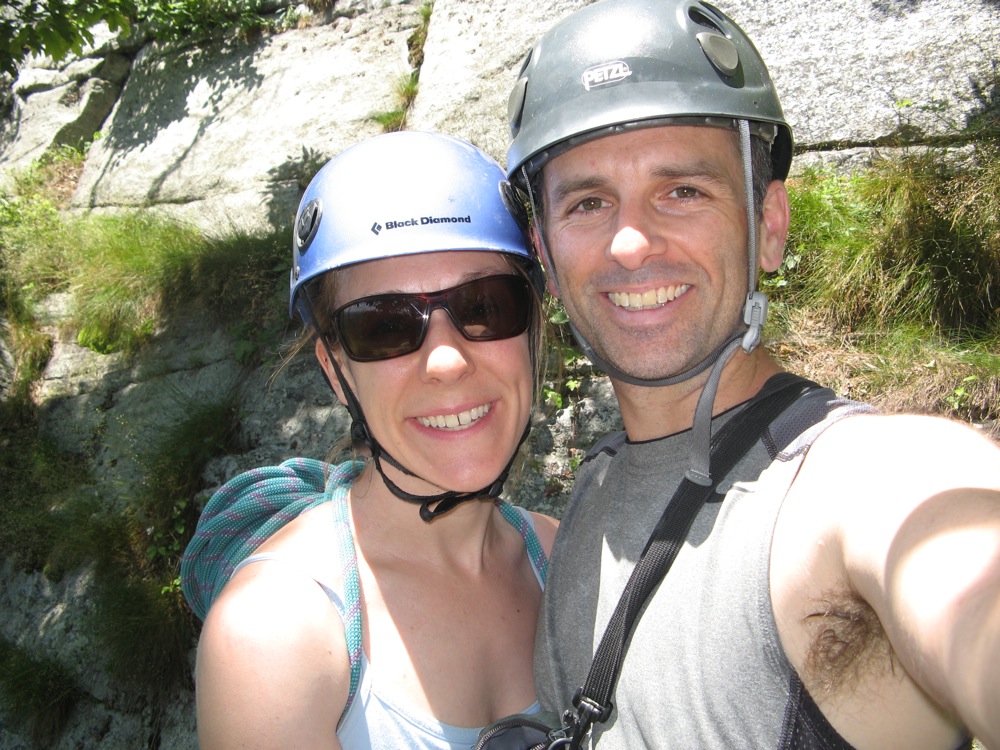 Self-portrait on top of the cliff.
At 5.5 (a rating of a rock climbing route's difficulty), Hawk is not objectively difficult, but it's subjectively intimidating. The second pitch climbs its way through a series of three slightly overhanging corners. As you successively turn each corner, you must step out and around, with your feet over a void, the ground 150 feet or so below. Kelli bravely surmounted the difficulties, and thereafter climbed with a heightened confidence that'd been absent from her rock climbing up to that point.
With her parents watching our girls this past Saturday, and with the trunk of our car filled with packs and climbing gear, we drove over to the trailhead we'd visited so many times before. It was a sunny, warm, weekend day, and so of course the cliff was crowded with climbers.
We walked along, looking for a route that was a) not already filled with climbers, and b) within our climbing ability (especially considering that we're both out of practice and out of climbing shape). Incredibly, we found ourselves standing at the base of … Hawk. Was it a sign?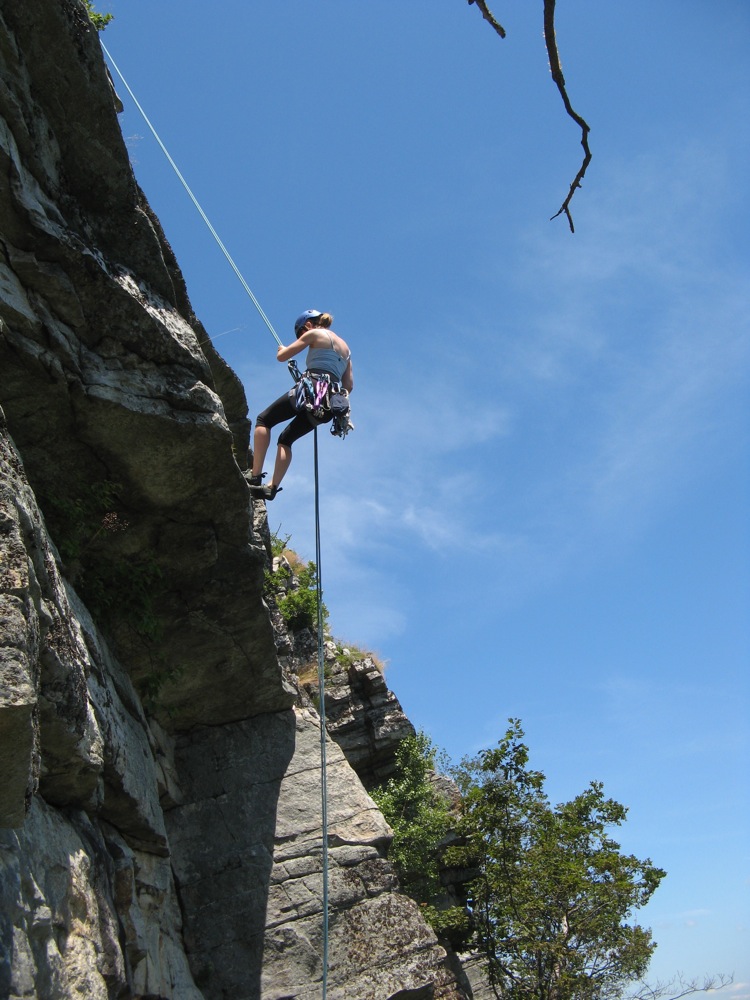 Kelli on rappel.
We dropped our packs, donned our climbing harnesses, racked our gear, and started to tie in to our rope. Just then, a climber on the cliff above called down to me. "Hey! There was a copperhead right there a little earlier!" I spun around, and not two feet behind me was a large, poisonous copperhead snake, sunning itself—impressively disguised—on a bed of brown leaves.
Once we were off the ground and on the rock, concerns about the snake subsided, and we were able to enjoy the climbing. The first pitch was straightforward. Then we climbed through the second pitch that occupies such an important place in our shared climbing history. The second pitch finishes atop the GT Ledge, short for Grand Traverse Ledge, a prominent ledge that cuts across the entire cliff face about two thirds of the way up. From there, it was a short, beautiful, enjoyable pitch to the top of the cliff, where we topped out into the shade of the forest.
We rappelled down the cliff back to our packs (careful to make sure the snake wasn't anywhere close), and walked off into the shade to enjoy lunch before setting our sights on another climb. It felt good. Very good. We did more than spend a day rock climbing. We returned to our roots.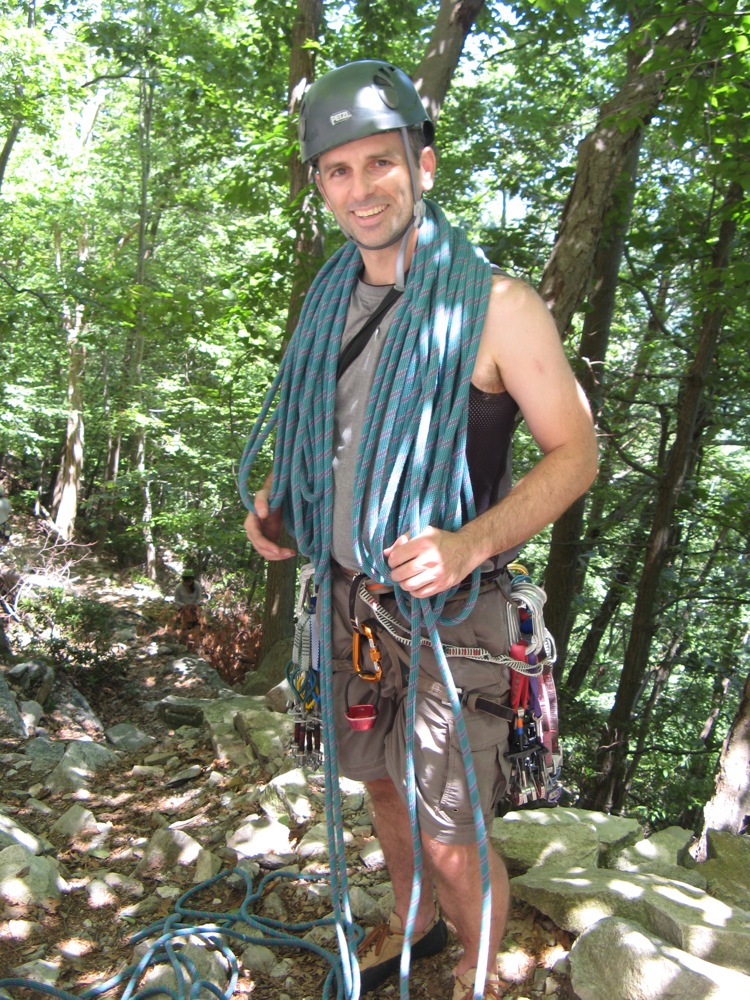 Safely back on the ground, coiling the rope.
I can't stress enough the importance of returning to your roots, especially when it comes to food, and especially when you've been distanced from those roots by dietary restrictions. If you're gluten-free—either newly so or for a long time—make the commitment to keep hold of your cherished family recipes, and to maintain the food traditions of your family, region, or heritage.
For us, the list gets long pretty quickly: mock cake, a Polish sweet bread with poppy seed filling we make for Christmas and Easter; speculaas cookies, based on a recipe that dates to the mid-19th century on the Belgian side of my family; the Sicilian seafood Christmas Eve dinner; the kolachkis of Kelli's family; and the list goes on and on.
Such foods keep us grounded. They are a connection to people and to place. Going gluten-free may be the start of something new—and eventually, something wonderful—but that doesn't mean you need to sever your food roots. In fact, it's more important than ever to strengthen those roots, even as you re-learn how to cook and eat.
–Pete