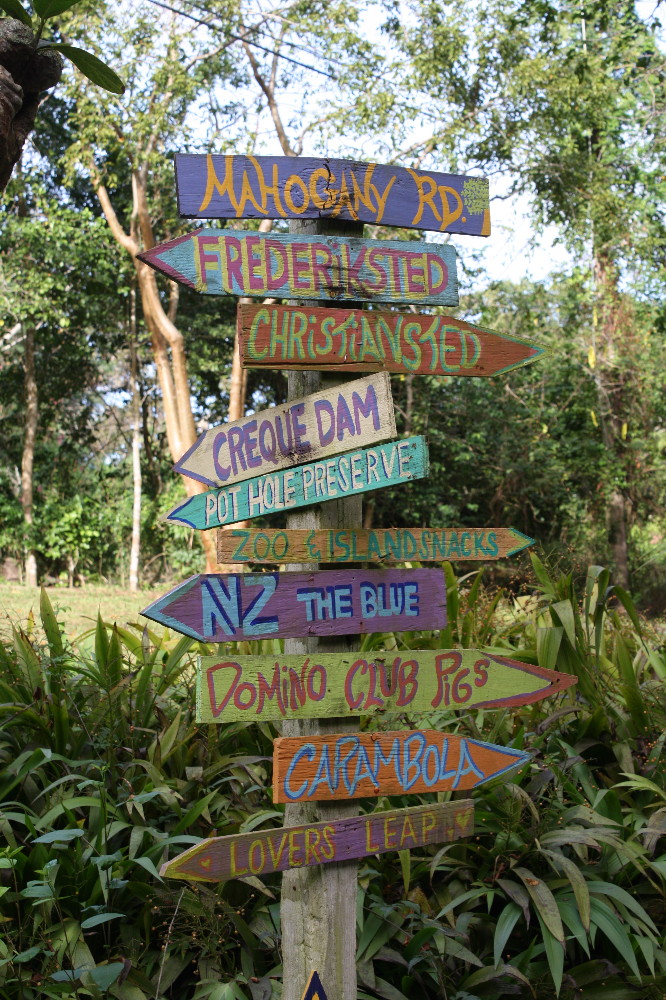 Where to venture on the island today?
Welcome to Part II of our look at traveling while gluten-free to the U.S. Virgin Island of St. Croix! Yesterday we gave an in-depth review of the Buccaneer, the resort where we stayed for our (mostly) glorious 8 days in the Caribbean back in mid-January. Today, we take a look at how it was being gluten-free while out and about on the island.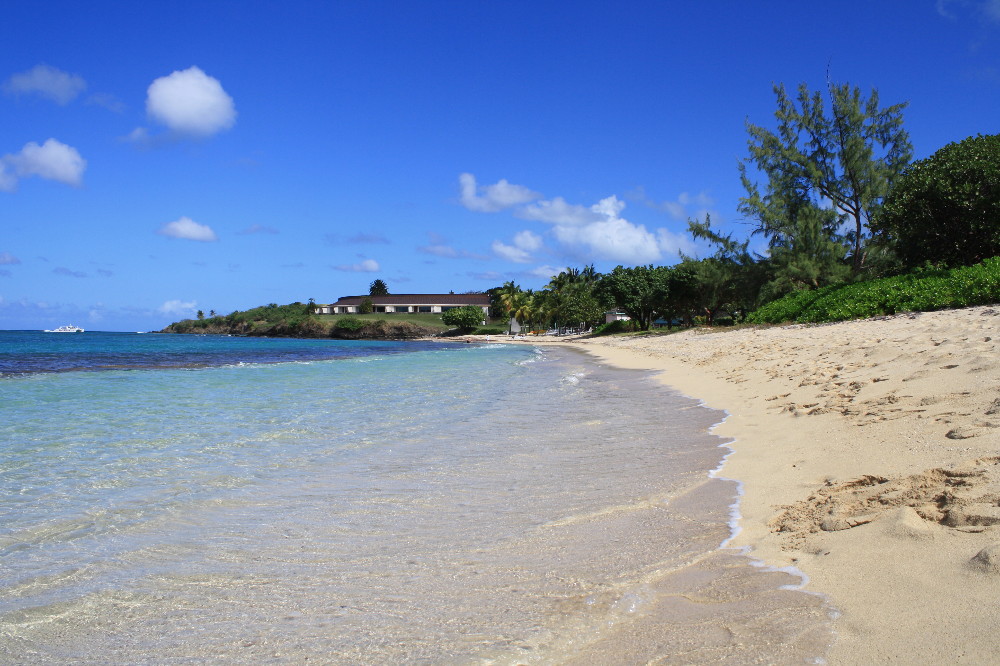 Grotto Beach near the Buccaneer.
Not knowing what the gluten-free supermarket situation would be like, we preemptively traveled to St. Croix with an entire carry-on bag full of food—GF cereal, snack bars, crackers, chips … the kind of stuff we weren't sure we'd be able to buy locally. That turned out to be a wise choice. Specialty gluten-free products are hard to come by on St. Croix. And those foods that you do find at the supermarkets—including naturally gluten-free foods such as fruits and veggies, as well as snacks such as corn chips—are incredibly expensive.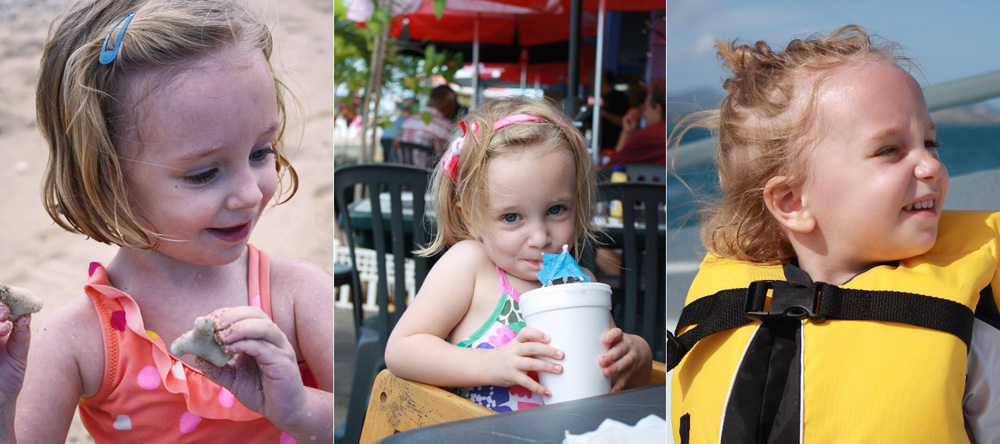 Marin, L to R: at the beach, out to lunch in Christiansted, on a sailboat.
True to Bronski form, we spent about half our vacation lounging at the resort, and the other half out and about exploring the island, including its local cuisine. It's an M.O. that started back in 2003, when we spent our honeymoon in St. Lucia. We purposefully try to get away from the resorts and the tourist restaurants, and find the places the locals eat. Some of our best meals have been enjoyed this way at tiny roadside shacks and out of the way places.
But that was in the days before I got sick, and before I became healthy again on a gluten-free diet. Eating off the beaten track has become more challenging, more plagued by potential dietary land mines. And so it was in St. Croix.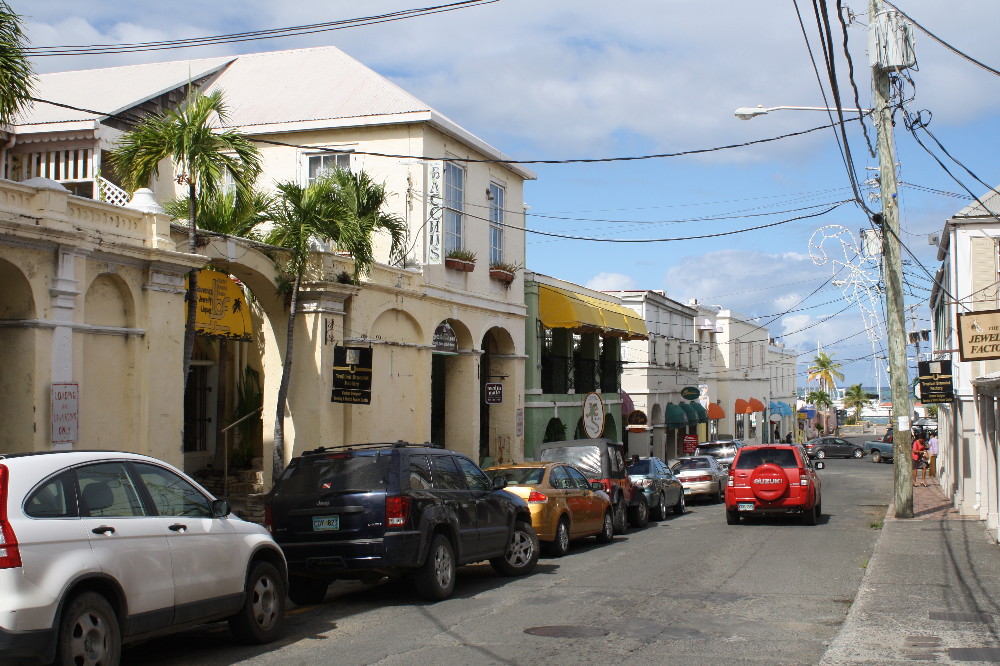 Downtown Christiansted.
One day we ventured into Christiansted, the main town on the island. A historic town center sits adjacent to a waterfront boardwalk, where you'll find many restaurants. We explored an old fort, and wandered the narrow streets, popping into shops here and there.
As lunchtime loomed, we walked to and fro on the boardwalk, searching for a restaurant that seemed (a) safe for gluten-free food, and (b) appealing. A number of options seemed to involve either sandwiches or foods that were breaded and fried. After taking what seemed like our third lap, still looking for a good option, we settled on the popular RumRunners.
Gluten was everywhere on the menu. But though the menu wasn't particularly GF-friendly (by any stretch), our server was incredibly accommodating, checking with the kitchen and helping to construct lunch meals that in theory would be safe for us to eat. My blackened shrimp with rice and pico de gallo was quite tasty. Alas, a short time later, the telltale signs of having been glutened started to rear their ugly heads. Strike one. I spent the afternoon back at the resort, recovering.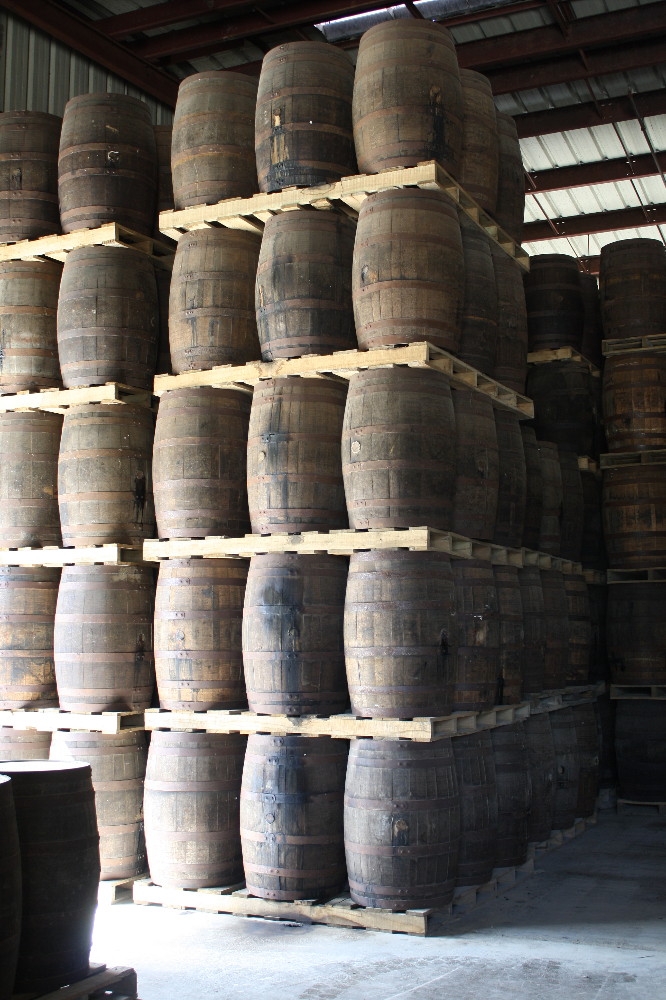 Argh… there be rum in them there barrels. At the Cruzan Rum Distillery.
The following day, our plan was to drive from Christiansted (on the northeast coast of the island) to St. Croix's western shore and the town of Frederiksted. En route we took a side detour to the distillery of Cruzan Rum, where we stocked up on several bottles of the local specialty. (More to come on that in tomorrow's recipe for a delicious cocktail!)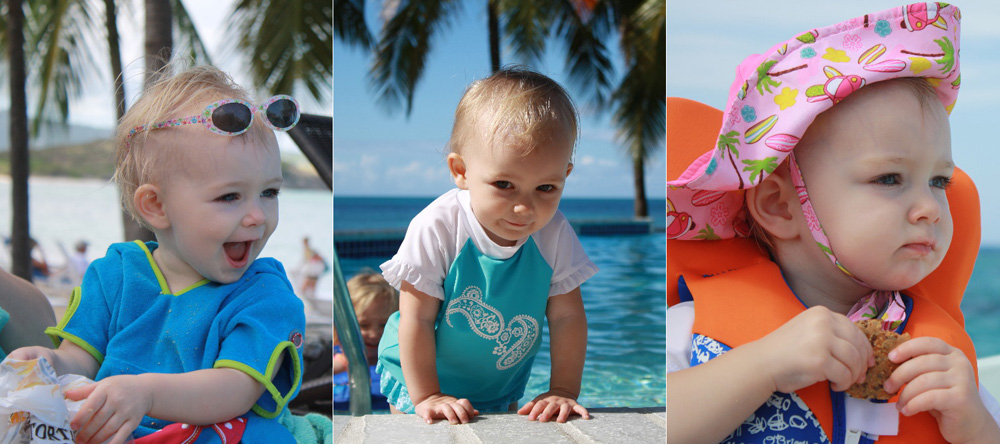 Charlotte, L to R: at the beach, at the pool, on a sailboat.
Then it was on to Frederiksted, which is where the cruise ships dock when they come to the island. Frederiksted—we discovered—is a case of "damned if you, damned if you don't." On the one hand, we had no desire to go to town on a day when the cruise ships were in, when we'd be fighting the hordes of passengers coming to shore for the day. On the other hand, arrive on a non-cruise-ship day, as we did, and you'll find Frederiksted all but boarded up.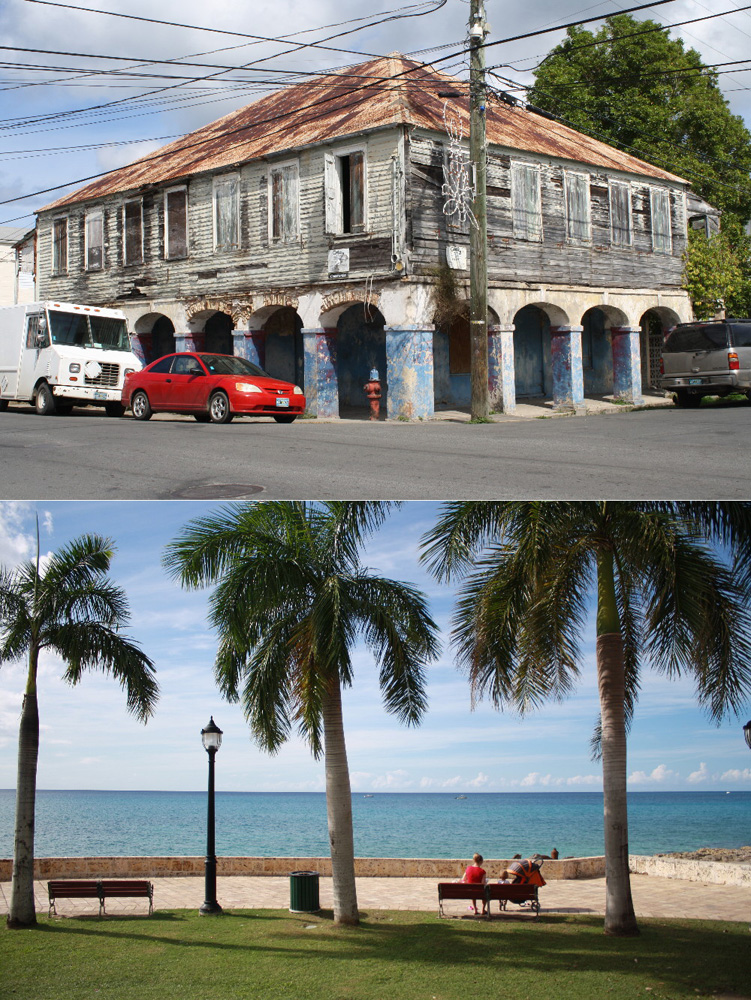 The two faces of Frederiksted: sleepy town and gorgeous waterfront.
With most of the restaurants and storefronts closed, finding lunch proved a challenge. Just as we were about to give up, we stumbled upon Blue Moon, across the street from the town's renovated waterfront promenade. My jerk chicken with veggie sides was one of the poorer jerks I've had in the Caribbean … tough and dry, with an uninspired dry rub that little resembled the rich flavors of the best Caribbean wet jerks.
Then our server informed us that they had a gluten-free coconut macaroon pie (my memory suggests almonds were also involved, though I forget…), topped with chocolate sauce and whipped cream. What was this? A pleasant surprise! Yes please. I'll have one of those.
But for the second day in a row, a little while later the rumblings began as they had the day before. Glutened. Blech. Strike two. We—and especially I—began to appreciate more and more the gluten-free offerings of the Buccaneer.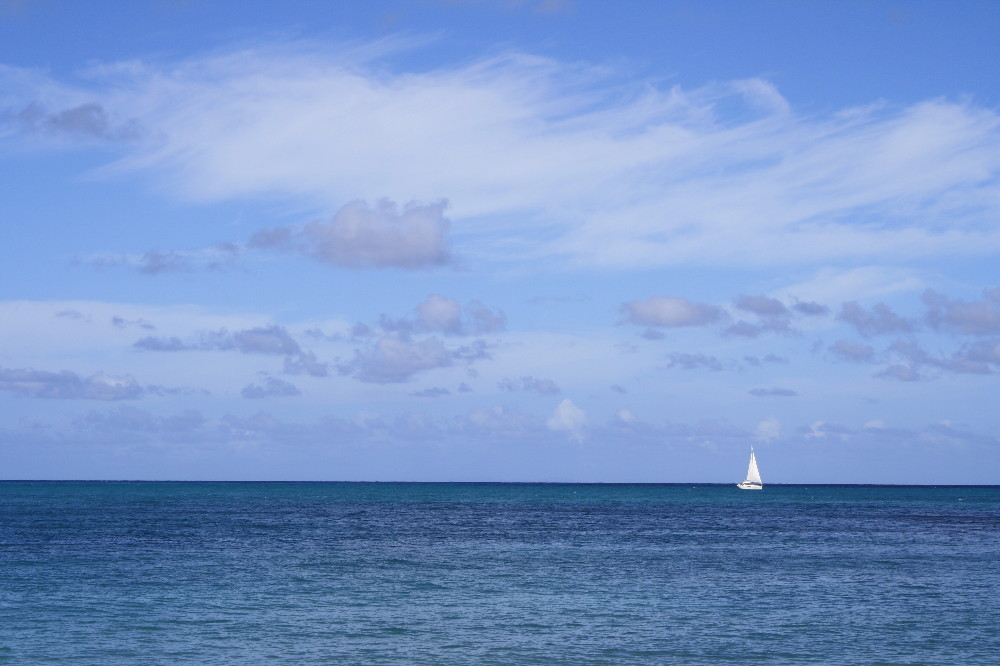 Air and water.
It was comforting to know that the Buccaneer provided a safe, gluten-free culinary home base. It was reassuring that I could return to the resort and eat a good meal that wouldn't make me sick. But this slow realization also made me sad. It has always been a point of pride for me that we purposefully eat away from the resorts where we've stayed; that we get out and about in the communities and eat less like a tourist and more like a local. Now here I was, centering my eating at the resort because that's what I needed to do to eat food and keep that food in my body. Sigh.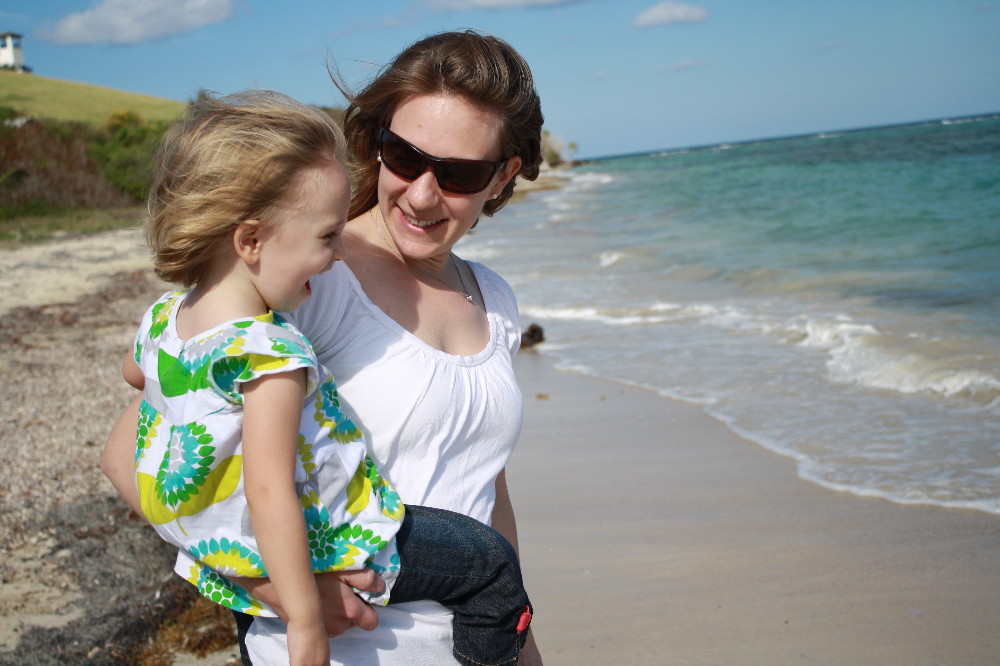 At the Christopher Columbus landing site.
Undeterred, the next day we took another road trip, this time to the rugged northern coast of the island. Along the way, we couldn't resist a short side-trip to the Columbus Landing Site in Salt River Bay National Historic Park and Ecological Preserve, where Christopher Columbus and his crew set foot on shore in 1493, during this second visit to the New World.
Then it was onward to Cane Bay, home of The Wall, a world-famous dive site just a few hundred meters offshore where the ocean floor drops from 90 feet deep to thousands of feet deep.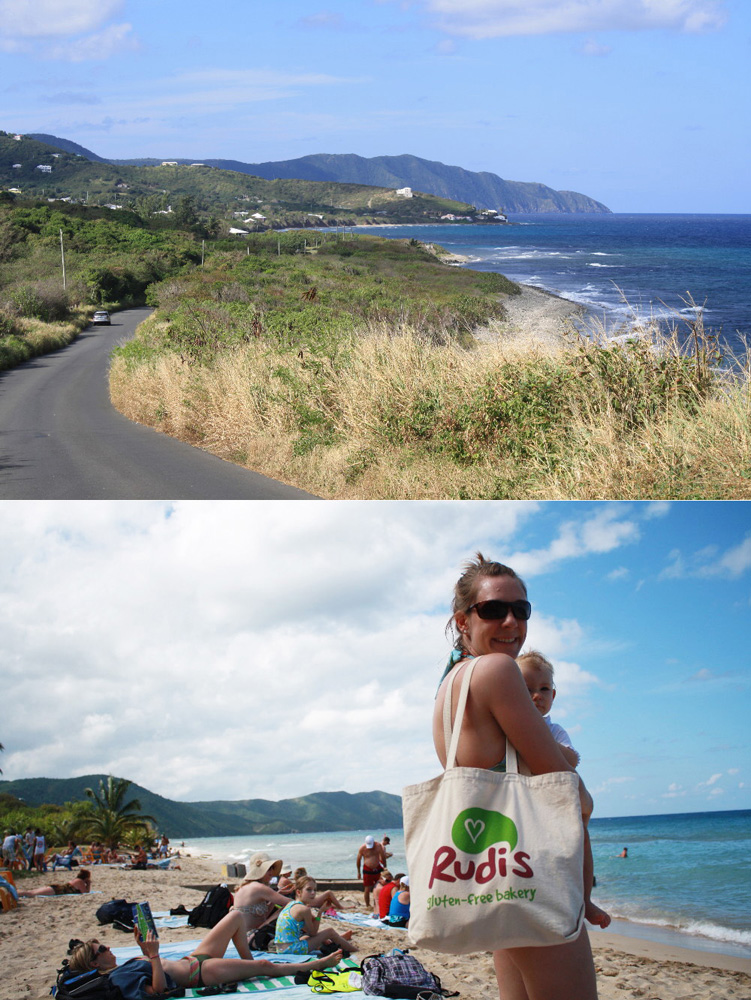 Showing a little Rudi's gluten-free love at Cane Bay.
After snorkeling over to the Wall (it was too deep to see much from a snorkeler's perspective) and playing in the sand and water with the girls, we had lunch at the restaurant Eat @ Cane Bay. Fortunately, there was no strike three in terms of being glutened. Eat @ Cane Bay was the beginning of culinary redemption for our out and about adventures on St. Croix. An order of Carolina-style BBQ pulled pork (sans bun) totally hit the spot. So did Eat's "Lime and a Coconut" cocktails. (The recipe for our own version is coming tomorrow! Trust us. You're going to love this one.)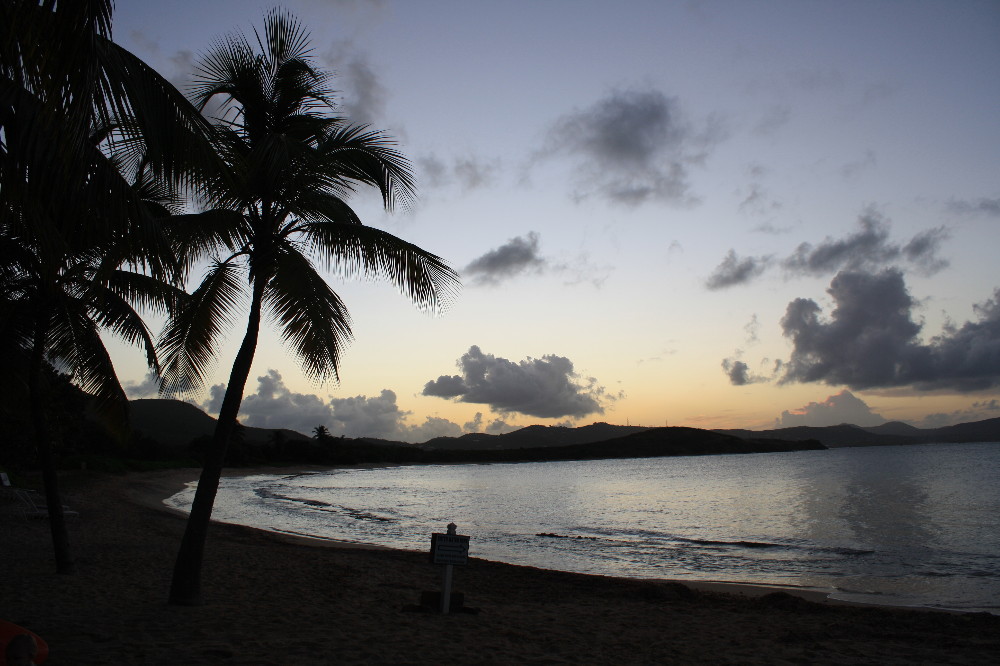 Are you feeling relaxed yet?
Eat @ Cane Bay proved the start of several very good meals. We browsed through restaurant brochures, the phone book, island dining guides, and even solicited recommendations from a taxi driver one day, to find other inspiring places to eat.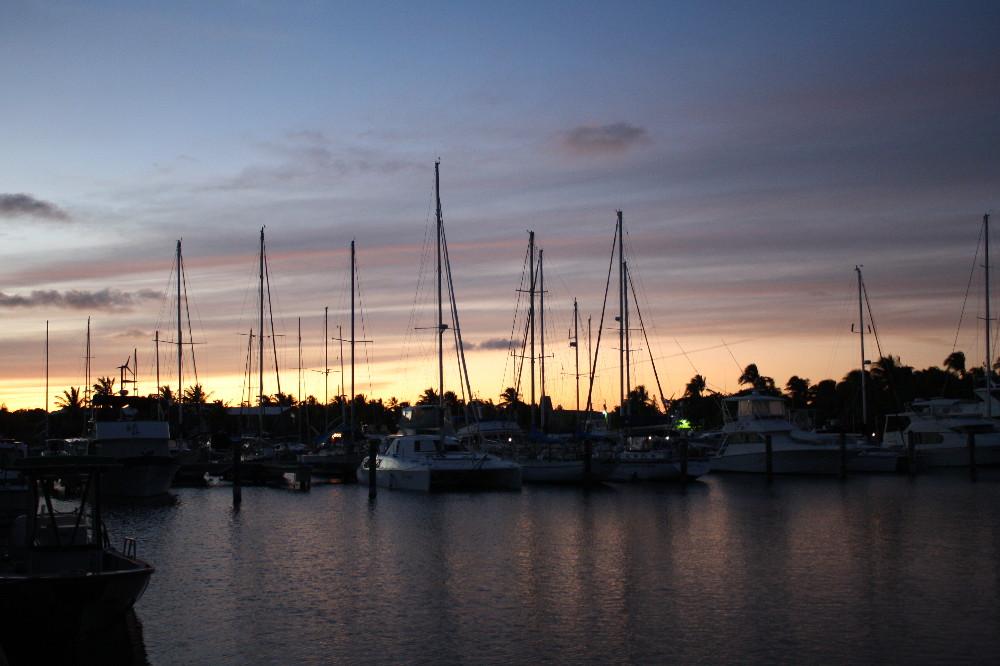 Sunset over Green Cay Marina from The Galleon.
Our search struck gold when we found the Galleon, located at Green Cay Marina along the northeast coast of St. Croix. Beef tenderloin with a medallion of local lobster and cabernet demi-glace. Seared tuna. Our taste buds were in heaven. Service was impeccable. Although the dessert menu didn't offer many GF options, the chef offered to bake a special gluten-free dessert with advance notice if we knew we'd be returning for another meal. How's that for service? Unfortunately, our trip was coming to a close, or we certainly would have accepted the generous offer.
The Galleon is pricy, but for us, the quality of the meal was worth every penny. If you visit St. Croix, indulge and visit this gem.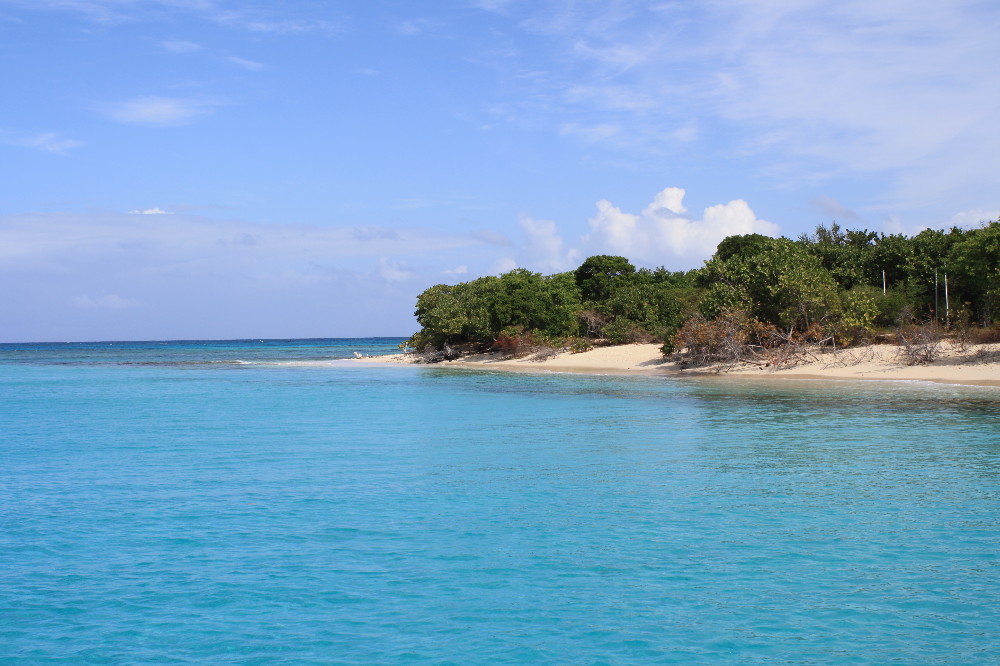 Turquoise waters and white sand beaches at Buck Island Reef National Monument.
And finally, for our last meal off the resort, we stayed local and visited Salud Bistro, a short drive west of Christiansted. It scores high marks with the locals, and we weren't disappointed. The truffle fries were so good we ordered a second round. A local butter lettuce salad with garam masala spiced toasted pumpkin seeds, a parmesan cracker, and champagne vinaigrette was very good. So were the steamed mussels with pork chorizo sausage.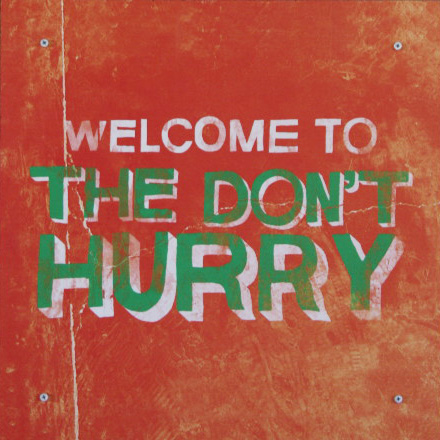 Ahh. That's better.
In the end, we had a wonderful vacation, and came away with incredibly fond memories of St. Croix, including—at times—the food.
On our last day, we went on a sailboat—a gorgeous 40′ catamaran—to Buck Island Reef National Monument. By what can only be described as a most incredible coincidence, the captain of the boat, Captain Mike, hails from New Paltz, New York, less than 30 minutes from where we now live in the Hudson Valley. What's more, he's an ultrarunner and one of the organizers of the St. Croix Scenic 50 ultramarathon. It was happening the weekend after our visit! Had our vacation been shifted by one week, we would have been in town for the event.
Captain Mike suggested I fly back for the race. That didn't happen. But there's always next year, and now we know where to eat … and where not to.
–Pete