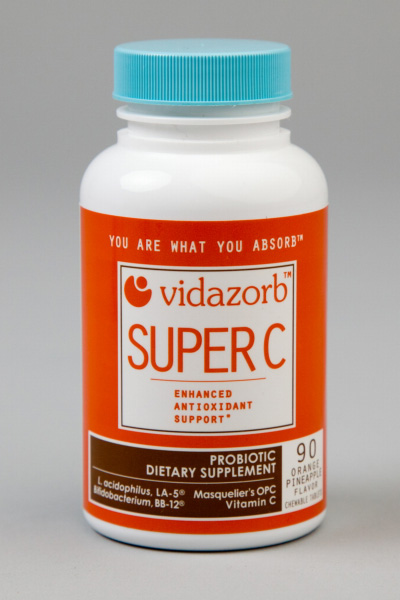 Gluten in medications, vitamins, and dietary supplements is no laughing matter … especially if you need them to treat an illness or maintain gastrointestinal or overall health. It's one more aspect of the gluten-free life where we have to remain vigilant. And if you've ever tried reaching out to pharmaceutical companies to try and determine the gluten-free status of a given medication, you know that answers don't always come easily.
That's one reason why the NFCA recently undertook its Gluten in Medications survey, which will inform a second stage of research in partnership with St. John's University and Allied Health Professions. It's important work, as those of us who've been "glutened" by medications, vitamins, or supplements can attest to. (Three years ago I got zapped by a generic lactase enzyme caplet…)
When Vidazorb—makers of a line of gluten-free, dairy-free, calorie-free, sugar-free probiotic dietary supplements—offered to send a gratis sample bottle for us to review, I was curious and accepted. I chose their Super C version, which they market for athletes and others. More on it in a moment.
One thing that's fairly unique about the Vidazorb probiotics is that they come in the form of chewable tablets that do not require refrigeration. This makes them pretty convenient, especially when you're traveling.
The tablets are lightly sweetened with sucralose, the same artificial sweetener behind Splenda. According to Vidazorb, it's part of their formula for making successful chewable tablets that keep the probiotics alive without refrigeration. It also helps to make the tablets calorie- and sugar-free, and thus suitable for diabetics, which is important. My own personal preference, however, is for natural sweeteners. I tend to steer pretty clear of artificial sweeteners, including sucralose.
Vidazorb offers a range of five probiotic formulations, depending on what you're looking for:
Daily – Lemon flavored. Includes L. acidophilus.
Plus – Vanilla flavored. Basically Daily plus Bifidobacterium.
+OPC – Pomegranate flavored. Basically Plus plus OPC (non-GMO grape seed extract).
Super C – Orange-pineapple flavored. Basically +OPC plus vitamin C.
Belly Boost – Wild berry flavored. For kids.
The orange-pineapple of the Super C I've been taking doesn't taste especially like either fruit. The chewable tablets simply have a pleasant, slightly sweet taste. They come 90 pills to a bottle, and Vidazorb recommends taking 1 pill three times per day. Hence, one bottle is a one month supply. Each tablet contains 10 billion CFUs (colony forming units). The Vidazorb website has a handy chart where you can compare their product against other sources of probiotics, such as Activia.
Vidazorb was formulated in partnership with Chr Hansen, and is manufactured in the U.S. by Tedor Pharma. The Vidazorb website has plenty of language targeting the celiac disease and broader gluten intolerant / gluten-free population, and so I've sent questions to the company inquiring about its manufacturing practices and whether or not it does any in-house or third-party gluten testing. (I'll update this paragraph when I receive a reply.)
In the meantime, I can offer my anecdotal experience using Vidazorb's Super C for the last few weeks. Personally, I haven't experienced any noticeable change in my gastrointestinal system or overall health, positive or negative. My gut has been taking the British advice to "keep calm and carry on." I've experienced no symptoms that would suggest there's any rogue gluten in the tablets. I also haven't experienced any profound gut renaissance. But I'll say that going into my sample trial period, my GI system was feeling pretty darned good. I haven't been exposed to gluten since our vacation back in mid-January, and thanks to yogurt, kefir, and other foods, I feel like my diet—and my gut—is pretty healthy, balanced, and regular.
However, I could certainly see the potential benefit of a product such as Vidazorb. If you're newly gluten-free and have a recovering GI system; if you've recently been "glutened;" if you were on antibiotics for an illness; or if you're looking to re-establish gut balance with priobiotics for any other reason, Vidazorb could certainly be part of the equation.
–Pete
Image courtesy Vidazorb.