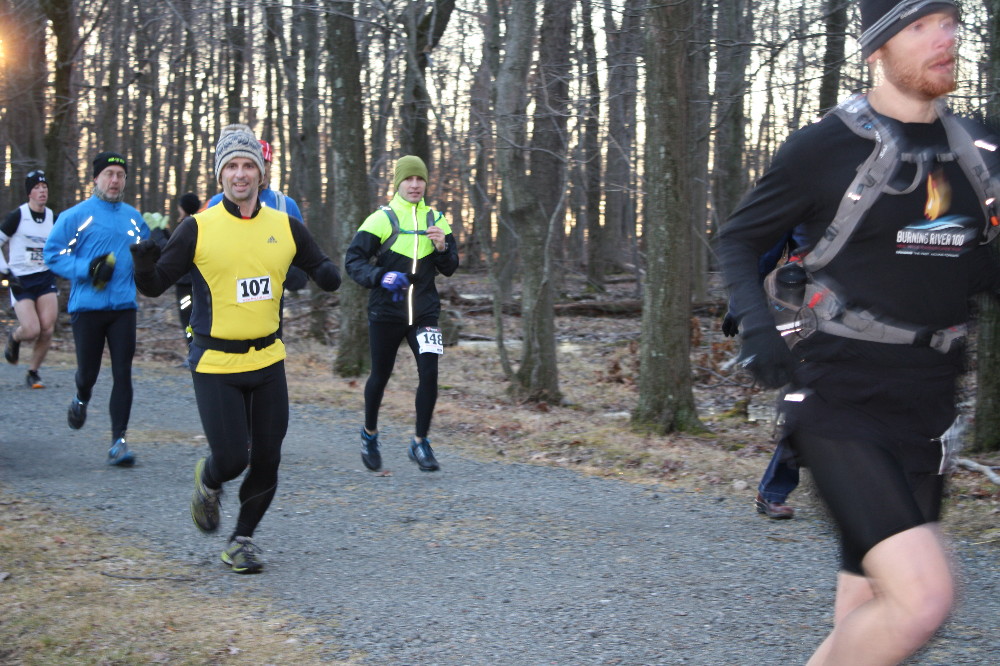 At the conclusion of the opening 1-mile mini-loop before setting out on the first 10-mile lap.
Well, the 2012 ultramarathon trail racing season is officially underway for me! On Saturday I ran in the Febapple Frozen Fifty, part of the New Jersey Trail Series. As luck would have it, Mother Nature pulled a cruel last minute switch on all of us. Temperatures—as they'd been for much of the winter—were unseasonably warm all week, with highs in the mid to upper 50s. Then on Friday, one day before the race, a nasty weather system blew through, dropping lots of cold rain. The temps also dropped, resulting in lows in the low 30s and highs in the 40s on race day. Plus, there were 20 to 30mph winds with gusts to 50mph. Lovely.
The race offered four different distances: 10 mile, 21 mile, 50k, and 50 mile. I registered for the 50k race, which involved 31 miles and about 3,300′ of vertical gain. As I noted in an earlier blog post, the race was to be an early season test of my fitness, to see where I stand and what I need to do to prep for the other major races I'm running this year. After all, I went into the Febapple Frozen Fifty with just 5 weeks of training under my belt, after taking the winter off to work on book projects. If I ran well, I also hoped to potentially use the race as a qualifier for other races later this year.
Training had been going well, and so as race day approached, I set additional goals for myself. I hoped to (a) run sub-12-minute miles, and (b) finish in under 6 hours. I don't want to give away my hand too early in this blog post, but the race went better than expected.
I came in to race day with a radically different approach to my hydration and gluten-free nutrition. My nutrition was extremely pared down. Instead of the usual smorgasbord I bring to ultras, I focused on a limited number of foods: GU energy gels, orange segments, and chocolate. That's it. Plus a bag of all-natural potato chips for after the race, when I'd need—and crave—savory, salty foods.
On the hydration side, I've abandoned the Camelbak pack I've worn for the last two years. While it kept water at the ready for sipping throughout a race, it was difficult to clean if using a flavored sports beverage, and more importantly, it delayed aid station transitions. I'd have to take the pack off, remove the bladder, hand it to a volunteer to refill, put the bladder away, put the pack back on. You get the idea.
Instead, I've switched over to using an Amphipod Full-Tilt AirStretch Velocity, and I'm in love with it. It's a waist belt that holds a 20-ounce low-profile bottle in a horizontal position against the lumbar region of your lower back. Biomechanically, it makes a lot of sense to put the water weight there. I also bought a second bottle. This way, when I come into an aid station, I hand Kelli an empty bottle, she hands me a full bottle, I grab a quick bite to eat, and I'm off.
This shift worked beautifully. At the Febapple Frozen Fifty my aid station transitions were all under 1 minute 30 seconds. Compare that to an average 3 to 5 minutes at ultras in previous years. When you start to add up that time difference across 5 or 6 or even 10 aid stations, those minutes saved add up to a sizeable chunk of time.
The last major change I made this season was what I put in the bottle. In the past I've hydrated with water, and gotten my carbs and electrolytes through sports gels and natural foods. I'm now using First Endurance's Electrolyte Fuel System in my bottles. It's an isotonic powdered sports drink—gluten-free, no artificial colors or flavors—that offers about 150 calories of carbs per 20-ounce bottle of fluids. But what really sets it apart for me is the high electrolyte content, significantly more than any competitor I've seen. The product is specially formulated for ultra-distance athletes for whom electrolyte replenishment is crucial.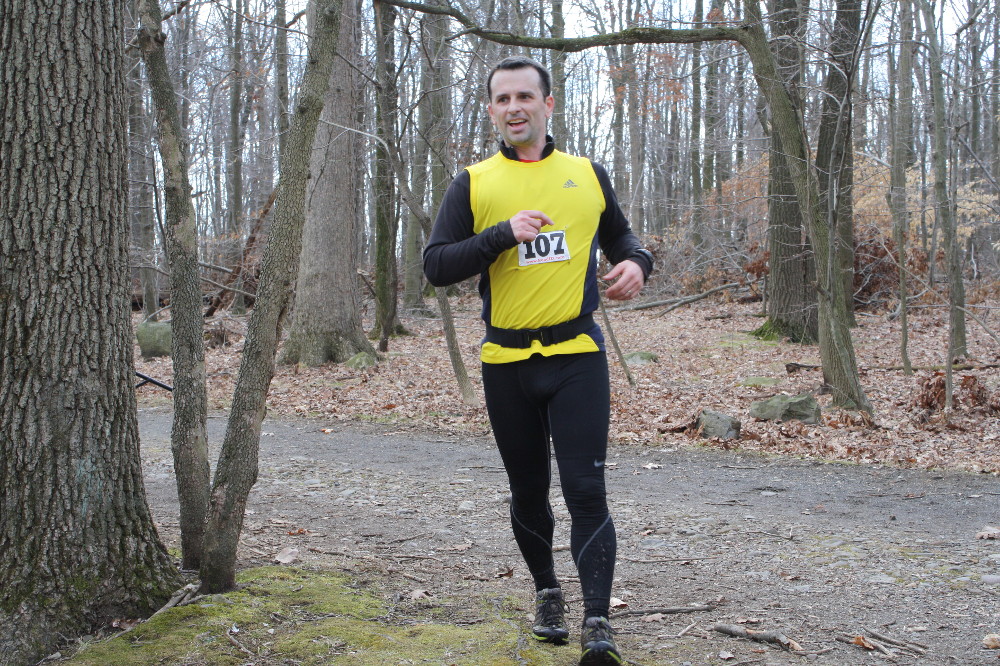 Coming in to the main aid station.
For those of us in the 50k race, the event started with a 1-mile mini-loop. Halfway through the loop, the course took us through a grassy meadow with frozen puddles of standing water from the rain. There's nothing like soaking your shoes and socks with ice cold water within the first mile of a 31-mile trail run.
Then it was time for us to complete three laps of a 10-mile course. The course was configured like a figure eight, with a four-mile loop and a six-mile loop, with the main aid station and the start/finish line of the race at the nexus of the eight. This made "crewing" the race much easier for Kelli and the girls. They could stay in one place, and I'd come through every four and six miles for the duration of the race.
The course itself was a combination of dirt-and-gravel roads, double-wide trails, and singletrack. Thanks to the recent rain, there were some muddy sections (that got much worse with each successive lap). There were also some technical rocky sections, and plenty of rolling terrain with good footing where you could open up your stride and push the pace.
After the first 10-mile loop, my legs were feeling surprisingly good. Each time I came in to the aid station, I'd give Kelli an estimate for how long it'd take me to run the next 4- or 6-mile section. So far, I'd been surprisingly accurate, maintaining almost 10-minute miles, well under my 12-minute mile goal.
Still, I remained very self-aware to not go out too hard and push the pace too much. I didn't want to blow up part way into the race. Keep in mind: my longest training run of the year so far had been 15 miles, and now I was racing in a 31-mile event. I was constantly reminding myself to run conservatively.
It turned out to be fairly easy to run my own race. Normally, the competitive side of me can't help but "check in" with how I'm doing against other runners. But in this case, that wasn't easily done. We had four distances all using the same 10-mile loop. The 50-mile and 50k racers started at 7:00am. The 10-mile and 21-mile racers started at 9:00am. With all of us running the same trails, it was near impossible to tell who was in what race.
So…I rationed thus: if a runner was passing me, I assumed they were in a different race distance. And if I was passing a runner, I assumed they were in my race. I knew at the time that wasn't the case. But it was helpful for motivation!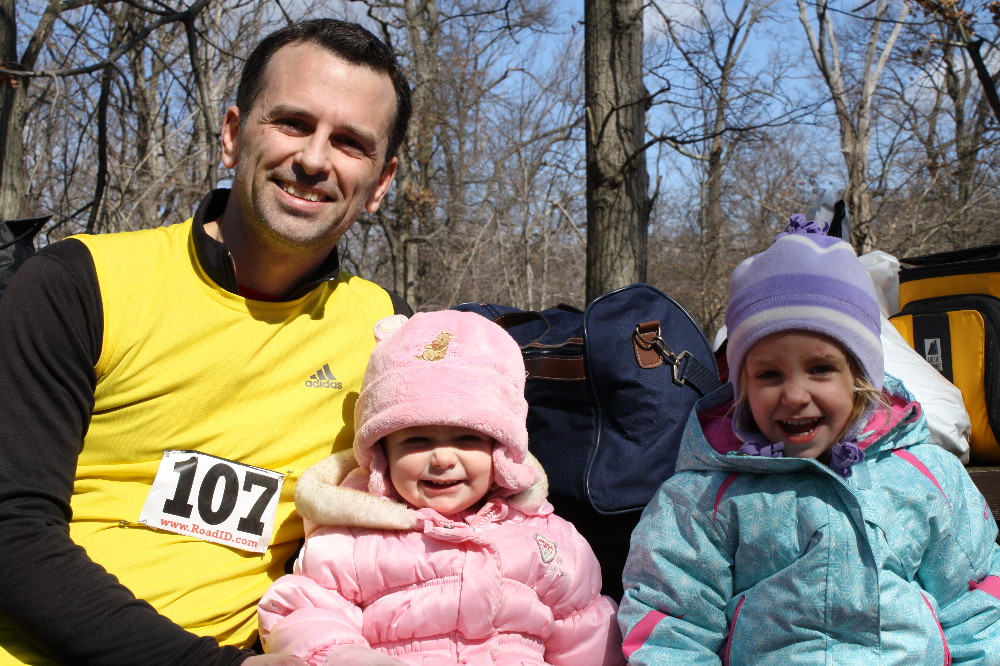 Immediately after the race with the girls.
True to form, I applied my "shifting gears" approach to ultramarathon trail running. I ran the flats and the downhills, I jogged the easy uphills, and I power-hiked the steep uphills. The power-hiking sections offered a great opportunity to take some swigs from the bottle and to keep the fluids and nutrition going in. (In all I'd drink more than 85 ounces of fluid over the course of the race…)
By the end of the second 10-mile loop, at mile 21, I was still feeling strong. My legs were starting to feel the distance, however, and I anticipated dropping off the pace I'd been keeping. That was fine; no big deal. Even so, I was still on track to maintain sub-12-minute miles and finish in under 6 hours.
At mile 25—with 6 miles to go—I gave Kelli my last pace prediction of the day, and then I was off onto the trails for the last time. It was the only time that day my prediction would be wrong.
I don't know if it was a second wind, or successful race nutrition and hydration, or what, but the next miles came surprisingly easy for me. As I ran into a satellite aid station halfway through the 6-mile loop, I glanced at my watch and saw that I was still close to maintaining 10-minute miles. With just 3 miles left to go to the finish line, and only one major climb en route, I was encouraged.
I locked in a steady, strong pace. Not fast, but I was moving.
By then, on my third lap, the trails and the terrain were familiar. I knew I was close to the finish. And then it came into sight. I crossed the finish line and Kelli and the girls were…nowhere to be seen. I'd come in 15 minutes earlier than they expected! I found them at our car in the trailhead parking lot, where the girls were getting their jackets on to come cheer for me at the finish line!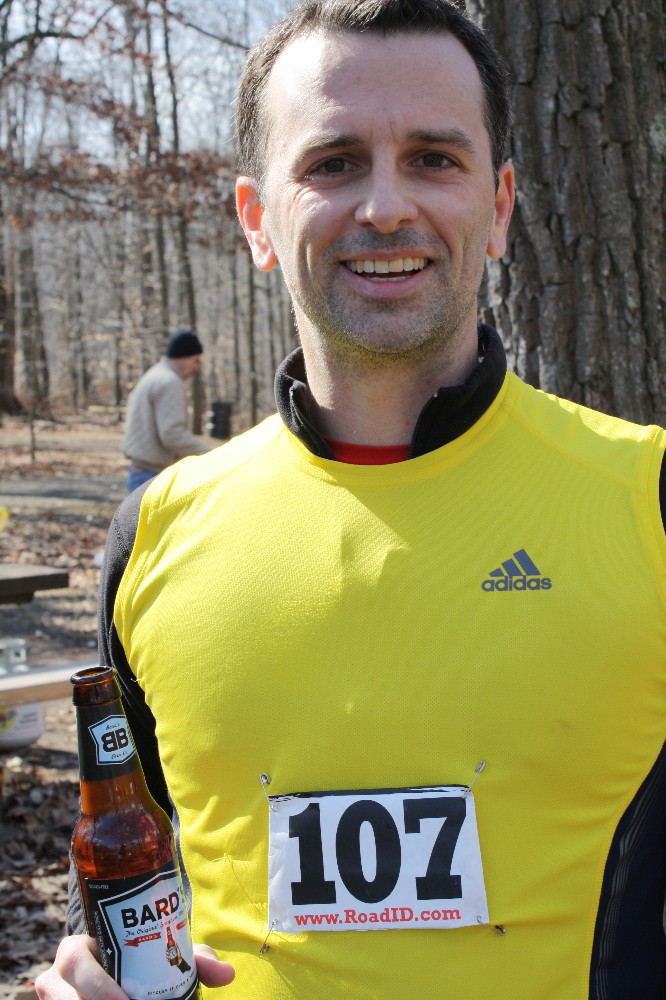 Celebrating with a gluten-free Bard's beer.
I finished the race in 5 hours 18 minutes 35 seconds. That equates to 10:17 miles. My performance was good for 14th place out of 60 finishers. I had shattered my goals for this race. Plus, there was more encouraging news.
For one, I was less than five minutes outside of a Top Ten finish. It amazes me that after more than 5 hours of continuous running, less than five minutes separated my 14th place finish from a Top Ten result. In retrospect, I think that—if I had known—surely I could have shaved five more minutes off my time.
For another, after the race I felt good. Really good. Good enough that I immediately cracked open a bottle of Bard's Beer to celebrate the result.
Today, two days after the race, my legs are barely sore. My quads feel a bit tired, but that's it. I've recovered amazingly well, especially in contrast to ultras from 2010 and 2011.
Looking ahead to the next race, which is two months away (The North Face Bear Mountain Endurance Challenge 50-miler the first weekend in May), I'm feeling strong, motivated, and encouraged. My training has been paying off, my body feels good, and if the Febapple Frozen Fifty is any indication, I'm very much headed in the right direction. The 2012 gluten-free ultramarathon race season is full speed ahead.
–Pete