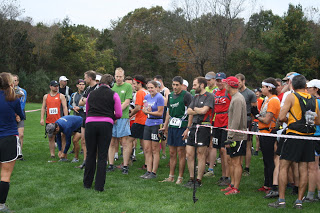 Trail runners at the Bimbler's Bluff 50K ultramarathon in CT in 2011. Photo by Kelli.
While I've been ramping up my training and streamlining my gluten-free diet for the sake of personal health and fitness, there's another important reason behind the push: I have big plans for this year's endurance racing season. As many of you know, I'm a trail runner who focuses on ultramarathon distance races.
For a variety of reasons (mostly unfortunate timing and some plain old bad luck), last year was a difficult one for me with races. My first ultra of the season was to be The North Face Bear Mountain Endurance Challenge, a grueling 50 miler. But in the week and a half leading up to the race, I ended up with an antibiotic resistant staph infection that required hospitalization and many IV drugs, and literally one week later, came down with tick-borne ehrlichiosis which had me in the hospital for a second time. I spent race day laying in a hospital bed, hooked up to more IV drugs, looking out the window at the very mountains where the race was being held. Major bummer.
I was so weak following those illnesses that I withdrew from a trail marathon in Kenya (!) for which I was on assignment for a magazine one month later. Another major bummer.
As part of my recovery and resumed training, I ran in the Minnewaska Summer Solstice, a 14k or so trail run race in NY's Shawangunk Mountains. The race went well, all things considered, but it was humbling to essentially have to rebuild my strength and endurance from square one.
Then came the big focus of my season: the Virgil Crest 50 mile ultramarathon. I run the race as a fundraiser for the National Foundation for Celiac Awareness. The chips just weren't falling my way last year, and one week before that race I came down with a serious illness that 6 or 7 different doctors failed to diagnose definitively. No need to rehash details. It wasn't pretty, and anyone who wants to revisit it can read the blog post here.
Again, all things considered, the race went well. It was probably the toughest finish of my life, but I did finish. That was the end of September. At the end of October I ran my last race of the season – the Bimbler's Bluff 50k trail race in Connecticut. Everything went wrong for me in that race, and I ended up with my first race DNF ever. Blech.
I took some time off from training and racing to let my body and my mind fully recover, then switched gears and have been focusing on book projects for the last few months.
Now I'm looking ahead to the 2012 race season, and I have big plans.
A few themes come immediately to the forefront:
Staying healthy – Last year, too many races were "sabotaged" by illness. Not this year.
Finishing unfinished business – I missed out on races I planned to run in, or didn't race up to my potential, or in one case didn't even finish a race. This year, I'm running the races, and I'm going to race them to my potential.
Kicking some gluten-free booty – I don't just want to finish. I don't just want to race. I want to race well. As in, I want to improve on past performances and be competitive, not just against myself and the clock, but also against my fellow trail runners.
So what does all this mean in practice? I'm looking at 5 major races for this year—three 50k trail races, and two 50-mile trail races. (A handful of shorter 15-20 mile races may get thrown in the mix, too, but they're not the focus…) Together, my Big Five races total nearly 200 miles of trail running racing with 22,000-24,000 feet of elevation gain. Those races are:
Febapple Frozen Fifty
This 50k trail ultra is part of the NJ Trail Series and takes place in late February. (As of this writing, the race is only 9 days away!) It's earlier in the season than I might otherwise like, but it works for my schedule. If I run well, I'm hoping to use the race as a qualifier for other races that have minimum standards. But primarily I'm using the Febapple Frozen Fifty as an early season gauge for my fitness, so I know what I need to do to prep for the first truly big race of the season.
The North Face Bear Mountain Endurance Challenge
This 50 miler with 7,000 vertical feet of elevation gain and lots of rocky, technical, singletrack trail has a reputation as one of the toughest of the entire North Face endurance racing series. It takes place in the Hudson Highlands at the beginning of May, about halfway between New York City and where we currently live in the Hudson Valley. The race consistently draws many of the top trail ultra runners from the mid-Atlantic and New England regions. Though I think the Virgil Crest ultra is a tougher overall course (50 miles with 10,000 vertical feet of gain), the North Face race will likely be the most challenging, thanks to its combination of a tough course with a highly competitive field of racers. My goal is to finish in the top 25%.
Finger Lakes Fifties
This 50k trail race in Finger Lakes National Forest between Cayuga and Seneca lakes takes place at the end of June, and is part of the Western New York Ultra Series. It's relatively mellow in terms of elevation gain, and I'm hoping to be competitive and run a fast time.
Virgil Crest Ultra
This 50 mile race at the end of September is the Big Daddy of my endurance racing each year. It also serves as the focal point of my annual Gluten-Free Ultramarathon Challenge, which raises money for the National Foundation for Celiac Awareness. (More to come on the 3rd annual Challenge, which is going to be bigger and better, next week!) After a top ten finish in 2010, I had a tough go of it last year. This year my hope is to regain a top ten finish and get my time under 11 hours. Under 10 hours would be a dream. Stay tuned.
Bimbler's Bluff
This 50k trail race in southern Connecticut at the end of October was my first DNF ever last year. This year I'm going back to finish what I started.
And so there you have it. The races are spaced apart on the calendar by one, two, or three months, giving me plenty of time to recover, resume training, then focus on the next race.
The other endurance racing news this year is that I'm tweaking my gluten-free training and racing nutrition. More on that over the coming weeks and months, as I share insights into what changes I'm making and why.
In the meantime, stay active!
– Pete