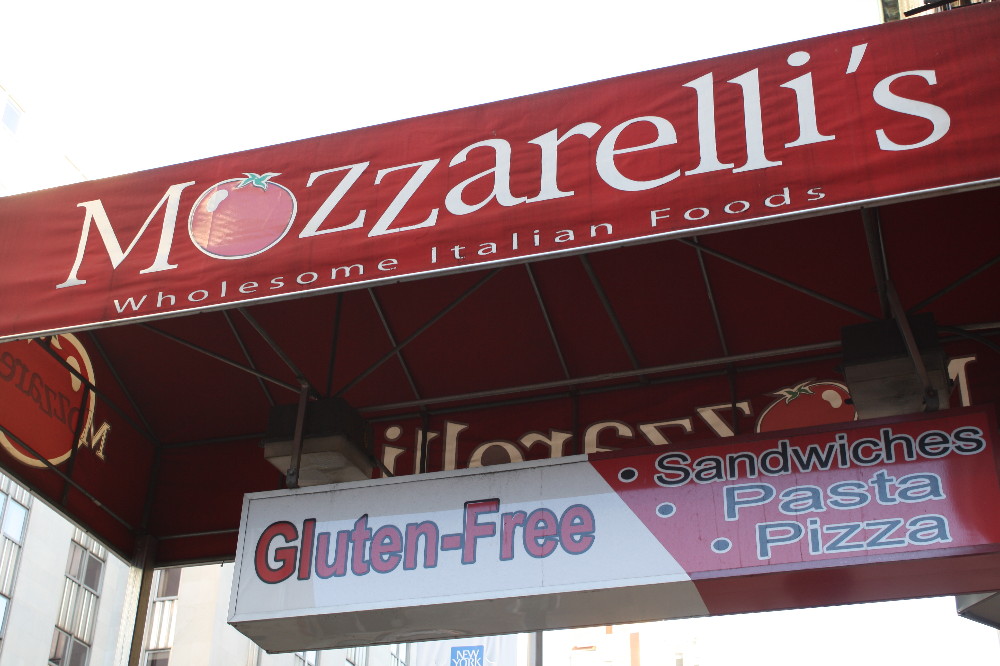 We recently passed the one year anniversary of our relocation from Boulder, Colorado to New York's Hudson Valley. My how time flies! Now that we're living just an hour and a half north of "the city," we're trying to take advantage of our proximity to the Big Apple.
So it was that one recent weekend (I can't believe it was a full month ago already) we met up with Amie V. of The Healthy Apple to stroll the Union Square Greenmarket and grab lunch nearby. We had a delightful time, and after saying goodbye to Amie, started making our way back to our car.
That's when friends from Connecticut called to say they were headed into the city on the train, and would be arriving at Grand Central. Quick change of plans: we grabbed our Chariot—a double-wide jogging stroller / bike trailer—from the trunk of the car, loaded up the girls, and started walking north to meet up with those friends.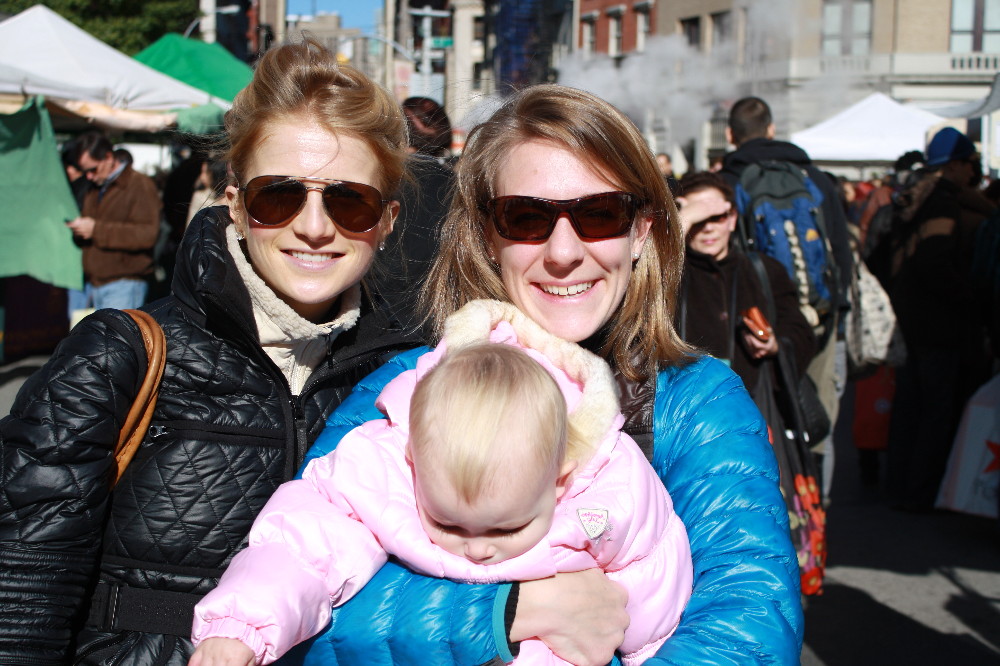 Along the way, we stumbled upon Mozzarelli's. From what we'd heard, it was something of an institution among New York's gluten-free community. The gluten-free menu boasts everything from pizza by the slice, to baked ziti and penne alfredo, to biscotti chocolate chip cookies and tiramisu brownies. Make no doubt about it—they're doing some great things, and they know what they're doing in terms of minimizing the potential for cross-contamination. (The owners' niece was diagnosed with celiac disease in 2003, so they take it seriously…)
Of course, we couldn't resist popping in to grab a slice. (Actually, by this time both girls had fallen asleep in the Chariot, so Kelli stayed outside with them while I went in to order a slice and come back out, but let's not split hairs…)
Before I tell you what we thought of their pizza, I should offer a disclaimer of sorts. I'm a Long Island native. I grew up eating not just New York-style thin crust pizza, but actual, authentic, dyed-in-the-wool New York thin crust pizza. Kelli hails from the Finger Lakes region of New York, but she's been around my side of the family enough to be an honorary downstate New Yorker, too. We both had the same reaction to the pizza.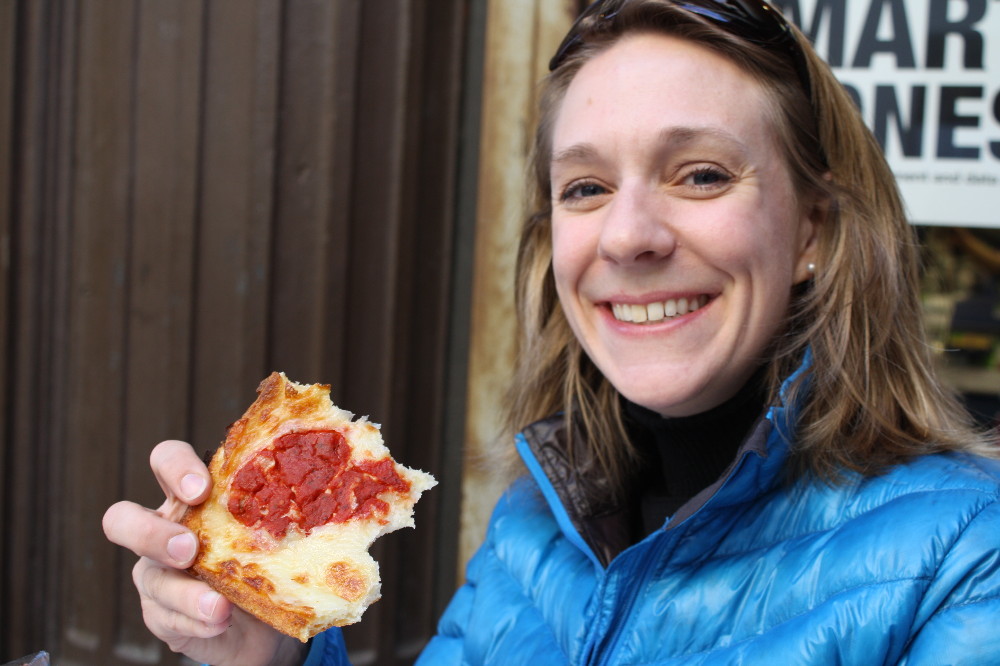 We were disappointed. The crust—made from a blend of rice and bean flours, plus a few gums—was somewhat light and airy, as Mozzarelli's proclaims, but it was also mealy and broke apart in the mouth, rather than being chewy. The cheese was fine, but the tomato sauce was forgettable, with a flavor closer to plain tomato paste than to the pizza sauces we're accustomed to. At $4 per slice ($5 with toppings) we expected better. Sigh.
At the end of the day, I'm left feeling conflicted. On the one hand, I applaud Mozzarelli's for offering such a varied gluten-free menu at a pizza-by-the-slice joint. They do it well, and they do it with care for cross-contamination. Do I think it's great to be walking the streets of New York City, and to be able to pop in to a place like this and order a slice? Absolutely, without question.
On the other hand, a part of me feels like—to grossly generalize—we, the gluten-free community, can sometimes be placated too easily. If a restaurant offers genuinely gluten-free food, with care to prevent cross-contamination, we rightly praise them and say bravo. There's an appropriate posture of gratitude. But the applause often comes without regard for the quality of the food. If it's gluten-free, it's good enough. Right? Not any more. Standards in gluten-free foods are rising rapidly these days, and I'd love to see Mozzarelli's revamp its pizza crust recipe to give the Big Apple's gluten-free community more of the chewy-meets-crispy thin crust the rest of New York is eating.
But maybe that's just me. Have you eaten gluten-free pizza at Mozzarelli's? If so, please leave a comment and let us know what you think!
– Pete