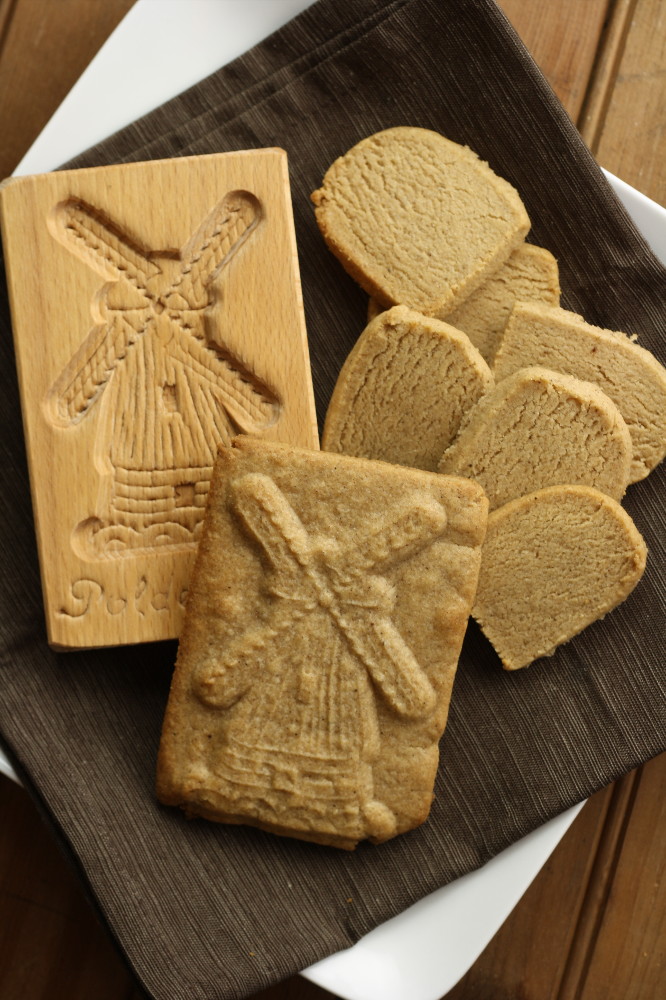 This month's Ratio Rally is a special and timely one for us. The theme is cookies, and yesterday was St. Nicholas Day, the Belgian Christmas. My grandmother was Belgian, and the holiday has always been an important one in the Bronski household. Every holiday season, you'll find pairs of wooden clogs under our Christmas tree, and on the morning of St. Nicholas Day, those shoes get filled with gold-wrapped chocolate coins in keeping with tradition.
So it was again this year. Now that we have young girls, it's been wonderful passing along the tradition to them, too. (For now, I think the thing they were most excited about with this holiday was the novelty of eating chocolate at 8 o'clock in the morning…)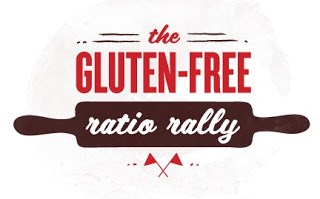 Another hallmark of the Belgian St. Nicholas Day is the speculaas cookie. It's akin to a spicy gingerbread cookie, and is sometimes pressed or stamped with a wooden mold that evokes scenes from everyday life in Belgium and the Netherlands. Our recipe—which we share in Artisanal Gluten-Free Cooking—dates to the 19th century, and comes direct from my great-great-grandmother.
Usually, we cut the dough into simple shapes and bake it. But for today's Ratio Rally, we wanted to "step up" our game and use our wooden mold to make the cookies just as you might find them over in Antwerp or Brugge, where some of my relatives still live. To do that, we made some minor modifications to the recipe—in how you prep the dough, as well as with the oven temperature and bake time.
For this recipe, our ratio of flour to butter to sugar worked out almost exactly to 5:3:3 (plus a whole bunch of spices thrown in for good measure).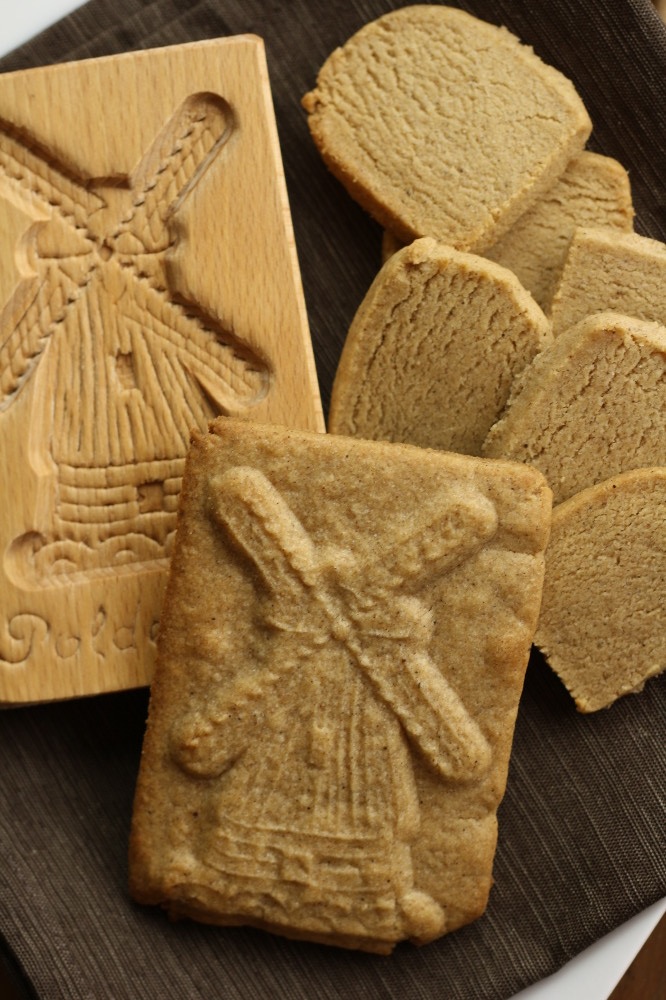 Belgian Speculaas Cookies
Ingredients
375g Artisan Gluten-Free Flour Blend (3 cups)
2 tsp xanthan gum
1/2 tsp GF baking powder
2 tsp ground ginger
2 tsp ground cinnamon
1 tsp ground nutmeg
1 tsp ground cloves
1/4 tsp salt
225g salted butter (2 sticks)
233g packed brown sugar (1 cup)
1 tsp GF almond extract
2 tbsp rum or cognac
Steps
1. Sift together the flour, xanthan gum, baking powder, spices, and salt. Set aside.
2. Cream the butter and sugar in a mixer until fluffy. Add the almond extract.
3. Add the dry ingredients and mix until incorporated. The batter will be very crumbly.
4. Add the rum to form a paste-like dough. Shape the dough into a log, wrap in plastic wrap, and refrigerate.
5. Meanwhile, preheat the oven to 400 deg F. Butter cookie sheets.
6. Remove the dough from the fridge, and let warm until it becomes workable.
7. Cut the dough into manageable sections, and roll out each piece into a thick sheet between two pieces of plastic wrap.
8. Remove the top piece of plastic wrap, then use the plastic wrap on the underside to flip the sheet of dough over onto the prepared cookie sheet.
9. Press your mold into the dough, and cut away any excess. Dough scraps can be combined and re-rolled.
10. Bake for 12 minutes.
Enjoy!
This recipe is: gluten-free, egg-free, peanut-free, tree-nut-free, fish-free, shellfish-free, soy-free.
Note: We usually use dark brown sugar, though for today's recipe, we used light brown sugar. Also, if you don't have a speculaas mold (but seriously, who doesn't these days!?), simply cut the log of dough into quarter-inch-thick slices and bake.
Finally, be sure to visit Caroline over at The G-Spot Revolution. She's hosting this month's Ratio Rally, and there are lots of other tasty cookies to check out, including many seasonal ones that'll be great for holiday parties.
– Pete