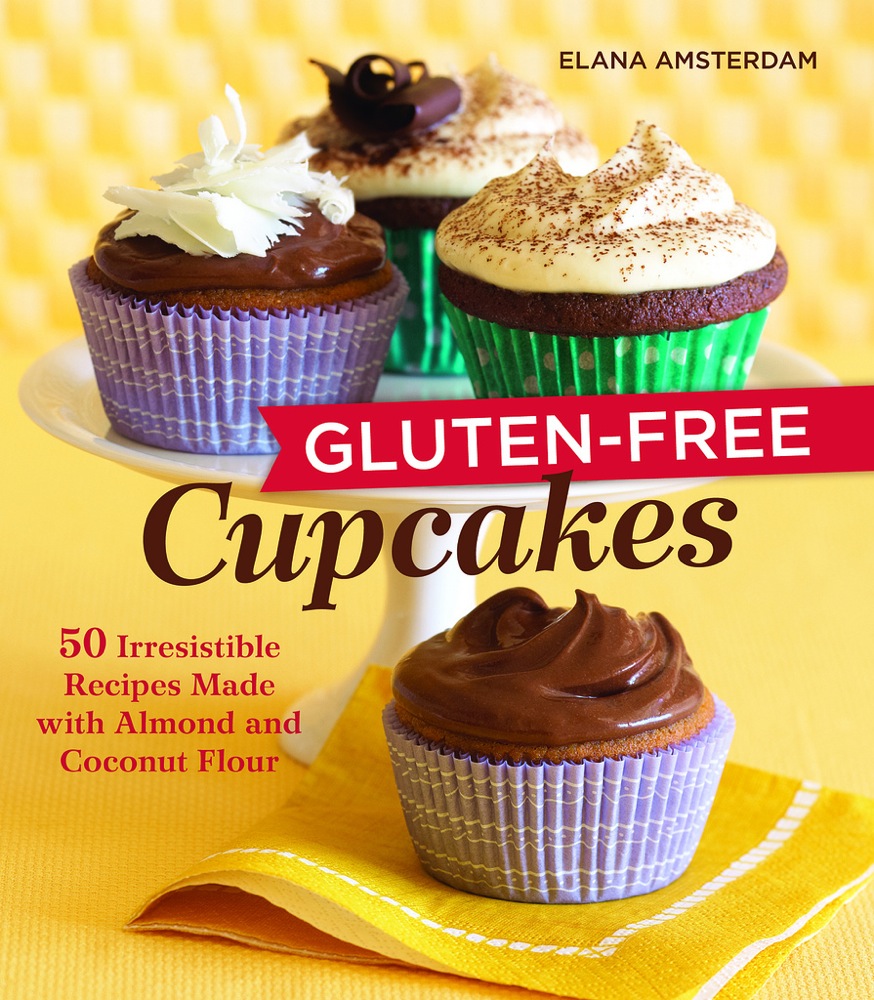 It's another week, which means another cookbook review here at No Gluten, No Problem. (There appears to be no end in sight, as we have at least four more books in the queue following today's post!)
Yesterday was National Cupcake Day, and so today we're focusing on Gluten-Free Cupcakes by Elana Amsterdam. She's the popular blogger over at Elana's Pantry. We crossed paths with Elana a few years back, when we were both presenters at the Gluten-Free Culinary Summit in Denver, and would carpool to and from Boulder County, where we both lived at the time. (Elana still does. We obviously don't since we're in New York now.)
Today's write-up is a bit different than ones we've done in recent weeks. We're recusing ourselves from a formal review. As far as I can tell, there are only two cookbooks on the market dedicated solely to gluten-free cupcakes: Elana's and ours (Artisanal Gluten-Free Cupcakes). Not only that, but the books coincidentally were officially released within 5 weeks of each other earlier this year, and both contain recipes for 50 cupcakes. Did we just enter the gluten-free cupcake Twilight Zone?
Clearly, there'd be a bit of a conflict of interest. No matter how objective we might try to be—or even claim to be—I think some readers would quite reasonably question whether we had any bias in writing the review. If we wrote a review we couldn't fault anyone for wondering if there was a bit of "Buy our cookbook! It's great!" in there, whether we said it literally or if it was hidden between the lines. So we're not going to go there.
But we didn't want to flat out ignore Elana or her beautiful book. Elana and us bring different perspectives to gluten-free baking. I like to think of our approaches as complementary. If you're a fan of Elana, her blog, and her previous cookbook, you'll likely love her cupcake book. Ditto for us—if you like this blog, and our previous cookbook, you'll likely love our cupcake book, too.
We realize that, for most kitchens, one cookbook on gluten-free cupcakes is enough. Unless you're an obsessive cookbook collector (or a really big fan of cupcakes), you're not going to buy both books. For those of you wondering, "What's the difference between them?" we thought we'd offer a side-by-side comparison, a tale of the tape. (Or in this case, a tale of the cake…)
Here's how the books size up:
Title
Gluten-Free Cupcakes
Artisanal Gluten-Free Cupcakes
Author
Elana Amsterdam
Kelli and Peter Bronski
# Cupcakes
50
50
# Frostings
14
33
# Photos
16 pics of 20 cupcakes, plus a few "collages"
50 pics of 50 cupcakes, plus some step-by-step sequences
Flours Used
Almond and Coconut
Artisan Gluten-Free Flour Blend (whole grain brown rice flour, whole grain sorghum flour, cornstarch, potato starch, potato flour, xanthan gum)
Sweetener
Agave nectar, Some stevia
Sugar, plus appendix with instructions for refined-sugar-free with agave or brown rice syrup
Other diets?
Many dairy-free recipes, Some vegan
Appendix with detailed ingredient subs for dairy-free, egg-free, and vegan
Cupcake categories
classic; chocolate; fruity; warm and spiced; special occasion; savory treats; frostings, fillings and toppings
classics; fruity; nutty; chocoholic; sweet surprises; old faithfuls; extraordinary
Classic flavors in both
chocolate, vanilla, red velvet, mocha, chocolate peanut butter, banana split, pina colada, pumpkin spice, German chocolate cake
Unique flavors
ice cream cone, savory muffins (i.e. scallion goat cheese), fallen chocolate souffle, vanilla fig, orange rosemary
strawberry shortcake, hazelnutty, s'mores, caramel apple pie, jelly donut, fruit tart, snickerdoodle, cannoli, tiramisu, poached pearfection
And so there you have it. Happy National Cupcake Day! (One day late…)
– Pete