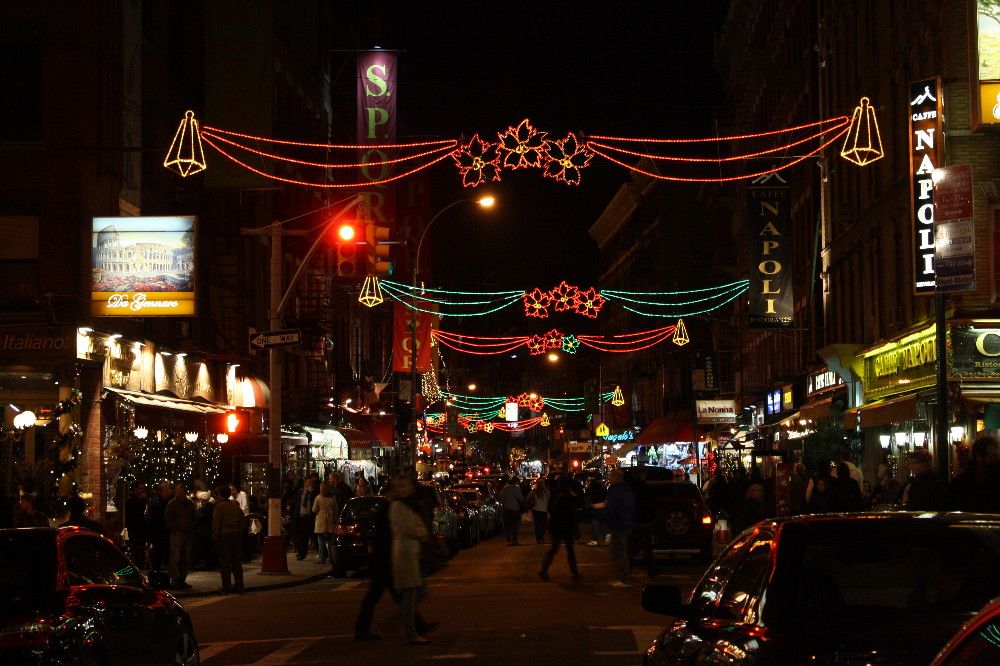 A little over two weeks ago—on Friday, November 25—we did the unthinkable. We went into Manhattan on Black Friday. We'd just hosted 17 people, mostly family, for Thanksgiving the day before. We all thought it'd be fun to keep the party going and head into New York City the day after. Soon, a plan came together… We'd start at the American Museum of Natural History on the Upper West Side, and eventually work our way downtown to Little Italy for dinner later that night.
If you know anything about New York's Little Italy, you know that the "happening" place is Mulberry Street (in the photo above). It can be something of a crazy scene. There's one restaurant after another. Some offer authentic Italian-American food. Many others, however, feed into the tourist mentality and offer a caricature of Italian-American cuisine and culture. People known as "wranglers" stand out in front of each restaurant, trying to lure you in, competing for your business.
As one of the members of our group with the strictest dietary needs, the task of finding an Italian restaurant that offered a gluten-free menu wandered its way onto my shoulders. I searched high and low, exploring options. But my gut instinct kept bringing me back to one: Forlini's.
It had a lot of great reviews on many of the commonly searched websites (TripAdvisor, Urban Spoon, Yelp, etc.). The New York Times noted that it does a popular lunch business with high-powered judges and lawyers. (Forlini's is just a few blocks from the major courthouses…) The restaurant didn't have a website (they do have a phone: 212.349.6779). And, it was located on Baxter Street, south of Canal Street, which technically puts it in Chinatown, not Little Italy.
To me all of this boiled down to one hopeful conclusion: a place where we could grab authentic Italian-American eats away from the Mulberry Street scene. But did they offer gluten-free menu items? I'd read rumors of such. A quick call to the restaurant confirmed it: yes they did. We made a reservation for 6:00pm.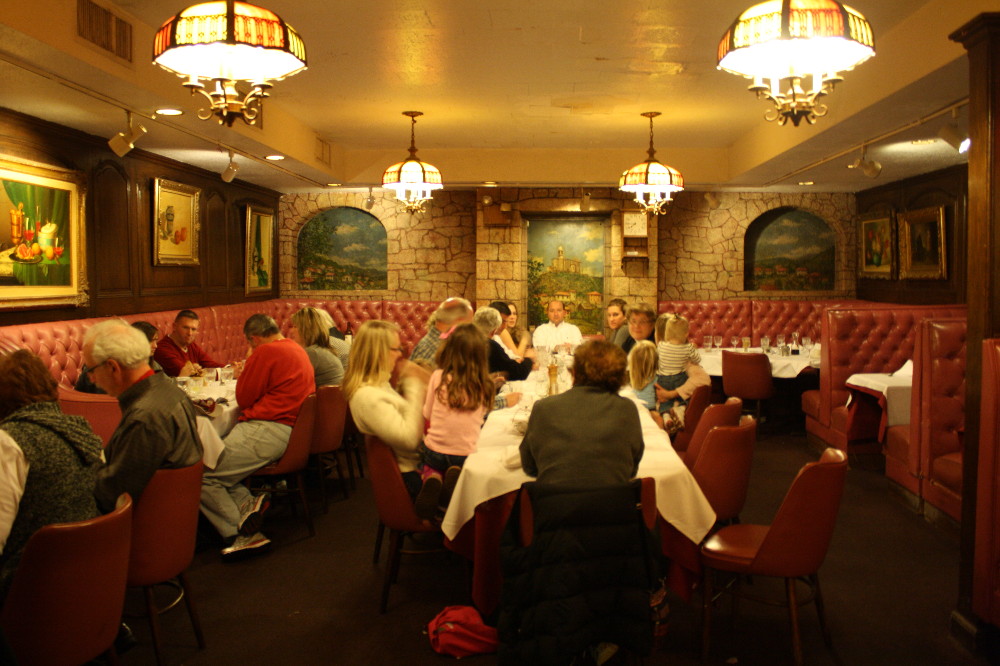 At Forlini's, "Little Joe"—manager Joe Derek—gave me the story. They'd started offering gluten-free versions of their foods about one and a half years ago, and the move has proven very popular. Forlini's does it right…they have separate pots, separate pans, and separate pasta water for the gluten-free foods. There's gluten-free rice pasta. And they use crushed gluten-free Rice Chex cereal to bread menu items such as the chicken parmigiana. The only thing they didn't have was a GF bread option, which would have been a nice way to round out the offerings.
We ordered three gluten-free versions of Forlini's menu staples: chicken marsala, chicken piacentina, and chicken parmigiana. At $15-$16 each, all three of our entrees were very reasonably priced. The chicken marsala was great. The chicken piacentina—with cheese, eggplant, and prosciutto—was excellent. And the chicken parmigiana was sublime. You'd be hard-pressed to tell that the breading on the chicken cutlet was actually crushed gluten-free rice cereal. The melted, lightly browned mozzarella and red sauce were in great balance.
The entrees each came with a side of angel hair gluten-free rice pasta tossed in the house red sauce. Loved it.
The non-gluten-free diners among us also complimented the food. One said the baked ziti was good. Another raved about the veal parmigiana.
We left at the end of the night feeling very satisfied. Forlini's is not a fancy place, nor a hole-in-the-wall restaurant. It's exactly what I expected—and hoped—it would be… a no frills, give-it-to-me-straight restaurant that offers up the classic Italian-American red sauce food experience. If you're looking for that experience, done gluten-free, don't overlook easy to miss Forlini's. It's worth finding. I know I'll be back.
Later that night, as Kelli, the girls, and I strolled Mulberry and popped into one restaurant for strawberry gelato (for the kids) and a glass of Montepulciano (for the 'rents), I was already planning my return.
– Pete