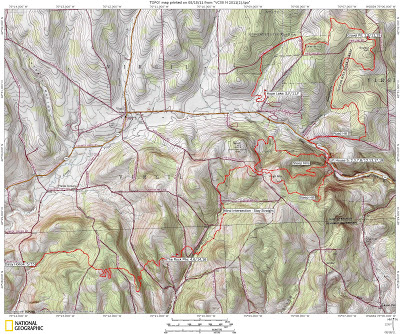 Topo map of the out-and-back course.
Well, the 2nd annual Gluten-Free Ultramarathon Challenge – and my 2nd Virgil Crest Ultra – are now one for the record books. The race was a little over one week ago, and just enough time has elapsed that I can sit down and write this race report with a bit of perspective.
The fact that I'm writing a race report at all is itself a small miracle. Exactly one week before the race I was in the emergency room of a local hospital. Between the Thursday before and the Tuesday after that trip to the hospital, I'd seen five different doctors. Then, two days after seeing an infectious disease specialist, we drove from our home in the Hudson Valley to Kelli's parents' place in Ithaca, about half an hour from the race venue.
When we arrived, Kelli's mom said to me, "What am I going to tell everyone at church on Sunday? It's awkward. This past Sunday I had them all praying for you. Now you're going to race."
"Tell them the prayers worked!" I said. (On that note, many thanks to all of you who also sent prayers, positive vibes, healing thoughts, good energy, etc.)
When we arrived I also had an email waiting for me from my good friend, Tom. He ran the 50-mile Virgil Crest Ultra last year also. This year, he's been busy training for the New York City Marathon, which is in early November. The subject of the email said "Good luck." The body of the email wasn't exactly so positive. "Just did a 20-mile training run," he wrote. "All I could think was, 'I'm so glad I'm not doing 50.'" Way to inspire!
But he had a kind of point. I had been pretty sick not a week before the race. What was I thinking racing 50 miles across rough terrain?

Elevation profile of the course.
The Friday before the race was largely consumed with preparation. I built a new spreadsheet that would allow Kelli to track my aid station arrival times and my average per mile pace. I printed out driving directions to several of the aid stations for Kelli. She slaved in the kitchen baking scones, cookies, Italian meatballs. I peeled oranges, sorted GU packets, loaded zip lock bags with all sorts of foods. My mother-in-law cooked up a pound of bacon, and made trips to the supermarket to pick up last minute odds and ends for my race nutrition. It was a real team effort.
By that evening, we had all the food portioned out and sorted on the kitchen counter, and boy there was a lot of it. I knew I wouldn't eat it all. Not even close. That wasn't the point. Race day nutrition can be a bit of a crap shoot. Depending on how you're feeling, how your stomach is handling the exertion, and how your body holds up to the miles, you may or may not feel like eating certain foods. By bringing lots of options, my hope was that I'd be able to find something palatable to eat.
Friday night was also the pre-race meeting and bib number pick-up. News about the condition of the course wasn't good. It was raining during the meeting, held in a local firehouse, and it had rained every day of the week leading up to the race. There was going to be mud. Lots of it. And some streams to cross, where getting wet would be unavoidable. Lovely.
As the evening drew to a close, I retired to the bathroom to try and put in my contact lenses. My right eye especially had gotten swollen from the hemorrhage. With the rain and mud and sweat (though hopefully no blood or tears), I was reluctant to run in my eyeglasses. I was also reluctant to run without any corrective vision whatsoever. The last few times I've done that I've tripped on unseen roots and rocks. All week I'd been using prescription steroid eye drops to reduce the swelling. The opthalmologist said there was an outside shot I could wear contact lenses by the weekend. And so I tried to put them in and…they felt fine! (In fact, over the course of the night, the subtle pressure the contacts placed on my eyes helped to push blood away from my corneas, actually improving my vision!)
I turned in for bed sometime around 11 or so that night, I think, and woke to my alarm clock at 4:00am to eat breakfast and get ready to hit the road by 4:45am or so with Kelli. She graciously served as my support crew for the entire race.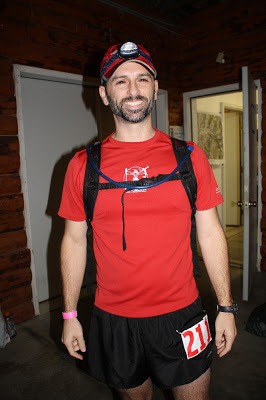 Ready to go at 5:40am, 20 minutes before race start.
At Hope Lake Park – the start/finish of the race – some 150 runners from the 100-mile, 50-mile, 50k, and 100-mile relay races mingled about. Most of us huddled under a covered picnic pavilion. It was raining. Again. Rather than a heavy downpour, it was a constant mist/drizzle, and the brutal humidity seemed to indicate that we were in the clouds that were raining on us.
With my race # clipped to my running shorts, my Camelbak filled with water and stuffed with a few GU packets, and my wristwatch timer set, I was ready to go. Or so I thought. The day would unfold not exactly according to plan, but I'll get to that in a bit.
A few minutes before the official start of the race, all the runners assembled near the starting line between a pair of flaming torches. In most races I've been in, competitive racers crowd the starting line. I purposely stopped a bit shy of the starting line, expecting other runners to fill in ahead of me, leaving me 3 or 4 people back from the front for the race start. To my surprise, most runners filed in behind me, so that I constituted the front line of runners.
Race director Ian Golden gave us all a few last minute instructions. Then, as per tradition, he blew into his ram's horn and we were off. The first section of the race took us across a grassy field and onto a trail that wound around one end of Hope Lake, across the lake's dam, and then up into the wooded hills. Having done this race once before, I suppose I looked like I knew where I was going, because the other runners followed me. For those first few hundred meters of the race, I was in the lead. Either that, or I was shoulder to shoulder with another runner up front with me. That would be the first – and last – time I'd lead the race.
Once across the dam, faster runners moved ahead of me, and I focused on trying to find my target race pace.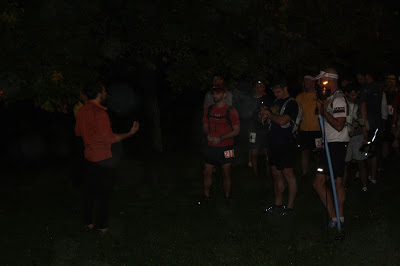 Race director Ian Golden (left) giving last minute instructions to the runners. I'm in the front center of the group.
At that early hour, we were all running with headlamps on. It was surprisingly difficult. With the misting rain and heavy clouds hanging on the hills, running with a headlamp was a bit like driving in fog with your brights on. It made visibility difficult, but you needed to see where you were going, where the next reflective race marker was, where you were putting your feet.
Ahh, and where I was putting my feet. There was water and mud, seemingly everywhere. There would be no dry feet on this day. In places the mud was deep. A handful of times it threatened to pull a trail running shoe right off my foot, and I tie those on pretty snugly.
Getting dirty wasn't the problem. The real trouble was all the extra energy it took to run through the muck, all the subtle ways that more muscles were being called into action to help maintain balance in the face of unsure, slippery footing. Race director Ian Golden cautioned us to take it more conservatively than we had planned. I should have followed his advice more closely.
The first ten miles or so – through aid station 1 to aid station 2 – felt surprisingly good. I was running faster than my intended race pace. This was partly by design. I had run those legs of the race faster last year as well. In the grand scheme of things, they were "easier" than the remainder of the course. Running them faster now meant I was putting time in the bank, because I knew I'd be going slower later.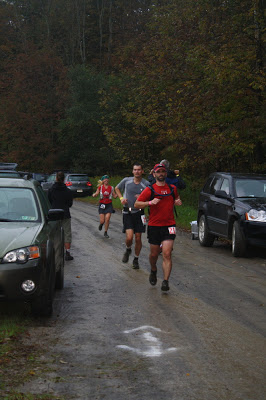 Arriving at Aid Station 2.
When I arrived at Aid Station 2, Kelli was there waiting, all smiles. "You're doing great!" she said. "I'm so proud of you!" Her encouragement was great. The race was off to a good start. My body was feeling good, and cooperating. No complaints. But things were about to get much more difficult in a big way, quickly.
Leg 3 of the race is known as the infamous "Alpine Loop," which takes racers up and over Greek Peak. Not once, but twice. The course gains – and loses – nearly 1,500 vertical feet in just 4.2 miles. Many sections of the ascents are too steep to run. Racers power hike them until the top, when you can start running again.
Wise from last year, I brought trekking poles this time around. They allowed me to better power on the ascents, using a bit of arm energy to conserve precious leg energy. I arrived at the next aid station feeling good. Hopefully, I could keep this type of performance going.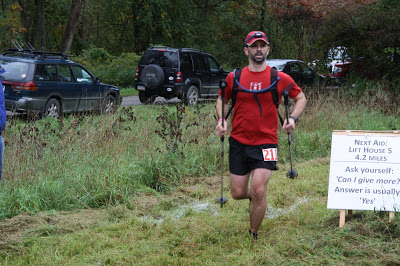 Arriving at Aid Station 3, 14 miles or so down, 36 to go.
The fourth leg of the race was another tough one – an ascent up and over Virgil Mountain – and the race's longest stretch between aid stations. For the first time, my body wasn't feeling so great. My legs developed a hint of fatigue, and my stomach was feeling unsettled. That unsettled feeling mostly affected my appetite. Certain foods that I planned on eating just didn't sound appealing at all. In fact, by the time I arrived at Aid Station 4, the Rock Pile, I couldn't stomach another packet of GU energy gel.
Just the thought of eating one more GU made me want to throw up. And I had planned on GU packs being an important part of my race nutrition on the trail in between aid stations, when I'd eat solid foods. Yet, as I came into Aid Station 4, Kelli was there with good news – I was still on my overall race pace. Awesome. What's more, a stereo at the aid station was blasting AC/DC. It just so happens that I brought two "psych up" albums for the car ride from Ithaca to the race: the soundtrack to Rocky IV (to any guy from my generation, this choice requires no explanation), and AC/DC.
"Thank you to whoever put on the AC/DC album," I hollered as I ran into the aid station. I changed my socks and tried to refuel. But my stomach and appetite just wasn't in it. Over the full distance of the race course I would manage just a single slice of bacon, and just a single Italian meatball. GU packets were out. Instead, I chowed down on zesty dill pickles, oranges, and slices of apple with copious amounts of peanut butter. And I stocked up on mini Reese's chocolate peanut butter cups for the next leg of the race. They weren't part of my race nutrition plan. My mother-in-law bought them on a whim. Thank goodness she did. They would prove to be a saving grace of the race.
Kelli would be staying at Rock Pile and waiting for me. Next, I'd head to Daisy Hollow, Aid Station 5, the turn-around at mile 25.1, and head back to meet her right back at this same spot. From this point onward, I'd be running farther than my longest training run this year.
The run from the Rock Pile to Daisy Hollow is always a place to take stock. Since Daisy Hollow is the race turn-around, anyone heading the other direction is ahead of you in the race. By counting the number of runners you pass heading the opposite direction, you can count your current place number in the race. I started counting. But before I arrived at Daisy Hollow, I gave up. Keeping stock of my place in the race was taking too much mental energy, and I sensed that my body was starting to betray me. My place in the race didn't matter. Finishing the race did.
By the time I arrived at Daisy Hollow, I was somewhere between 12th and 15th place in the 50-mile race, out of 76 or so runners. But by then a mantra had entered my head. Instead of counting my place in the race, I silently repeated the following phrase: "Honor the distance. Respect the course. Find a rhythm. Listen to your body." The only problem was, my body was saying "stop."
After reaching the Daisy Hollow aid station, I refilled my water bladder, and set off the way I came. The miles were earned with much more difficulty, and I could feel myself slipping off the pace. My left knee hurt. My right calf hurt. I'm not sure if I tweaked one leg, and then favored the other, thus tweaking it as well, or if they were just independent aches and pains. Even my nipples hurt, and that has almost never happened to me in a race.
As I ran, now facing all the runners who were still behind me heading out to Daisy Hollow, a surprising number caught me off guard by sincerely asking if I was feeling okay. It took me until mile 29 or so to finally realize why: they saw my eyes, and thought that the blood-red color happened during the race. Now I got it.
When I returned to Kelli at the Rock Pile at mile 30, I wasn't too far off my pace. By then, however, my body wasn't feeling so hot. I sat down in a camp chair and rested. I changed my socks. (In total, I'd go through 4 pairs of socks during the race. Each pair got wet and muddy within minutes of leaving an aid station, but they felt oh so good to pull onto my wrinkled, drenched feet.) I took time to really force myself to eat a lot of food. I knew my nutrition hadn't matched my physical output. I actually managed to eat a little too much, developing a slight stomach cramp that thankfully went away soon. And I joked with Kelli: "How long do you think I can take a nap before I should start running again?"
Inertia was setting in big time. My goal had been to keep my aid station stops to roughly 3 minutes each. When I glanced at my watch, I was stunned to discover that this stop had lasted more than 11 minutes! Time to get moving. Slowly.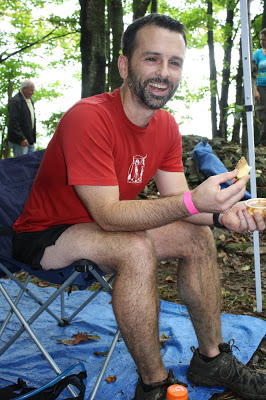 At the Rock Pile, mile 30.
The next 6-plus miles from Rock Pile back to the base of Greek Peak were the toughest of the race for me. It felt like my body was self-destructing in slow motion. I walked long stretches of trail. I hobbled and jogged other sections of trail. This train was starting to derail; the wheels were coming off the wagon. If I continued this downward spiral, things would not be looking good. In fact, for the first time in the race, I seriously faced the realistic possibility that I might not finish. Withdrawing when I arrived at Aid Station 7 at mile 36 entered my mind as an appealing and likely option. I had bitten off more than I could chew; tried to do too much too soon after being so sick the week before. I was humbled.
Yet, despite how miserable I felt, I despised even more the idea of quitting the race. I didn't want to DNF. I wanted to finish the darn thing. I looked at my watch. I'd been moving for more than 8 hours. The race cut-off time was 16 hours. Heck. From Aid Station 7, it'd be "just" 14 miles to the finish. With the number of hours remaining in the race, I could walk the rest of the course and still finish within the allotted time.
The final section of this leg of the race was a long, steep descent from Virgil Mountain back to Lift House 5 at the base of Greek Peak. I knew that at the bottom of the mountain I'd make a left turn to run briefly along a gravel road called Tone Road before arriving at the aid station. In my race induced delirium, my thought process on that descent went something like this: Hmm. Tone Road. That reminds me of Tone Loc. And that reminds me of "Funky Cold Medina."
At that point, "Funky Cold Medina" started looping in my head endlessly. And that was awesome. It turns that song has a tempo and beat that's just right for trudging along at a modest run. I powered in to the aid station.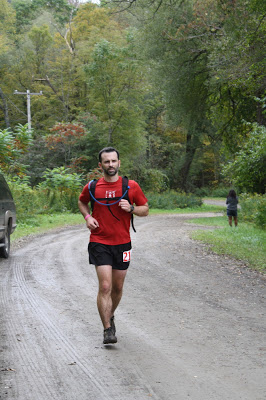 Not exactly all smiles, finishing up Tone Road and arriving at Aid Station 7 at mile 36.
At the aid station I leveled with Kelli. I told her exactly how I was feeling and what I was thinking. Not that it surprised me, but she handled the situation with expert tact. In between refilling my water, feeding me whatever I could eat, and re-stocking my chocolate peanut butter cups, she told me that she understood how I was feeling. She gave me the option to gracefully exit the race just then. She explained that doing so was in no way a bad reflection on me. That there was nothing to lose in making that choice.
But in the same breath, she also unconditionally supported my continuance of the race. She knows me. She knows how badly I would want to finish a race such as this. She trusts me to listen to my own body, my own needs. If I wanted – or needed – to walk the rest of the race, finishing in the darkness of night. She'd be there. If I found some unknown hidden reserves of energy, and could run to the finish, she'd be there.
And so I decided to continue. In a way, I sensed that – despite the misery of miles 30-36 – I might actually be able to finish. My rationale (and psychological self-trickery) was thus: miles 36-40 were a repeat of the Greek Peak alpine loop. Much of it would be power hiking (alternating with steep downhills), assisted by my trekking poles. Surely I could power hike 4 miles. From there, miles 40-50 were the "easier" miles of the course. Miles 40-46 or so would get me to the Gravel Pit aid station. If I could get there, then I'd have just 4+ miles to go to the finish, with a net elevation loss. Surely I could do that. There's no way I would let myself get that close to the finish and not make it.
In this way, I knew that as I reached each of the remaining aid stations, I'd have a compelling reason to continue on to the next one. And with that strategy – taking one leg of the race at a time – I'd finish.
With trekking poles in hand, I looked up at Greek Peak and took the next strides.
As expected, by the time I finished the Alpine Loop, I was starting to feel a bit better. What's more, when I jogged in to Aid Station 8, Kelli's mom and sister had arrived with Marin and Charlotte (wearing a "Team Daddy" shirt). I had a small cheering section to root me on. The motivational boost was great.
In fact, in retrospect the mental (and physical) shift between miles 30-40 and miles 40-50 was remarkable. I went from the depths of despair to a perspective of real optimism and hope. With spirits buoyed, I set my sights on the Gravel Pit, at roughly mile 46.
En route, my body started "coming back," too. I was running longer sections of trail, downshifting only to hike the uphills. Superb.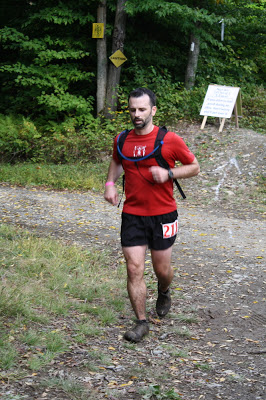 Arriving at the Gravel Pit.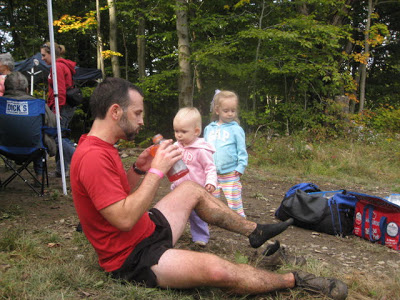 A swig of Gatorade, some M&Ms, a last change of socks, and 4+ miles to the finish.
At the Gravel Pit, Team Daddy was out in full force. I plopped down into the mud and wet grass and changed my socks for the fourth and last time. Although I was only 4-plus miles from the finish, I credit my sock changes with my successful avoidance of blisters and other foot problems. Charlotte toddled over and shoved a small handful of M&Ms into my mouth. Marin traded swigs of Gatorade with me. And then I was off.
There were a few short but noticeable uphills on the last leg of the race, but for the most part, it went downhill (in a literal sense). In the last mile, the course spit me onto the trail that circled around Hope Lake. As I approached the dam, the sun had come out. Across the smooth lake, the green grass, colorful trees, and finish line glowed in later afternoon light. It was beautiful.
This was only the third "environmental" observation I'd consciously made all day. Once, on the return trip over Greek Peak, I looked up from the mud for long enough to admire the surrounding hills, which were beginning to set ablaze with the colors of fall. The other thing I noticed were the mushrooms. They were everywhere, probably thanks to all the rain. I must have seen more than two dozen varieties.
Running across the dam, I heard some loud cheering. It was probably folks cheering another runner across the finish line. But I imagined that it was Team Daddy and others at the finish line. They'd spotted my bright red shirt, and were giving me a final motivational boost for the last few hundred meters. I raised one arm in the air and pumped my fist to acknowledge them.
And at long last, across the dam, the trail circled around, made a left onto the grass, and it was a straight shot to the finish line, where Team Daddy was waiting.
I crossed the finish line in 12 hours 15 minutes. I had finished. Not only that, but I was only 30 minutes behind last year's time. Given both a) the muddy conditions and b) my recent illness, I was more than thrilled. It was the most difficult day of racing, and the most painful and hard-earned finish, I've ever had. By a long shot. And it felt good. (That sounds crazy, doesn't it?)
And though I didn't successfully repeat a Top 10 finish as I had hoped, my place finish was still pretty respectable. Based on preliminary results, I came in 22nd out of 78 runners in the 50-mile race. The 100-mile race had an incredible 50% DNF rate. Any 100-miler who passed the 50-mile mark, but later dropped out of the 100-mile race, was awarded a finish place in the 50-mile race. When you take those folks into account, I finished 29th out of 100. Not too shabby.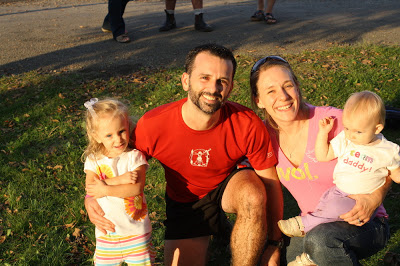 The Bronski clan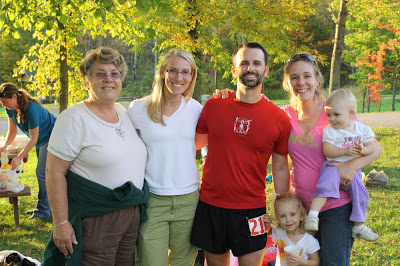 The full Team Daddy.
Another Gluten-Free Ultramarathon Challenge had come and gone.
And so now I can say many, many huge "thank you's." Thank you to everyone who supported me through the training. Thank you to everyone who supported me through my illness. And thank you to everyone who supported me come race day.
Thanks, also, to all of you who made donations to the National Foundation for Celiac Awareness. This year we raised nearly $3,030. I deeply appreciate every one of your dollars, which the NFCA will use to benefit the gluten-free community. This brings our two-year fundraising total to $6,600!
Finally, I want to say thank you to all the great gluten-free companies that made donations to support the NFCA, especially this year's Sustaining Sponsors: Bard's, the Gluten-Free Bistro, and Rudi's.
My recovery from the race has been going well. I've taken a bit of time off to rest my body and mind. I haven't run since the race. The soreness is gone. I can walk up and down stairs again, and wrestle with the girls around the house. And believe it or not, I'm already eyeballing my next ultramarathon. It's in three weeks. =)
– Pete