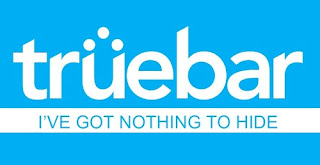 When Bakery on Main – makers of gluten-free granola and gluten-free granola bars (which we reviewed here) – offered to send us gratis samples of their new TrueBars, I'll admit I was a bit skeptical. Based on initial appearances, they bore resemblance to Bora Bora bars and Wild Alice bars, and we only felt so so about those brands. As we soon discovered, though, appearances can be deceiving.
TrueBars seem to represent something of a departure for Bakery on Main. The company name and logo are seriously downsized. Instead, "TrueBar" is dominant on the packaging, which is slick and colorful and modern, and has little in common with BoM's other products. It's as if they're trying to establish a separate brand or a sub-brand. Fortunately for BoM, these bars can certainly stand on their own.
The tag line is that these are bars "with nothing to hide," a nod to the use of straightforward, wholesome ingredients. For example, the ingredients list on one bar reads: coconut, cashews, brown rice syrup, evaporated cane juice, rice crisp, agave nectar, chia seeds, brown rice flour, inulin, soybean lecithin, sea salt, and canola oil. Other flavors may have different nuts, seeds, dried fruit, or a touch of chocolate. Some people may take issue with the evaporated cane juice, soy lecithin, canola oil, or even the agave nectar, but on the whole, these bars are filled with good stuff. And you can pretty much see all the ingredients in the bar as you eat it.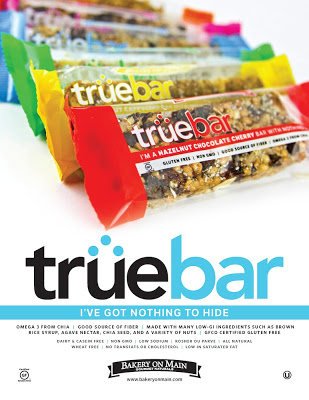 Nutritionally, the bars range from 150-190 calories per bar. Fat ranges from 6 to 12g per bar. Sugar ranges from 12 to 15g per bar. Each bar has a few grams of protein. Ingredients such as chia seeds give them omega 3 fatty acids. Other ingredients make them pretty high in fiber. Many of the ingredients are lower on the glycemic index scale. And their balance of carbs, protein and fat make them pretty hunger-satisfying.
For texture, bars to me sit along a spectrum, from too soft and chewy, to good chewy, to good crunchy, to break-your-tooth too crunchy. The TrueBars hit the Goldilocks sweet spot of snack bar texture – neither too chewy nor too crunchy. They have a pleasant firm chewiness, with enough substance to let you know you're biting into something with texture.
As for flavor, we found a lot to love. We sampled six: Fruit and Nut, Raspberry Chocolate Almond, Hazelnut Chocolate Cherry, Walnut Cappucino, Apricot Almond Chai, and Coconut Cashew. On the average, the nuts in any given bar had a pretty subtle flavor. For example, I barely detected the hazelnuts in the Hazelnut Chocolate Cherry, which was a shame, because I love hazelnuts. Otherwise, here's how the flavors broke down:
Fruit and Nut
A good bar. Kind of the Plain Jane of the group. Tasty, but unmemorable.
Raspberry Chocolate Almond and Hazelnut Chocolate Cherry
I group these together because they were similar in terms of overall "formula" – nut, plus tart dried fruit, plus mini chocolate chips. As I mentioned earlier, in both cases the nuts (hazelnuts and almonds) were pretty subtle, though visibly present. The mini chocolate chips never overpowered the bar, but provided a pleasant sweet chocolate flavor, balanced well by the tart raspberries and cherries. If you like fruit in your nut bars, these are the way to go.
Walnut Cappucino and Apricot Almond Chai
These two flavors were excellent. Spices such as cinnamon, cardamom, ginger, and cloves gave the chair bar warm, complex layers of flavor. The walnut cappucino bar similarly impressed us. Kelli declared it her favorite snack bar flavor ever. That's saying something!
Coconut Cashew
Another superb flavor. This was my favorite, by a very long shot. I would buy these by the case. In fact, I just might do that in advance of my ultramarathon on September 24. They're like a slightly chewy, slightly crunchy coconut macaroon in snack bar form…with lots of chia seeds. So good.

And so there you have it. By our measure, TrueBars are a huge step in the right direction for Bakery on Main. Overall, they have great ingredients, great texture, and great flavor. After sampling many fruit-nut-seed style bars over the years, we've finally come across one that knocks it out of the ballpark.
– Pete
Images courtesy Bakery on Main