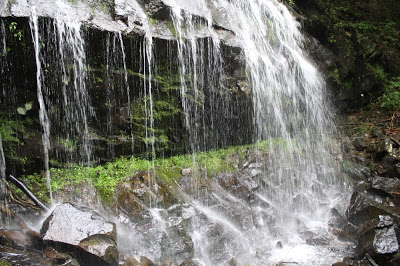 An unnamed waterfall on Shaupeneak Ridge,
one of my regular weekday trail running training locales
This past weekend I headed over to the Shawangunk Mountains for my longest training run to date. It was 17.5 (maybe 18) miles with some good elevation gain, though not quite as much as the race is going to dish out. As I worked my way up toward a summit known as Skytop, I was huffing and puffing up a steeper section of trail when I saw ahead of me a large porcupine smack in the middle of my path.
As I grew closer, that little guy didn't much seem to care. He looked at me, casually turned so that his sharp spines faced me, and slowly ambled to the side of the trail, where he stayed. He didn't scatter into the woods. He didn't frantically run for cover. He simply provided enough space for me to pass, and then continued about his day. In other words, that porcupine had confidence. With just a week and a half to go until the big race, I could use as much confidence as I can get.
Confidence, at least in this context, seems to come about through a combination of knowledge, experience, and self-assurance. I've done the race before. This is a double-edged sword. On the one hand, I know the course (normally good for confidence). But on the other hand, I know the course (if you know that the course is brutal, this is maybe not so good for confidence… sometimes ignorance is bliss). I know what worked and what didn't work for my gluten-free race nutrition. I know that this year I'll bring trekking poles for the insanely steep Greek Peak section of the race.
But there are also unknowns, which aren't great for confidence. Will my revised training regime pay off? Or should I have stuck to a training plan similar to last year? What kind of condition will the course be in following the unbelievable rains and flooding New York has had? (As of the race director's most recent email to registered competitors, the steep ascents and descents are described as "muddy slip and slides." Yikes. This year's race could be epic.)
I do have two big positives in my corner, though. For one, I've been healthy on a well-rounded gluten-free diet. My body is back to performing at high-octane levels. For another, I have the support of the gluten-free community in my corner.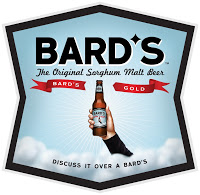 Speaking of which, I'm happy to announce the Bard's Tale Beer Company as the latest Sustaining Sponsor. Bard's is one of the long-standing pillars of the gluten-free beer world, and as far as I know, the only brewery to use genuinely malted sorghum grain (as opposed to sorghum syrup) to brew their beer. That's a quality that doesn't go unnoticed amongst die-hard beer drinkers. (Just one reason why, in our Great Gluten-Free Blind Beer Tasting, Bard's earned votes for both top pick in its flight of beers as well as for overall best in show from our panel of tasters.) Bard's is also – through Midwest Homebrewing Supplies – the first gluten-free beer company to offer a homebrew kit for you to brew your own Bard's Tale clone beer. Stay tuned for future blog posts about the nuances of Bard's malted sorghum, as well as our experiences brewing a Bard's clone at home. Should be fun! (And tasty!)
And don't forget about our other Sustaining Sponsors: Rudi's Gluten-Free Bakery and The Gluten-Free Bistro.
| | |
| --- | --- |
| 2x Supporter | GF Bistro |
Finally, as always with these training updates, I want to leave you with a fundraising update. We've now raised almost $2,400, bringing me to 47% of my goal of raising $5,000 for the National Foundation for Celiac Awareness. With a week and a half to go until the race, we're in the homestretch. Please visit the fundraising page and help us inch closer and closer to our goal. Every dollar helps! Thanks again for your support.
Two more short training runs (5-10 miles each) and one more long training run (~20 miles) to go. Then it's game time. Starting to get excited!
– Pete