Everywhere I turn this week, it seems "back to school" is the theme, and understandably so. It's that time of year. Today is freshmen move-in day at Vassar College, where I'm a writer and editor for the alumni magazine. Erin at the blog Gluten-Free Fun has posted a great five-part series about being gluten-free in college (including round-ups of what other bloggers are saying on the topic). And tonight the NFCA is hosting a webinar, "Importance of School Nurse Education & How-to Strategies for Parents of Gluten-Free Kids."
With all of that in mind, we thought we'd post a review of Surf Sweets Gummy Snacks, which seemed to us a kid-oriented gluten-free snack that just might find a home in a lunch box, or locker, or desk. The company kindly sent us some gratis samples to review, and overall, we think the snacks are pretty darned good.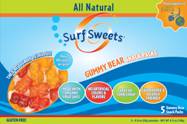 We sampled two varieties: the Gummy Bears and the Sour Berry Bears.
First, the ingredients. These puppies contain no high-fructose corn syrup (or any corn syrup, for that matter), no GMOs, no artificial colors, no artificial flavors, no gluten. They're flavored with natural fruit juices. They're colored with natural ingredients such as black carrot juice, turmeric, and annatto. They're sweetened with organic tapioca syrup and organic evaporated cane juice. They're gluten-free, and processed and packaged in a nut-free facility.
A single snack pack contains 10 gummy bears, a serving size of about 25g. Each serving has a scant 80 calories, negligible sodium, and 13g of sugars. Not bad.
Second, the taste. We thought both versions tasted great. They were perfectly chewy (the sour version was softer than the "regular" gummy bears). The Gummy Bears had bright, delicious, fruity flavors. The Sour version was pleasantly sour, and didn't have the extreme pucker factor that some sour treats do.
Our one major critique was the inconsistency of flavor distribution. Of the three flavors – red, orange and yellow – some snack packets had all red and orange, but no yellow; some had all orange and yellow, but no red; and some had a genuine mix of all three flavors. (In theory, there are actually six flavors of gummy bears – cherry, grapefruit, grape, lemon, strawberry, and orange. We could only detect three…presumably cherry, orange and lemon, though the yellow gummy didn't taste particularly lemon-y to us, though it was still very good.)
At the end of the day, though, we thought the Surf Sweets Gummy Snacks were great for their genre (gummy snacks). They're tasty, made with ingredients we like, and appealing to the kiddos. They're not the type of thing that Kelli or I eat, even occasionally, but when our daughters ask for a fun kid snack, one like their cousins or friends are having, we'd feel more than comfortable saying, "Go ahead, sweetie. Grab a Surf Sweets snack pack."
– Pete