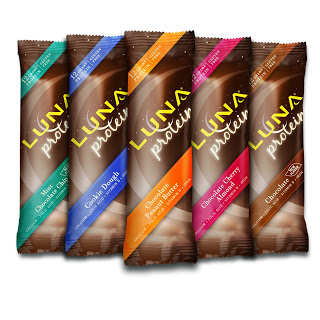 Image courtesy LunaBars
In between all my training for the upcoming Virgil Crest 50-Mile Ultra (and the 2nd Annual Gluten-Free Ultramarathon Challenge) we've been getting outdoors as a family. A little rock climbing here and there. Some camping. A bit of beach and surfing and boating. And, of course, plenty of hiking (including, most recently, a trek to the top of Millbrook Mountain in the Gunks in NY, followed by a hike/climb to the top of 11,800-foot North Diamond Peak above Cameron Pass in the Colorado Rockies).
In the backcountry, especially, my food preferences once partly included a stockpile of gluten-free energy / protein / snack bars. Maybe chocolate peanut butter, or mint chocolate. I'd throw 2 or 3 (or 4 or 5) in my pack, stash one in the cargo pocket of my shorts or pants, and eat them as my hunger dictated.
In more recent times, I've gravitated toward carrying fresh and from-scratch foods – fruit, nuts, peanut butter, homemade sandwiches, chocolate, etc.
But when the folks over at LunaBar contacted me offering to send gratis review samples of their gluten-free Luna Protein Bars, I happily accepted. It would be like revisiting an old friend.
Luna, in case you didn't know, is the women-oriented version of the CLIF Bar (guys can happily consume these bars, too). Earlier this year, they made the move to make their entire line of 5 flavors of the protein bar line gluten-free. Chocolate. Chocolate Peanut Butter. Mint Chocolate Chip. Cookie Dough. And Chocolate Cherry Almond. Luna sources GF ingredients, maintains good manufacturing processes, and tests their bars to ensure their gluten-free status.
Each bar weighs in at roughly 180-190 calories, with 12g protein and 3g fiber. There are no artificial sweeteners, no trans fats, and no GMOs. 35% of the ingredients are organic. So far, so good!
But what about taste and texture?
First, Kelli's reaction. She wasn't enamored with any of the flavors. By her own admission, though, she's never much been a fan of these kinds of bars, past or present. So I wouldn't consider this a negative on Luna's part. It was more representative of Kelli's categorical perspective on this type of food.
My reaction was considerably more positive. For texture, I've taken to calling the Luna Protein Bars the "Goldilocks" consistency… neither too soft and chewy, nor too firm and crunchy. In other words, they were just right. In the recent 90 to 100 degree F heat we've had here in the Hudson Valley, the chocolate coating didn't hold up well, melting inside the wrapper. But I don't know any chocolate that could withstand the kind of heat much of the country has recently dealt with. I'd be curious to see how firm the bars get in the winter cold while skiing or snowshoeing. For most uses, though, their texture was spot on.
As for flavor, I chose the mint chocolate, chocolate peanut butter, and cookie dough as real standouts. Each had a good balance of complementary flavors – mint and chocolate, or chocolate and peanut butter, or cookie dough and chocolate. Yet, in no case were the flavors too strong or overpowering. The bars delivered on their flavor promises, without having flavors that proved too subtle or too "in your face." Again, for my palette, they were just right.
The chocolate flavor was fine. Nothing special.
The chocolate cherry almond was the only flavor I didn't care for. The cherry notes were detectable, but the almond flavor got lost. Both Kelli and I had trouble finding it among the flavor profile.
At the end of the day, I'd say that Luna has come up with a winning product in its protein bars. I'd definitely buy these and stash a few in my backpack. If you're looking for a tasty, healthy, compact snack – for hiking, for travel, for the office – one that's small enough to stash in a backpack, or a purse, or a desk drawer, Luna Protein Bars should definitely be on your radar.
– Pete