Another week of trail running training is in the bank, and what a week it's been! My trail running mileage tally since June 1 has hit 265 as of today. The most recent miles have been especially hard-earned. After a nice tempo run late last week, I squeaked in a superb but challenging 14-mile trail run at the Mohonk Preserve on Saturday morning, less than 12 hours before Hurricane/Tropical Storm Irene hit New York.
What happened next is probably all too familiar to many of you. There was no trail running going on for the rest of the weekend. On Monday, I tentatively ventured out for an interval workout, sticking to paved and gravel roads, for fear of what shape the local trails might be in. Today I discovered what a wise choice that was.
I woke this morning at 5:00am and drove in the pre-dawn darkness to the town of Beacon and the base of the Beacon Incline. From there I'd trail run up on Fishkill Ridge. Along with the Shawangunk Ridge, it's my favorite trail running spot in the mid-Hudson Valley. Fishkill really makes you work for it. Once you're on the ridge, the trail running is glorious – moderate ascents and descents, scenic views from bald summits, forested trails.
But getting up onto the ridge is not nearly as pleasant. From the base of the Incline, it's more than 1,200 vertical feet to the higher points of the ridge, including one stretch of trail that gains roughly 1,000 vertical feet in just a mile of distance. In other words, it is steep!
I've run Fishkill many times, and each time I'm amazed at just how unrelenting the ascent actually is. Steep. Rocky. Roots. Technical. Light rock scrambling in places. I have yet to reach a level of fitness which allows me to genuinely run the entire ascent without "down-shifting" to a power hike for at least a section of trail.
Today it was particularly gnarly. Note to self: Trail run 12 hours before a hurricane? No problem. Trail run 3 days after a hurricane, before trail crews have had a chance to do even a smidgen of trail maintenance work? Might want to think twice about that. Sections of trail were washed out or otherwise badly eroded. Streambeds and ravines were scoured. Trees were down across the trail in many, many places. In one location – on a saddle between two rounded summits – it appeared as if a flood had torn through the entire forest floor, completely evaporating any semblance of trail. Having passed through there before on prior runs, I continued in the direction I knew the trail went, finally finding a trail marker on a tree after some 50 yards or more.
Needless to say, my pace was slow. Not that I'm complaining. Far from it. In the grand scheme of things, the mid-Hudson Valley came away comparatively unscathed from Irene. A bit of "inconvenient" trail running doesn't hold a candle to the devastation seen in the Catskills to our west, Vermont to our north, Massachusetts to our east, and Long Island to our south.
As I stood atop Lamb's Hill, and then Bald Hill, with the light of sunrise just striking the summits of the Hudson Highlands, the scene was gorgeous. The Hudson River was far below, and in the valley just to the north, banks of fog and cloud obscured the forests and farmlands, with higher rounded mountains peeking up into the sky. Glorious. Then my eyes returned to the trail before me. The difference between the macro and micro view was striking.
At times like these, I'm wanting to share some good news, and gladly, I have some to offer. We're now close to $1,200 raised in support of the National Foundation for Celiac Awareness, thanks to your help! This brings me to 24% of my goal of raising $5,000 ($100 per mile) in the 2nd Annual Gluten-Free Ultramarathon Challenge. Please visit the fundraising page and consider making a tax-deductible donation today. Every dollar helps the gluten-free community! There are just 3.5 weeks to go until the race, and the NFCA could use your support!
Today I'm giving an extra big shout out and thank you to the first Sustaining Sponsor of this year's Challenge: The Gluten-Free Bistro.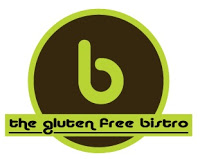 They've stepped up and made a generous donation to the NFCA, and I couldn't be happier. Kelli and I have been fans of The Gluten-Free Bistro for a while now. For one, they're based out of Boulder, Colorado, a town near and dear to our own hearts.
But more importantly, they offer great gluten-free products. We first reviewed their pizza crust back in December 2009, and we were fans. More recently, in May of this year, we reviewed their all-purpose flour blend. To summarize, if you're looking for a pre-mixed, store-bought all-purpose gluten-free flour blend, we think the GF Bistro blend is one of the best on the market. Not only does it perform very well in baking, but if you caught our Great Gluten-Free All-Purpose Flour Blend Nutritional Comparison at the beginning of the year, you'd also know that the GF Bistro flour blend performed superbly there as well. Check out their website, and give their products a try. You won't be disappointed.
Here's some more food for thought about the Gluten-Free Bistro, fittingly related to athletics. If you're a fan of pro cycling, then you might know two facts: 1) Colorado-based Team Garmin-Cervelo won the team competition at both the Tour de France and the just-completed USA Pro Cycling Challenge, and 2) they're gluten-free. But did you also know that Garmin-Cervelo is fueling their elite gluten-free performance with The Gluten-Free Bistro's products? Oh yes. Pizza crust. Pasta. Waffles made with the flour blend. If that's not a testimony, I don't know what is.
And finally, on another note related to gluten-free nutrition and athletics: last week, in Training Update #1, I talked about different training techniques. This week, I'd like to talk briefly about endurance nutrition, and my specific nutrition plan for the ultramarathon. (If you want more specifics about GF nutrition for athletes than I go into here, be sure to check out my free archived NFCA webinar, "Nutrition and Training for the Gluten-Free Athlete.")
In endurance racing, I like for my nutrition to follow the rule of "Twigs, Sticks and Logs." It's an analogy for different foods that burn (provide energy) at different rates. Twigs are simple carbs that metabolize easily and quickly for instant energy. Sticks have more complex carbs, and maybe a little protein or fat. They don't burn as fast, and can help to moderate blood sugar spikes from the Twigs. Lastly, Logs are heavier in fat (an excellent source of energy that takes your body longer to convert).
How does that translate into actual foods I'll eat on race day? My smorgasbord of race food will look something like this:
GU energy gel packets
Chocolate
Fresh fruit (peeled oranges, bananas, apples)
GF baked treats (choc chip cookies, scones)
GF toast (incl PB&J and/or ham sandwiches)
Bacon
Meatballs
Pickles
Water
Sports Drink
The list is roughly ordered from Twigs to Sticks to Logs. The last three items separated from the main list are for hydration and electrolyte replacement. (The salt from the bacon will help this, too.)
Based on the distance of the race, the spacing of the aid stations, my intended race pace, and last year's experience, I know that I'll hit an aid station roughly once every hour, and that I'll be running for approximately 11 hours straight. It's important to keep calories going in, in order to avoid a major bonk. So… I'll be eating and drinking pretty much the whole time. While I'm running, I'll wear a Camelbak with water, and carry several GU packets to suck down on the go. In aid stations, I'll swig a sports drink and eat a bunch of "real" food, before setting out on the trail again and repeating the sequence.
This is similar to last year, with one major change. I learned last year that the flavor profile of my foods tended to be too sweet on the average. By the end of the race, the last thing I wanted to eat was another super sweet GU packet. This year, I'm striving for a better balance of sweet and savory foods, hence the addition of things such as meatballs.
Importantly, like the cyclists of Garmin-Cervelo, earning top-notch finishes in major races while eating a gluten-free diet, I'll show that the right gluten-free foods can fuel your body to maximum performance. If everything goes according to plan, of course!
– Pete