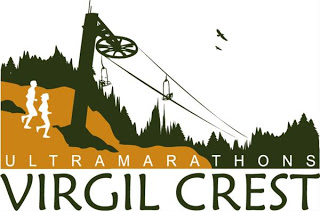 In the media, there's been a lot of talk about races lately… who's entering them, who's dropping out of them. Especially when it comes to the GOP race for the 2012 presidential candidate. Most recently, Tim Pawlenty is out, and Rick Perry is in.
Well, I thought I'd get in on the action and announce a race of my own: the Virgil Crest 50-Mile Ultra. I'm officially registered for what I'm calling the 2nd Annual Gluten-Free Ultramarathon Challenge.
For those of you who've been around No Gluten, No Problem since at least last summer, you'll remember last year's Virgil Crest 50-Mile Ultra, which I ran to raise money for the National Foundation for Celiac Awareness. The event is an ultramarathon distance trail running race. It covers 50 miles and 10,000 vertical feet of cumulative gain. That's roughly the equivalent of running back-to-back marathons, off-road, while climbing to the top of the Empire State Building 8 times.
In 2010 (there's a photo of me just after crossing the finish line below) I took 7th place, in a time of 11 hours 43 minutes. Most importantly, with your support, we raised nearly $3,600 for the NFCA!
Well, now I'm at it again, and once again I'm asking for your help to support the NFCA. As with last year, I've created a FirstGiving fundraising page. Please take a moment to visit the site and consider making a donation in support of a great organization and great cause near and dear to the No Gluten, No Problem community.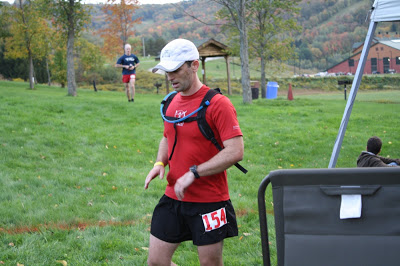 Across the finish line at the 2010 VC50
There are just under 6 weeks to go until the race (which takes place on Saturday, September 24, 2011), so my fundraising window is more limited than last year, when I posted weekly training updates throughout the summer.
I would have registered for the race sooner, and started the "public" fundraising earlier, but I've been waiting. My back-to-back stays in the hospital this past spring really did a number on me. I didn't train at all for 1.5 months. When I finally resumed training, at the beginning of June, I realized that my body was weak and fatigued. I'd lost a lot of fitness. It would take a lot of work to regain that ground and prepare for the VC50.
And so I waited. I waited to see how the training progressed, how my body felt. Finally, my body is feeling good. I'm feeling on track that I'll be ready for the race come September 24. Since June 1, I've logged 190 miles of trail running training. I'll put in probably another 4 weeks of hard training, tallying an additional 150 miles or so, before I taper in the 1-2 weeks leading up to the race.
Last year I was overwhelmed by your outpouring of support, and I hope the same happens again this year. Let's beat last year's $3,600 fundraising total. Bloggers, please consider sharing this challenge with your readers. Whether you're gluten-free, or know someone who is, the NFCA's work benefits us all.
I believe in them enough that I'm willing to "punish" myself for a second year in a row with the 50-mile ultramarathon. (I do, however, enjoy the punishment, as crazy as that may sound…)
In addition to the fundraising goal, I've also set some performance goals for myself. I'd like to repeat my Top Ten finish, and if I'm feeling really good on race day, I'd like to try and crack into the Top Five. And I'd like to finish in sub-11 hours.
Only time will tell if I'm successful. This year's training has been so different than last year's. There were, of course, the hospitalizations, and the need to recover from that experience. I don't have as many mountains and hills to run here, so I'm worried about how I'll handle the race's 10,000 vertical feet of ascent (and 20,000 vertical feet of elevation change). And I've employed a different training regime (I won't bore you with the particulars… I'm just curious to see if it works as well compared to last year's regime…).
So, once again, please join me and support the NFCA. Give as much or as little as you can or want. Every little bit helps.
– Pete