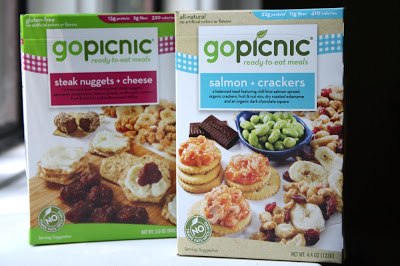 When the friendly folks at GoPicnic offered to send us some gratis product samples to review here on the blog, I gladly accepted. But I'll admit – from the outset, I was skeptical. GoPicnic markets its products as "ready to eat meals," "meals on the go," and – prepare yourself for this one – "shelf-stable meals."
Listen. I understand the intent behind saying "shelf-stable." It means the product doesn't require special care. It need not be refrigerated. It won't spoil quickly or easily. Good enough. But use the term "shelf-stable" with your distributor, or the supermarket that's carrying your food. Don't say that to consumers. To me, nothing about that term is appealing. On the average, I prefer my food fresh. It's inherently shelf-unstable.
So instead, please tell me – the consumer – that GoPicnic meals don't require refrigeration. That I can store them in my pantry (or wherever). Okay? Now let's move on…
The idea – in theory – is that GoPicnic takes other brand's products (ideally healthy and high quality, though that's debatable…) and repackages them in a convenient box you can tote anywhere, so that you have a complete meal, in GoPicnic's words, "good food anytime, anywhere."
They also claim that the meals are environmentally-friendly, since GoPicnic strives to use packaging that is either recycled or recyclable. But you know what? By putting more packaging (a box) around other companies' products that already have their own packaging, it creates a lot of…stuff. And much of what I found in the box pictured below appeared neither recycled nor recyclable. It just produced a lot of garbage.
You know what would be more eco-friendly? Putting your own picnic lunch to go in a reusable, resealable container. We have a whole set of glass ones at home, and they work great for all sorts of foods.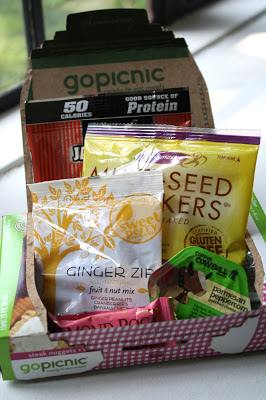 Okay, so let's talk more nuts and bolts about the quality and gluten-free status of the contents. GoPicnic sells 5 varieties of gluten-free meals: Hummus and Crackers, Steak Nuggets and Cheese, Tuna and Crackers, Turkey Pepperoni and Cheese, and Turkey Stick and Crunch. They cost $5 each. Okay so far.
Each meal is packaged with an assortment of goodies. For example, the Steak Nuggets and Cheese meal contains essentially beef jerkey, cheese spread, crackers, trail mix, and a piece of chocolate. This immediately poses a potential problem. Every product is from a different company, each with its own definition as to what "gluten-free" means. The end result is that, depending on your sensitivity and your own personal level of acceptable cross-contamination risk, these foods may or may not be okay for you. In the Steak Nuggets and Cheese meal, the products ranged from GFCO gluten-free certified, to products made on equipment shared with wheat. That's the first problem. (A second related problem is the issue of constantly keeping up with ingredient or manufacturing process changes to any one component of the GoPicnic meal, since every part of the meal comes from someone else.)
Second problem. The second flavor that GoPicnic sent me to review was the Salmon and Crackers. You might notice that Salmon and Crackers is NOT included in the GF list I cite above. That's because it isn't! The crackers are wheat flour crackers. Thank goodness I continue to religiously read labels before I eat anything. I'll admit – this was probably an employee oversight. Someone carelessly mailed a gluten-free blogger a gluten-ous product, intending to send a gluten-free one. Maybe it was a one-time mistake. But it does make me question GoPicnic's vigilance in ensuring the GF status of the meals they purport to be GF.
Third problem. Size. These are marketed as meals, but at best, I'd call them a snack. The Steak Nuggets and Cheese meal contains a scant 320 calories. While I don't count calories, I'd wager that I eat at least 2,500 calories per day. That means I'd need to eat 8 GoPicnic meals to feed myself for a day.
Think of it another way… The "cheese" in the meal is actually a 0.75-ounce container of cheese spread, barely largely than a generous pat of butter. The bag of crackers contained 7 crackers. Seven! And they were small crackers. Other components of the meal were similarly small. 0.625 ounces of beef jerkey. 0.42 ounces of chocolate. 0.75 ounces of quasi-trail mix. My stomach is already grumbling from the cavernous space left behind after eating this pint-sized snack.
In the end, for me, the GoPicnic meals fail on several major fronts. I'm not convinced they're reliably gluten-free, they're too small, and they're not my style. I'd prefer to pack my own meal to go…shelf-stable or not.
I do begrudgingly admit that I see some utilitarian value to them. Keep one stashed in a desk drawer at work, in a dorm room on campus, or in a locker at school, for when you need a GF snack in a pinch. But for my money, you're better off getting your meals elsewhere.
Sorry, GoPicnic, but for me, it's NoPicnic.
– Pete