Man, oh man. After this past weekend, I've decided that Murphy's Law must be a mean poker player… it either folds its hand, or goes all in. There's no halfway.
We were in New Orleans – the Big Easy – for the annual American Library Association conference. We were featured presenters for its popular "What's Cooking @ ALA" stage, where cookbook authors do a demo and book signing, and give away some tasty samples. (The presentation itself went great! More on that in a bit…)
Our plan was to fly down Friday during the day, have Friday evening to prepare and eat a nice dinner, do the demo and book signing on Saturday early afternoon, and fly back to New York Saturday night. If only it were that easy.
Because I was a later addition to the trip (remember: I was originally supposed to be running the Safaricom Marathon in Kenya that same weekend, but withdrew because of my illnesses this spring), Kelli and I were scheduled to arrive separately on different flights – her at 4pm Friday, me at 5pm or so. But flight delays, missed connections, and canceled flights had other plans for us. I didn't get into New Orleans until 9:30pm Friday night, and Kelli didn't arrive until 2:00am Saturday morning!
After much too little sleep, we awoke Saturday morning, ate a quick breakfast, and prepared to head to the conference center. We still needed to prep all our cupcake samples. We brought 150 or so mini chocolate cupcakes, plus a dozen full sized cupcakes for the demo. Plus three frostings – whipped chocolate ganache accompanied by a raspberry sauce, an almond Italian buttercream, and a traditional vanilla frosting. However, when we retrieved our cooler box – which contained our perishable items – from the hotel's walk-in refrigerator, we discovered that overnight a hotel employee had rummaged through the box, cracking a frosting container and breaking the eggs. The raw eggs got into the vanilla frosting, which we had to discard. Now we had to stretch two frostings across enough cupcakes meant for three!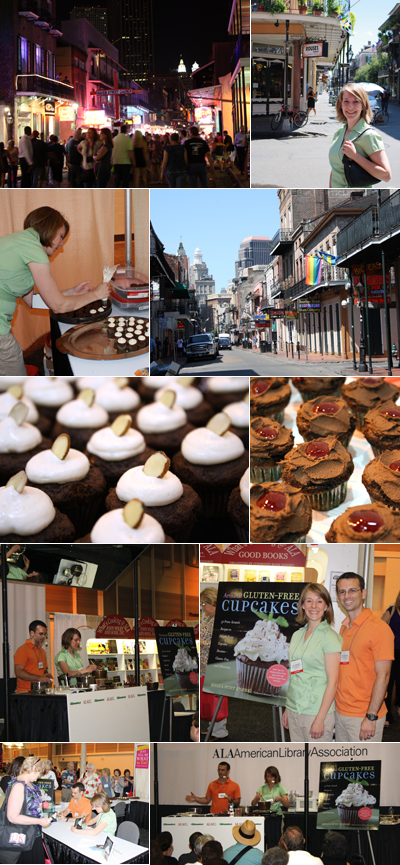 After two hours or so of prep time at the conference center, it was our turn to take the stage. Thankfully, that part of our trip went great! About 150 or so people attended, which seemed pretty good based on the attendance of presenters who went before and after us. From an informal poll I conducted by a show of hands during our demo, roughly 1/3 of the people were gluten-free, while the remaining 2/3 knew someone who was.
We presented in our usual Pete-and-Kelli, his-and-hers, tag-team style, which works really well for us. The audience seemed engaged and entertained, and asked some great questions at the end. We even had a little unintended comic relief during the demo. Unbeknown to us, one of our bowls had been another casualty of the travel, and developed a crack in the bottom. As I'm whisking together a bit of cornstarch in cold water – part of making the raspberry sauce – the slurry is draining out the bottom of the bowl onto the demo counter! I couldn't figure out how I had such little liquid to whisk, until Kelli pointed out the puddle developing in front of me. But we rolled with the punches and carried on.
Everyone seemed to love the cupcakes. We received many wonderful compliments. One that stands out in my mind came from a woman who'd been gluten-free (diagnosed celiac) for 27 years. Our cupcakes, she said, were the first cupcakes she's genuinely enjoyed in all that time. We also received many compliments from the "I know someone who is gluten-free, but I'm not" crowd, who couldn't tell our cupcakes were GF. (Hooray!)
Returning home, Kelli's travel went pretty smoothly, but I ran into more troubles. My connecting flight from Washington Dulles to New York was canceled, so I spent Saturday night in a hotel in D.C., and flew to Newark, New Jersey Sunday morning. Unfortunately, my bags didn't make it there with me. The airline brought them to our house Monday afternoon. Whew!
So that's the weekend recap. Thanks to everyone who turned out for the event! I know that some of you are blog readers, have our first cookbook, Artisanal Gluten-Free Cooking, or both. Thank you for your support! Happy cupcake-ing!
– Pete