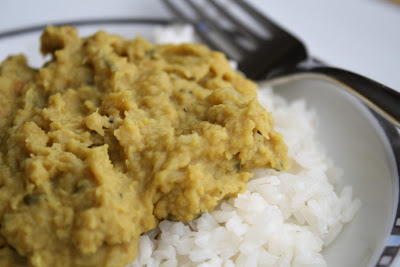 In honor of the official arrival of spring yesterday, I had originally planned on posting a seasonably fitting recipe today. But it seems winter is going to give it one last go in our neck of the woods. After two days in the 60s late last week, I walked to work yesterday in the snow. How does that phrase go… March comes in like a lion, and goes out like…Old Man Winter?
So, I've tabled our celebrate-the-arrival-of-spring recipe until later, as this week's forthcoming Friday Foto. Instead, I've replaced today's recipe with Red Lentil Dal. It has become one of our go-to dishes this winter. It's easy, it's flavorful, it's inexpensive. We often make it for our "vegetarian day" each week. I could hardly believe it when I searched the blog archives and discovered that I hadn't yet posted the recipe. Today is the day.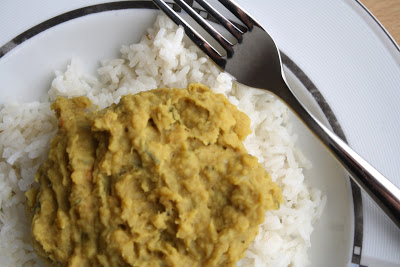 Red Lentil Dal
Makes 4 servings
Ingredients
1 cup red lentils
1 small onion, diced
1 garlic clove, minced
Olive oil
2 tsp grated ginger
2 tsp curry powder
1/4 tsp ground cumin
2 cups GF chicken stock
2 tbsp chopped cilantro
1 tbsp butter
Salt and pepper
Steps
1. Rinse the lentils under cold water.
2. In a medium saucepan, saute the garlic and onion in a little bit of olive oil, until the onions are soft and translucent.
3. Add the ginger, curry powder and cumin, and saute for 2 more minutes.
4. Add the lentils, chicken stock and cilantro.
5. Bring to a simmer, cover, and turn the temperature down to low. Cook for 20 minutes.
6. Add the butter. Stir to mix well. Season to taste with salt and pepper.
7. Serve over your favorite rice (we used Jasmine rice in the photo).
Enjoy!
This recipe is: gluten-free, egg-free, peanut-free, tree-nut-free, fish-free, shellfish-free, refined-sugar-free.
Note: To make this recipe dairy-free, omit the butter or substitute a vegan dairy-free "butter" option, such as Earth Balance. To make this recipe vegetarian, substitute vegetable stock for the chicken stock. To make this recipe vegan, do both.
– Pete


P.S. In the interest of bloggerly love, we've also posted this recipe over at Simply Sugar and Gluten-Free's Slightly Indulgent Tuesdays post.