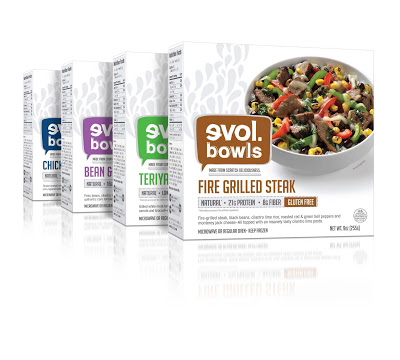 If you've read this blog for any length of time, you no doubt know about our love for burrito bowls. Whether ordering a Chipotle burrito in a bowl sans flour tortilla, or making our own burrito bowls from scratch at home, we simply love 'em. Recently, we had a chance to sample bowls of another sort when the friendly folks at Evol Foods sent us gratis samples of their Evol Bowls to review here on No Gluten, No Problem.
I immediately felt a certain kinship with the company. They're based out of Boulder, Colorado (where we still own a home and have many great friends). The company got its start when one of its founders started selling inexpensive, natural burritos to rock climbers in Eldorado Canyon (where I've spent more than a few days climbing, mountain biking and trail running). They have a commitment to natural, authentic ingredients (for example, one bowl contains organic brown rice, free range white meat chicken breast, wheat-free teriyaki sauce, evaporated cane syrup, honey, cornstarch, ginger, garlic, snap peas, broccoli, carrots and bell peppers). And they have a commitment to green practices and packaging (for example, the Evol Bowl boxes are 100% recyclable and made from 100% recycled paper board, and the bowls themselves are 100% compostable).
One question I raised right away with Evol was this: as a company that got its start making gluten-ous burritos, how do they minimize the potential for cross-contamination with their gluten-free bowls, and do they do any in-house or third party gluten testing to confirm? I'm happy to report the answer: in addition to Good Manufacturing Practices (GMPs) and Standard Sanitation Operation Procedures (SSOPs), they practice product and manufacturing line segregation. Most importantly, they test their bowls to ensure that they contain less than 10ppm gluten, a level twice as stringent as the 20ppm international "standard." Good news.
The bowls come in four flavors: Teriyaki Chicken, Chicken Enchilada, Bean and Cheese Enchilada, and Fire Grilled Steak.
A serving size is one bowl. Even before cooking them, it was apparent that they contained quality, fresh, flash-frozen ingredients. They were relatively small portions…for my appetite, I'd consider one bowl a snack-meal, something slightly larger than a snack, but not big enough to be a stand-alone meal. But that's me. With a calorie count ranging from 250 to 420 per bowl, and a net weight of 9 ounces (just over half a pound) you can decide for yourself.
From an allergen and dietary standpoint, one bowl – the bean and cheese enchilada – is vegetarian. 3 out of the 4 (with the exception of teriyaki chicken) contain cheese, so the dairy-free folks among us won't find many options.
The only question that remained was, from a taste perspective, would we be feeling the Evol love or not? (If you haven't noticed, the company's name is "love" spelled backwards, a nod to how much these folks love their burritos…)
Teriyaki Chicken
Had a good, clean flavor. The chicken tasted a bit microwaved (which it was, as per the box instructions, which also list an oven alternative). Overall, a success.
Chicken Enchilada
Kelli and I disagreed on some points, and agreed on others. My comments: a little bland; a little pasty; not as successful as the teriyaki chicken; in our microwave, which has a turntable, the edges reached boiling point while the center remained frozen. Kelli's comments: chicken seasoned well; tastes like an enchilada; flavorful sauce; like the sweet corn; I get the lime in the rice; texturally, all a bit mushy; the tortilla breaks down.
Fire Grilled Steak
Initially, I questioned whether the beef was too sparse, and not in balance with the rest of the bowl's ingredients. By the end, seemed okay. Nice corn. The peppers got a little soft and lost their texture. Black beans turned into more of a bean paste. The cilantro lime pesto was one of the stars of the show. Very flavorful. The corn was authentically charred and very sweet. Nice. Kelli's sentiments: "Oh yeah. Sweet red pepper and corn. Mmmm. That's really good. Head and shoulders above the rest."
Bean and Cheese Enchilada
Saucier than its chicken enchilada counterpart. I preferred the red enchilada sauce here over the green enchilada sauce of the chicken. Kelli's initial comments: it's good; neither enchilada is excellent, but both are tasty; I like it. I scooped up some of the enchilada filling on a salted hard corn tortilla chip, and liked that much better. A very tasty combo. Kelli liked it just as well without the chips. The more we both ate this bowl, the more we liked it. Very good.
Overall, we loved the company, and liked the bowls. All the flavors are good, though some are better than others. We're not in the habit of buying convenience foods from the freezer section, but if we did, Evol Bowls would definitely make the cut.
– Pete


Image courtesy of Evol Foods.