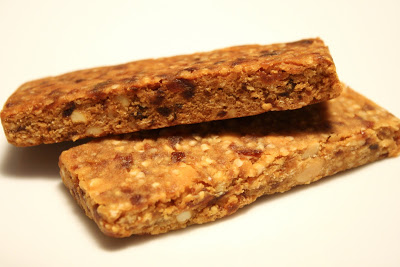 Recently, a package arrived unannounced in the mail from the folks over at Wild Alice Bars, maker of gluten-free vegan energy bars. They found my name through the National Foundation for Celiac Awareness and sent along some gratis samples for review. Right off the bat, I was apprehensive (on Wild Alice's behalf). I've eaten a lot of energy bars in my day – either related to endurance racing or mountaineering – and I know that, while there are some that I do like (quite a bit), there are also lots that I don't like (by a long shot).
The story behind Wild Alice Bars is a fairly common one to gluten-free foods: girl (or guy) gets diagnosed with a food sensitivity; said girl or guy starts making a food to meet her or his own food restrictions and to meet an unfilled demand in the marketplace of gluten-free foods; small business (hopefully to become big business) is born.
In this case, Alice (a real person) was diagnosed with food sensitivities in 2007. A member of the Mazamas Mountaineering Club in Oregon, she started experimenting with making her own energy bars, and sharing them with club members. Soon, Wild Alice Bars was born, making gluten-free vegan energy bars in a dedicated commercial kitchen.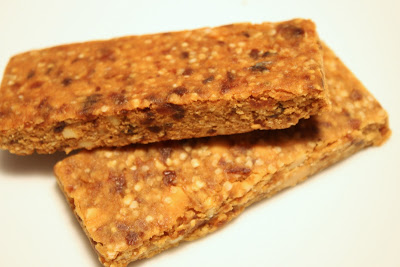 The bars come in two flavors: cranberry walnut and apricot cashew. Both are built on the same formula of ingredients: DRIED FRUIT, agave syrup, quinoa flakes, NUTS, brown rice flour, canola oil, apple juice concentrate, garbanzo bean flour, pea protein, guar gum. Substitute dried cranberries and walnuts in the place of "dried fruit" and "nuts" for the Cranberry Walnut, and dried apricots and cashews for the Apricot Cashew.
Nutritionally, they pack a lot of goodness in there – fruit, nuts, brown rice, quinoa, bean. Each relatively small bar packs more than 230 calories, including plenty of healthy fats, some protein, and some carbs.
On the issue of cost, they're fairly expensive. You can buy a box of 8 (or a combo box with 4 of each flavor) directly from Wild Alice Bars for $16 plus $5 shipping and handling. That's $21 for 8 bars, or more than $2.60 per bar. If you eat these bars with any kind of regularity, it'd be a quick way to break the bank. (That said, if you're looking for a portable on-the-go snack that's gluten-free and vegan, and don't want to make your own, these would certainly be one way to go…)
And lastly, there's flavor (taste and texture). Alas, these bars don't measure up for me. There's a subtle sweetness, which I like, but there's also some funky flavors (presumably from the bean flour and pea protein), plus a certain grittiness or graininess in the texture (ditto). But most of all, these things simply make me thirsty. I couldn't imagine chomping down a whole bar without a 16-ounce glass of water at the ready.
Let me say that the Wild Alice Bars, for better or worse, fall squarely into the category of energy bars I tend not to like (when evaluated on the basis of taste and texture). They remind me of Larabars to a degree, and I don't like them either. It's nothing personal. I want to like Larabars, and I want to like Wild Alice Bars. I like their ingredients and their nutrition. But at the end of the day, I also have to enjoy eating them, and for this guy's taste buds, they just don't make the cut. It's something to keep in mind, however… if you're the type of person that likes Larabars, you'll likely also find friendly flavors in Wild Alice Bars.
The bottom line for me? I like them on an intellectual level, but when it comes to actually eating them, I'll take a pass.
Giveaway! You don't have to take my word for it. Try them out for yourself! Wild Alice sent us more bars than we needed for the review, so we're passing them along to you. Send me an email, and include "Wild Alice Bars" in the subject line. Entries will run through midnight Sunday, and we'll announce the winner at the beginning of next week. The winner will receive 2 bars of each flavor (4 bars total). Good luck!
– Pete