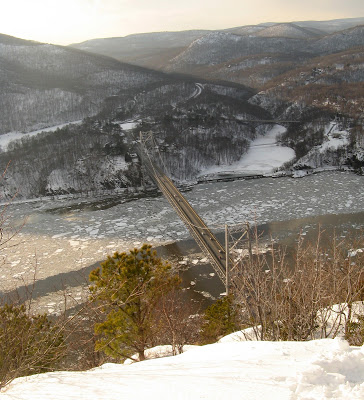 The Hudson River and Bear Mountain Bridge from Anthony's Nose
On a recent weekend, we took the girls snowshoeing in the Hudson Highlands. It's a relatively modest, but surprisingly rugged, stretch of mountains that cross the Hudson River north of New York City and south of Poughkeepsie. For this particular trip, we set our sights on Anthony's Nose, a prominent peak that serves as one half of the southern gateway to the fjord section of the river. From a bald, rocky overlook, you can peer down to the Hudson and the Bear Mountain Bridge far below.
As we prepared to leave from our car at the trailhead, a father and son did the same. They walked off in one direction. We went another. More than an hour later, our two groups crossed paths on the summit ridge of Anthony's Nose. We stopped and chatted for a bit, telling them how we'd recently moved back to NY from CO, and asking for any good local hiking recommendations. Then we wished one another well, and continued on our respective ways.
Later that afternoon, as we returned to our car, I noticed a suspiciously rectangular piece of paper under one of the windshield wipers. Darn, I though. A parking ticket. I was baffled. We were parked in a legal parking area where many hikers leave their vehicles. Upon closer inspection, however, I discovered it wasn't a parking ticket at all. It was a clear plastic sleeve, inside of which was a topographic map with hiking trails noted for Harriman and Bear Mountain state parks just across the river, along with a handwritten note. It said, simply, "This was the only map we had in the car, but it'll get you off to a good start. Welcome back to the east!" They hadn't even left their first names.
It was an unexpected act of kindness and thoughtfulness that put us in a happy mood for the rest of the day. Ever since, I've been thinking of ways – and looking for opportunities – to pay it forward.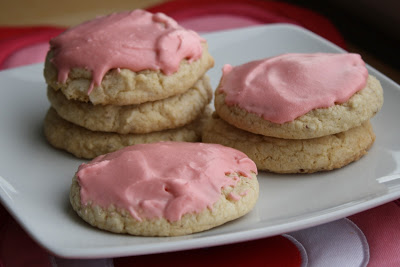 Gluten-free, vegan sugar cookies with frosting
This past weekend, we had a chance to do just that. Kelli's sister, Karen, drove up from NJ with her two girls to visit. While the kids all played, Karen told us how on Monday, Valentine's Day, she was bringing snack to First Friends, a community program where children and their parents get to know one another before the kids head off to kindergarten. The only challenge was that one child had egg and dairy allergies, and one of the moms was allergic to nuts.
We had already planned on making Valentine's sugar cookies with frosting (for our daughters to decorate), so we called an audible, and first made a batch of gluten-free, vegan (dairy-free, egg-free), nut-free sugar cookies with frosting that Karen could take to First Friends. Like the father-son hikers that left the map for us, there'd be no in-person direct exchange. We'd simply pass along the cookies – and the good karma – content to know that our gesture would hopefully be well-received and appreciated, even though we would have no way of actually knowing, and any direct thanks would never work its way back to us. We were paying it forward. (And it felt good!)
We began with the recipe for Frosted Sugar Cookies on page 184 of our cookbook, Artisanal Gluten-Free Cooking, then omitted the almond extract, subbed Earth Balance Vegan Buttery Sticks for the butter, and replaced the egg with a water and ground flax meal slurry. The result was a cookie set at the edges, but soft and chewy in the center. The Earth Balance and flax gave it a slightly different flavor profile, but it was still good and in the same ballpark as "regular" sugar cookies. Here's how we made them:
Vegan Frosted Sugar Cookies
Ingredients
1 1/2 cups confectioners' sugar
1/2 pound (2 sticks) Earth Balance Vegan Buttery Sticks
1 tbsp ground flax meal whisked in 3 tbsp warm water
1 tsp GF vanilla extract
2 3/4 cups Artisan Gluten-Free Flour Blend
1 tbsp xanthan gum
1 tsp baking soda
1 tsp cream of tartar
Steps
1. Preheat your oven to 375 deg F.
2. Cream together the sugar and "butter" in a mixer until light and fluffy.
3. Add the flax slurry and vanilla and mix.
4. Stir in the flour, xanthan gum, baking soda and cream of tartar.
5. Scoop rounded balls of dough about 2 inches apart onto an ungreased cookie sheet, then gently press with the palm of your hand to flatten slightly.
6. Bake for 7-8 minutes, or until the edges are just beginning to show the first hint of browning (larger cookies will take longer). Let cool for 5 minutes on the cookie sheet, then transfer to a wire rack and let cool completely.
7. Frost the cookies!
Note: For a quick and easy frosting recipe, cream together 1 1/2 cups confectioners' sugar, 2 1/2 tablespoons Earth Balance, 1 1/2 tbsp dairy-free milk (e.g. soy), and 3/4 teaspoon GF vanilla extract until smooth. Use more or less dairy-free milk to achieve the desired consistency, and add natural food coloring for colors other than white.
This recipe is: gluten-free, dairy-free, egg-free, peanut-free, tree nut-free, fish-free, shellfish-free, vegan.
– Pete