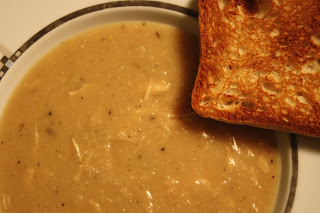 White Bean Chicken Soup with Udi's Toast
With the cold snap of weather that's settled over the Northeast, hot soups have remained a staple of our diet lately. (My run yesterday morning tipped the mercury at 15 degrees Fahrenheit, and my walk to work this morning weighed in at 9 degrees.) Building off the success of our
Turkey Soup
recipe from last week's Friday Foto, we went with a white bean and chicken soup for this week. It's more or less a one pot wonder, and is mostly vegetable based, with some chicken thrown in to boost the protein and flavor content. Here's how we made it:
White Bean Chicken Soup
Ingredients
1 lb Cannellini beans, dried
Olive oil
2 yellow onions, sliced
1 tsp dried thyme (not rubbed)
1 tsp dried rosemary
1 quart GF chicken broth
1 cup water
2 chicken breasts
Salt and pepper, to taste
Steps
1. Soak the beans in water overnight. Strain just before beginning the soup.
2. Heat approximately 2 tbsp olive oil in a large saucepan. Add the onions and herbs, and saute until soft.
3. Add the beans, chicken broth, water, and chicken breasts. Simmer uncovered for 1.5 hours.
4. Remove the chicken and shred it. Use an immersion blender to puree the soup. Return the chicken to the soup.
5. Simmer for 30 minutes. Season to taste with salt and pepper.
Enjoy!
– Pete