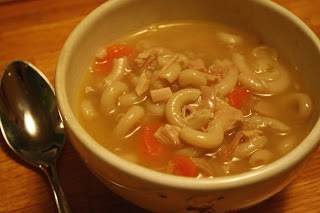 Normally, we're pretty good at estimating the amount of food to cook for a given number of guests. But this year for Thanksgiving, we were WAY off and made too much. A week later, we're still eating leftovers.
Maybe you're in a similar boat. Maybe you hosted and went overboard on the food. Or maybe you were the guest at someone else's house, and they sent you home with a goodie bag of leftovers. Either way, it brings me to today's Friday Foto and recipe: turkey soup.
It's a great way to give new life to leftover roasted turkey. Flavorful. And different enough from what you probably ate on Thanksgiving that you won't feel like you're eating the same leftovers, again, for the umpteenth time.
Here's how to make it:
Turkey Soup
Ingredients
1 carrot, sliced
1 celery stalk, sliced
1 small onion, diced
olive oil
1 cup dark turkey meat, chopped
2 turkey wings, on bone with skin
1/2 cup gravy
4 cups turkey stock (from boiled bones/carcass)
1 cup Tinkyada gluten-free pasta noodles
Steps
1. In a medium saucepan (4 quart size), saute the vegetables in about 1 tbsp of olive oil, just to sweat.
2. Add the dark turkey meat, wings, gravy, and soup stock, and simmer, uncovered, for 40 minutes.
3. Remove the wings, pull the meat and add back to the soup, and discard the bones and skin.
4. Add the noodles, turn the stove heat to low, cover, and cook for 20 more minutes.
Enjoy! (And ideally, serve with slices of freshly baked gluten-free bread…)
Notes
1. This recipe assumes you're working with an already-roasted turkey with cooked meat.
2. Because we used a well-brined turkey, the gravy – and the resulting soup – was naturally salty. However, you can always add salt to taste when making your own.
3. This recipe would also work with white turkey meat, and you can substitute GF store-bought soup stock if you didn't make any from your turkey carcass.
4. Lastly, this recipe would easily translate for use with a roasted chicken.
– Pete