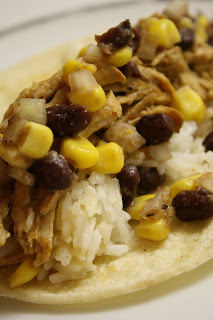 After a several-weeks hiatus from blogging, we're back! Things have been beyond busy in the Bronski household as of late. Most notably, we've just completed a move from Colorado to New York (which explains our absence from blogging…). But, we're settled now, back in the swing of things, and happy to be up and running again with No Gluten, No Problem. And although we're a day late, we thought what better way to dive back in than with a Friday Foto?
Today's Friday Foto – black bean-corn salsa – was inspired by our love of Mexican food, and the fact that our new home in the mid-Hudson Valley is more than 50 miles from the nearest Chipotle. (Woe is me!) So, we're left to our own devices, which is just fine by us.
We recently paired some soft corn tortillas with two recipes from our first cookbook, Artisanal Gluten-Free Cooking: the Jasmine rice, and the pork from the tamale recipe. To round out the dish, Kelli whipped up this quick and easy black bean-corn salsa:
Black Bean-Corn Salsa (Yield: About 2.5 cups)
Ingredients
1 can whole sweet corn kernels (about 15oz)
1 can black beans, rinsed well (about 15oz)
1 small onion, diced small
Juice of one lime
1 tsp ground cumin
1/2 tsp garlic powder
Salt and pepper to taste
Steps
Combine all ingredients in a bowl, toss to mix well, and enjoy!
That's it. Super easy. Super yummy.
Have a great weekend!
– Pete