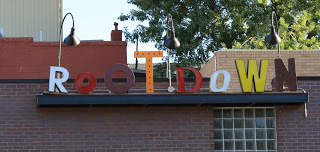 RootDown restaurant in Denver's Highland neighborhood
With the growing popularity of the locavore movement, the "farm-to-table" or "field-to-fork" trend in restaurants is all the rage. More than seemingly ever before, restaurants and their chefs are going to great lengths to showcase local foods on their menus. That philosophy is at the core of
RootDown
, one of Denver, Colorado's hottest farm-to-table restaurants right now.
As much as possible, RootDown tries to stay organic, natural, seasonal and local. On the menu you'll find more than 20 Colorado farmers, ranchers and other suppliers. Best of all, nearly the entire
dinner menu
can be prepared gluten-free. (On the current menu, about 75% – nearly 20 dishes – can be made GF.)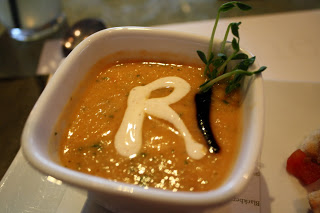 Rocky Ford Cantaloupe & Tomato Gazpacho
Last week I had the distinct pleasure of attending dinner at RootDown, not just to eat, but also as a guest (along with several other GF bloggers) to celebrate the launch of
Rudi's new gluten-free bread line
. (I'll do a separate post about Rudi's and their new GF breads, including a review, in the near future… For now, I'm focusing this post on the food at RootDown.) To honor the occasion, RootDown's chefs spiced up the standard menu by sprinkling in extra dishes that featured Rudi's bread products.
For example, dinner kicked off with a Rocky Fort cantaloupe and tomato gazpacho, with a lime crema and fig balsamic (with the crema conveniently shaped like a Rudi's "R"). Delicious. The gazpacho came out alongside a tomato grilled cheese on Rudi's bread. An organic beet salad followed.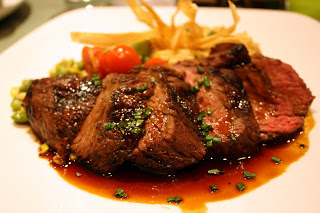 Rocky Mountain "Never Ever" Bistro Beef Tender
My main course was RootDown's Rocky Mountain "Never Ever" Bistro Beef Tender, served with corn and fava succotash, mashed parsnips, parsnip chips, and Worcestershire-date molasses glaze/reduction. In a word, this meal was divine. The beef was perfectly cooked – flavorful, moist, tender. The glaze was bursting with flavor that complemented the meat. This was one of the best beef dishes – if not the best – I've had in all of 2010.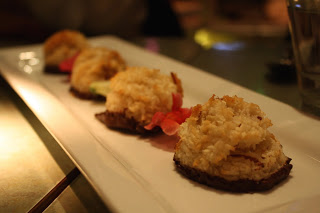 Coconut Macaroons
Between dinner and dessert, the chef sent out a sampling of coconut macaroons that had their "ankles" dipped in chocolate. This was the one part of the meal that didn't wow me. On the average, the macaroons were…average. Too dense for my preference, with nothing especially noteworthy about the flavor.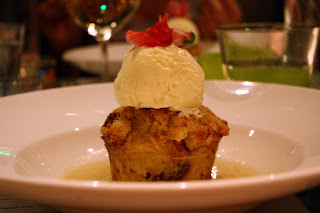 Rudi's GF Bread Pudding
Dessert was redeemed, however, by the piece de resistance: Rudi's Gluten-Free Bakery Bread Pudding with Stranahan's Whiskey-Butter Sauce and Sour Cream Ice Cream. The texture of the bread pudding was nearly identical (as my memory goes) to a traditional gluten version of the dessert. The sour cream ice cream was surprisingly not all that sour, perhaps because it balanced the excessive sweet of the whiskey-butter sauce. This dessert was both decadent and delightful.
In the final analysis, whether you're a Denver local, coming to ski, or just passing through, you owe it to yourself to dine at RootDown. I'm hesitant to sound like I'm jumping on the RootDown bandwagon and feeding into the trendiness of one of Denver's hottest restaurants right now, but RootDown backs up its sizable reputation with superb food that's gluten-free.
– Pete