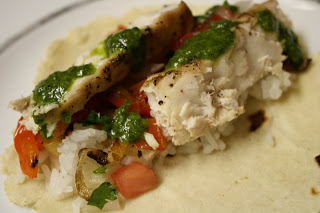 Today's Friday Foto was unabashedly inspired by Wahoo's Fish Taco, which we reviewed in January earlier this year. Their Wahoo fish bowl comes with grilled fish, rice and beans, pico de gallo, a side of fresh soft corn tortillas, and a cilantro sauce that Kelli just dies for. I'll admit, it's pretty tasty.
When we were planning our own night of fish tacos recently – complete with fresh corn tortillas, grilled mahi mahi, fresh salsa, and sauteed peppers and onions – we knew the meal wouldn't be complete without one thing: our own version of Wahoo's cilantro sauce. More than a year ago we did a Friday Foto recipe for
Cilantro Dipping Sauce
, which differs from today's recipe in important ways. Compared to the dipping sauce, which was intended for a dish such as yuca frita, today's Cilantro Sauce is more of a cilantro paste, perfect over fish, and with a different flavor profile thanks to the addition of cider vinegar and scallions.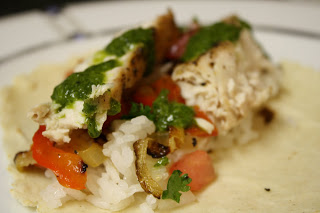 Cilantro Sauce
Ingredients
3 scallions
1/2 bunch cilantro
1 garlic clove
1 tbsp apple cider vinegar
1/2 lime, juiced
salt and pepper, dash each, to taste
1/3 cup olive oil
Steps
1. Blend all ingredients through and including the salt and pepper in a food processor until smooth.
2. Drizzle in the olive oil while the food processor is still going to incorporate.
3. Serve over your favorite fish tacos!
Simple, easy, fresh. Enjoy!
– Pete