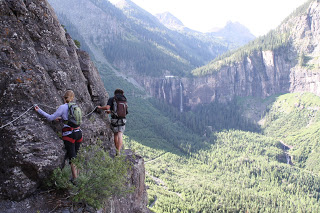 Traversing the Telluride via ferrata climbing route
Week 16 proved atypical. For one, we spent a good part of the week in Telluride, where I was on assignment for several magazines. For another, I decided to take much of the week off from training. After a series of very hard weeks, my body was feeling weary, and I decided to dial it back, rest and recover. Looking ahead, I'm hoping this will allow me to put in two hard weeks of training during Weeks 17 and 18, and then taper my output in advance of the race on September 25. And so, here are last week's modest stats:
Training Days: 3 (To Date: 53)
Rest Days: 4 (To Date: 59)
Body Weight: 149 (Net Gain/Loss: -11)
Running Days: 1 (To Date: 41)
Running Miles Logged: 11.6 (To Date: 434.5)
Average: 11.6 (Short = 11.6, Long = 11.6)
Cross-Training: Hiking, Climbing
One of the nice things about taking some time off last week while we were in Telluride was that it allowed me to cross-train by enjoying other activities. Training for an ultra distance race has been so all-consuming that it has left little time for other sports I love. In Telluride, I reconnected with my roots, in a way. We went for a nice hike up the Bear Creek Trail (with Marin providing some excellent training weight in the backpack carrier). I also climbed the Telluride Via Ferrata route in the San Juans Mountains west of town. It was a spectacular day in the mountains. Both activities (and the trail running, too) were reminders of why I love Colorado and the outdoors.
The rest period, I think, has been as good for my mind as for my body. I'm feeling energized and motivated to resume training tonight. With the race less than a month away now, I can sense the training winding down, and I'm feeling more and more focused on race day itself.
Finally, I'm happy to report more progress on the NFCA fundraising front. My total is now up to $1,860, which brings me to 37% of my goal. Huge thanks go out to Barbara S., Aaron G., and Rudi's Gluten-Free Bakery for your generous donations! We're in the home stretch now. If you haven't made a donation, please consider doing so today and visit my
fundraising page
! Thanks everyone for your ongoing and continued support!
Featured Donor

This week, I'm highlighting
Rudi's Gluten-Free Bakery
for their generous corporate donation to the NFCA. Check back tomorrow for a post about a great gluten-free bread launch dinner I attended in Denver last week to celebrate Rudi's new gluten-free offerings, and keep an eye on NGNP in the coming weeks for an official review of their breads!
– Pete