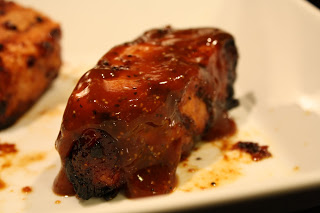 For a while now, I've been wanting to make a scratch barbeque sauce infused with chipotle flavor; kind of give it a Southwestern or Mexican twist. Recently, I pulled the trigger and made it happen (as usual, over country-style pork ribs…so delicious). The sauce has a nice balance of sweet, heat, and acid, and the chipotle flavor is surprisingly prominent, without being overpowering. But consider yourself warned: it has some serious kick. If you're sensitive to spicy food, or prefer a milder barbeque sauce, in the recipe below don't be shy about cutting back on the black pepper and the chipotle powder by as much as 50%.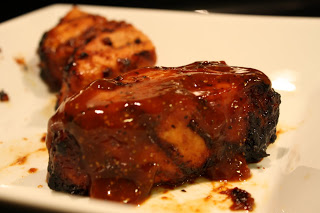 Here's how to make it:
Heavy 1/3 cup ketchup
1 tbsp Worcestershire sauce
1 tbsp light brown sugar
1 tbsp honey
1 tbsp distilled white vinegar
1/2 tbsp Dijon mustard
1/2 tbsp ground black pepper
1 tsp molasses
1 tsp chipotle powder
Whisk together all ingredients in a bowl. Voila! Chipotle BBQ sauce.
If making something like country-style ribs, reserve half the sauce for drizzling over the cooked meat later. Use the other half to marinate the pork and brush while grilling. Makes enough for 4 country-style ribs.
Enjoy!
– Pete