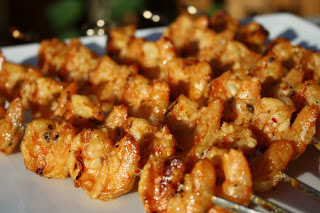 As evidenced by last week's Friday Foto, lately I've really been enjoying a) grilling, b) with scratch marinades and sauces that, c) are infused with different chile peppers. One week ago it was chipotle chiles (in a BBQ sauce). This week it's ancho chiles in a garlic-lime-agave marinade.
The recipe gets some spice and smokiness from ancho chiles (with a little added kick from red pepper flakes). Meanwhile, the acidic tanginess of lime juice is balanced by sweetness from agave nectar. The result is a delicious naturally gluten-free marinade that pairs wonderfully with shrimp.
Here's how to make it:
3 large garlic cloves, minced
Juice of 3 limes
A shy 1/4 c olive oil
1 tsp ancho chile pepper powder
A dash each salt and pepper
1/4 tsp red pepper flakes
2 tbsp agave nectar
1 lb 30-count shrimp, raw, peeled, deveined
1. Whisk together all ingredients through and including the agave nectar in a medium bowl.
2. Add the shrimp and toss to coat. Skewer for grilling. Retain the leftover marinade.
3. Preheat your grill on high, then drop the flame to medium or medium-low.
4. Grill the shrimp for 6 minutes. At the 3 minute mark, drizzle the shrimp with half the remaining marinade.
5. Turn the shrimp, and grill for 6 more minutes. Again, at the 3 minute mark, drizzle the shrimp with the second half of the remaining marinade.
Enjoy!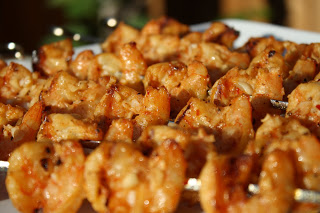 In this instance, we simply served the ancho-agave shrimp over some leftover brown rice we had from a previous dinner. But you could easily get creative and serve this shrimp over salad, or in seafood tacos, or in lots of other fun ways.
– Pete