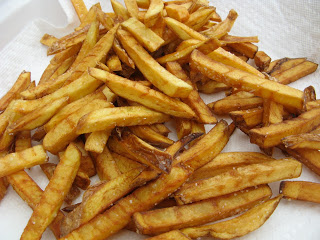 Part of the discharge instructions when Marin left the hospital was for us to focus on feeding her foods that were high in carbs and fats, and low in protein, in order to try and reduce the diarrhea (at least until she kicked the virus that was causing it).  Kelli and I both immediately thought of french fries (which Marin loves anyway…).
While the preferred potato for making french fries is the Russet, we used Yukon gold potatoes, which is what we had on hand (they're a great, versatile, all-around tater).  I used the largest of three julienne blades on a mandolin to slice the potatoes into perfectly uniform fries (a mandolin also makes for quick work of the job of slicing potatoes).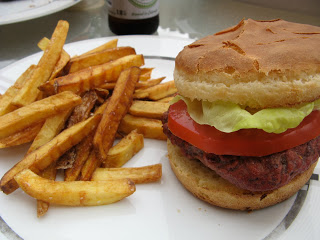 The pre-fried fries were about halfway in thickness between a McDonald's french fry and a steak fry.  For me, they might be the perfect size…the ratio of starchy interior to fried exterior is ideal.  But a french fry of this size also presents a challenge – how to fry it in such a way that the interior cooks through but the outside doesn't burn or overcook.
In our cookbook (page 106), we describe a method of partially frying the potatoes, and then finishing them off by baking in the oven (a technique I learned from my mom).  You also have two other options: 1) double fry the potatoes, or 2) blanch the potatoes first by pre-cooking them for about 5 minutes in a pot of boiling water (which is what we did this time).  If blanching the potatoes, make sure you pat them dry well with a clean kitchen towel before frying.  Wet potatoes are dangerous with oil whose temperature is hovering around 375 degrees.  Remember: oil and water don't mix, and you risk either splattering hot oil, or flash steaming the water, both of which would make for a very bad day.  Take the extra minute and dry the potatoes off.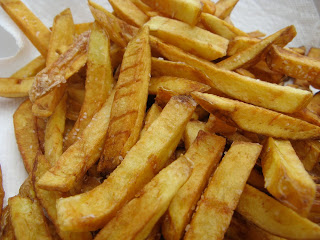 A sprinkle of kosher salt finished off the fries, and we were ready to eat.  I don't know exactly what it is, but homemade french fries always taste different than fries I have anywhere else.  I feel like you can taste their natural, made-fresh goodness.  So this summer, when you're busy grilling some hamburgers one weekend, why not pair those burgers with a side of fries?
– Pete