Kelli, Marin and I recently went to our beloved Boulder Farmers Market for the first time this season, which now has more than 100 vendors.  It's always great to see familiar faces (in addition to our regular vendors, we even bumped into The Spunky Coconut and her family), but it's also exciting to find new vendors with tasty gluten-free offerings.  Noosa finest yoghurt is one such discovery.  The crowd was 3 or 4 people deep at their stall, and we could hear one of the Noosa guys – in his best salesman voice – proclaim, "Try it, and you'll buy it!"
We couldn't resist, and we muscled our way through the crowd to the front (politely, of course…).  Noosa proved to be quite a tasty yogurt (in a word, it is delicious), and we walked away with 3 or 4 16-ounce containers to take home, all blueberry (which was all they had left, and which, conveniently, is one of my favorite flavors).
Part of what makes Noosa such a tasty yogurt is that is very rich and creamy.  It's almost like having dessert, and the nutritional information backs that up.  Each 4-ounce serving contains 140 calories, 6g of fat, 17g of sugar, and 5g of protein.  By those measures, this is a yogurt that is both decadent and indulgent.  And there's a reason why – you won't find much in the way of low-calorie fat-free milk on the ingredients list, nor will you find artificial sweeteners like Splenda or aspartame.  Noosa is made with authentic, familiar ingredients – milk, sugar, blueberries, cream, honey, and a handful of other ingredients.  In other words, it's made with the kind of ingredients we might use if we made yogurt here at home.  We like that.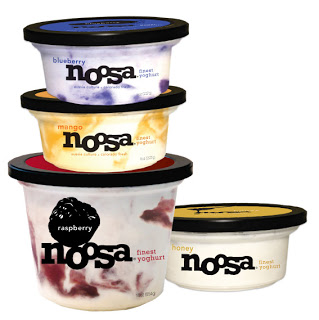 We also like the backstory behind Noosa, which I think is worth sharing.  The company, founded in 1999, is based out of Fort Collins, Colorado, and they make Australian-style yogurt with mostly local ingredients from right here in Colorado.  Most notably, the dairy comes from
Morning Fresh Dairy Farm
, in Bellvue, Colorado.  Founded in 1894, the company is still run by family descendants of the founder.  Their milk is all-natural (and in the process of undergoing organic certification), and they deliver milk to several thousands customers in the surrounding communities the old fashioned way – with a fleet of 14 drivers who bring fresh milk to your door in glass bottles.  (Morning Fresh has also partnered with the
Grant Family Farms CSA
to dovetail weekly deliveries of milk and produce.  Melissa at
Gluten Free for Good
is a member of the Grant CSA, and she's not shy about talking about how much she loves it.)
The yogurt comes in four flavors: blueberry, mango, raspberry, and honey (which is the base flavor for the other three).  For now, it's available throughout Colorado at Whole Foods and select King Soopers locations (and some farmers markets).  As word gets out, though, I'd expect its popularity, and its availability, to spread.  Noosa can be a bit on the pricey side, but I'd categorize it (at least for now) as a boutique, high-end, high-quality yogurt, so the price seems to fit.  What's more, if you buy it at the farmers market, the more you buy, the cheaper the per unit price, so it ends up costing similar to other similar yogurts you'd find at the supermarket.
With both the price and the decadent richness, I don't eat Noosa in the same quantities as I do other yogurts.  But I'd gladly have a smaller serving of Noosa than a larger serving of a less satisfying brand.  And I do.
– Pete
Logo and image courtesy of Noosa.